In the article "Put A Fork In It: Nvidia Is Done," author Stephen Breezy argues that Nvidia's (NASDAQ:NVDA) future prospects are bleak due to a dependence on a weak PC market, the continued strength of integrated graphics solutions from Intel (NASDAQ:INTC) and AMD (NASDAQ:AMD), and a crowded mobile computing segment. I must respectfully disagree with the author and offer the counter argument that the company is just getting started.
Haswell Graphics: Well Done, But Curb The Enthusiasm
The first thing mentioned was the notable demonstration of Intel's "Haswell" processor and its relatively powerful integrated graphics. While I do agree that the demonstration was quite impressive for an integrated solution, Intel did not disclose average frame-rates (speed counts to gamers) of the tests and only really showed the new chip besting the "Ivy Bridge" integrated graphics (a logical comparison, but incomplete given the discrete competition).
To illustrate why this is not quite as significant as the author of the aforementioned article believes, it is worth noting that the games demonstrated at IDF are not representative of the high end games that discrete GPUs are designed to excel at. In fact, the current "Ivy Bridge" graphics chips are only really capable of playing more demanding titles like THQ's (THQI) "Metro 2033" and Electronic Arts' (NASDAQ:EA) "Battlefield 3" at low settings while barely hitting 30 frames per second (the bare minimum frame-rate for an "enjoyable" experience).
So, assuming that Haswell's graphics component is twice as fast as Ivy Bridge's, customers then get a solution that is able to play modern games at modest quality settings smoothly. This is great for casual users, but the casual users were never the target of discrete GPUs. This brings me to my next point.
Game Consoles: Artificially Pumping Up Integrated Graphics
Most video games on the market today are designed around the lowest common denominator, and that happens to be game consoles such as the Microsoft (NASDAQ:MSFT) Xbox 360 and the Sony (NYSE:SNE) Playstation 3. These consoles are over six years old, so integrated solutions found in both AMD's APUs and Intel's CPUs have been able to catch up simply because the competition is ancient. Note that even with these targets, PC versions of these games traditionally have much higher graphical settings for users with higher end hardware.
In 2013, when the next generation game consoles are slated to hit the shelves, the graphical bar in the game industry will likely be raised significantly. This will necessitate more powerful discrete graphics solutions for gamers looking to play games at significantly improved image quality settings.
In short, the "good enough" illusion is an artifact of the stagnation of the game industry due to the unusually long console refresh cycle, not due to any particularly novel advances in integrated graphics technology relative to discrete peers.
The Sales Numbers: Proving That Gamers Still Want Discrete Cards
Even with the "good enough" syndrome causing panic, the discrete graphics business for Nvidia has proven to be quite financially solid. Nvidia's most recent quarter showed that demand for discrete graphics is still quite healthy through the following facts:
In FQ2 2013, GPU sales were up sequentially by 15.3%, despite the fact that the entire "Kepler" lineup had not hit the shelves yet. On a year-over-year basis, this was up 4.6%
Further, according to the company, notebook revenues hit a record high in the latest refresh cycle
Desktop channel inventory remained at healthy levels and decreased from the prior quarter
It would seem, then, that reports of the death of the discrete GPU have been greatly exaggerated.
GPUs: Not Just For Fun And Games
The great thing about GPUs is that they also double as extremely powerful floating point co-processors. The uses for GPUs in high performance computing applications are numerous, including: audio signal processing, digital image processing, medical imaging, scientific computing, cryptography, and much more.
In the most recent quarter, the company's Professional Solutions business that encompasses its "Tesla" high performance compute accelerators as well as its "Quadro" workstation graphics cards saw a 7.7% sequential decline and a modest 1% year-over-year gain. The company attributed this to the delay in the Intel "Romley" platform. It will be key for investors to monitor the sales in this segment upcoming earnings calls as the "Romley" platform has since been widely deployed.
Mobile Computing: Doing The Tegra Tango
The most talked about portion of Nvidia's business is its "Tegra" system-on-chip lineup for smartphones and tablets. The company has scored a number of high profile design wins, including in Microsoft's "Surface" tablet and Google's (NASDAQ:GOOG) Nexus 7 tablet.
The growth on the top line here has been decent, with the company posting a 35.5% sequential and a 7.2% year-over-year increase. However, there are some very important concerns surrounding this particular segment of Nvidia's business:
The "Tegra" lineup has never been particularly differentiated or "world beating." On the CPU side, Nvidia licenses and implements the standard off-the-shelf ARM "Cortex" designs and builds in its own ultra low power GeForce graphics. In light of the highly competitive market here, I see a number of significant headwinds to Nvidia's mobile business:
Nothing Special On The CPU Side
Nvidia is slow to move to the latest "Cortex" designs and the latest manufacturing. The 28nm wafer shortage allowed Nvidia to get its 40nm parts designed into a number of devices in the current year. Compared to the latest "Cortex A15" designs from ARM, the Snapdragon S4 from Qualcomm (NASDAQ:QCOM), and even the Atom Z2460 (based on a 4 year old "Atom" core shrunken to the 32nm process), the Cortex A9 in the Tegra 3 is not particularly competitive. Nvidia's quad-core design helps it save face in rare, highly multi-threaded scenarios, but real-world apps generally do not make good use of multiple cores and instead prefer more modern/efficient cores.
GPU Is Surprisingly Uncompetitive
Nvidia's core business is, of course, graphics. So it would be expected that its graphics would be the differentiator in this bold, new segment?
Nope. On the graphics front, the latest Tegra 3 is absolutely crushed by Imagination Technologies' "PowerVR" graphics solutions. While Imagination has been in the low power embedded GPU space for much longer than Nvidia has, it is imperative that in future iterations of the Tegra system-on-chip that Nvidia offers differentiated, highly competitive graphics.
There's hope, though: in a letter to employees post-Kepler launch, CEO Jen Hsun Huang made the following comment,
"Today is just the beginning of Kepler. Because of its super energy-efficient architecture, we will extend GPUs into datacenters, to super thin notebooks, to superphones."
Investors should keep a sharp eye on the graphics performance of the next generation "Tegra" products in order to get a better feel for Nvidia's prospects in the field going forward.
The Balance Sheet And Shareholder Return
One thing that should not be ignored is Nvidia's absolutely stunning balance sheet. No debt and a cash hoard that grew to $3.28B in the most recent quarter should allow Nvidia's investors to sleep quite well at night. The company has enough to invest in its future and to take daring moves without fear of bankrupting the company in the process.
A number of investors have been clamoring for Nvidia to return cash to shareholders. In "Nvidia's Q2 Earnings: Solid Results And Outlook, But Continued Frustration With Cash Deployment" by Helix Investment Management and "Nvidia Should Reward Shareholders With A Big Buyback" by Adam Levine-Weinberg, the authors urge Nvidia to start returning cash to the shareholders via buybacks and/or dividends.
Nvidia is wise to keep a healthy amount of cash on its books, but the yearly dilution due to stock grants is painful for shareholders to watch: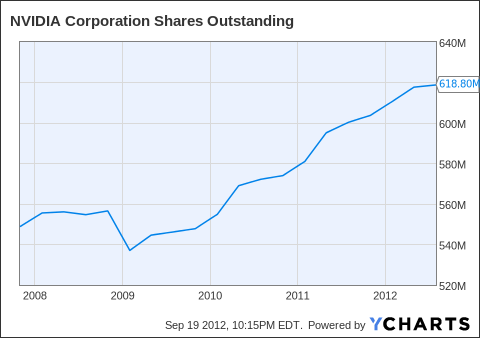 NVDA Shares Outstanding data by YCharts
The company has a buyback program in place, but it has not actually bought back shares over the last several quarters.
Conclusion
Nvidia is a solid company with a great balance sheet and a great competitive moat in its core business of discrete GPUs. In the mobile system-on-chip side, it produces competent solutions, but it will need to play further to its strengths, especially on the graphics side in the mobile division. However, the company has a strong history of execution in hardware, software, and developer relations, which is why I'm far from ready to stick a fork in it and will happily wait to see how it fares in the coming years.
Disclosure: I am long INTC, AMD, NVDA. I wrote this article myself, and it expresses my own opinions. I am not receiving compensation for it (other than from Seeking Alpha). I have no business relationship with any company whose stock is mentioned in this article.