Cisco (NASDAQ:CSCO) has slowed down considerably, especially in its last 5 years, but the company is well run with an attractive valuation near the $28 range. Don't expect much growth, because even the market doesn't.
CSCO Overview
Here is a dashboard of CSCO from the OSV Stock Valuation Spreadsheet for you to view before we move on.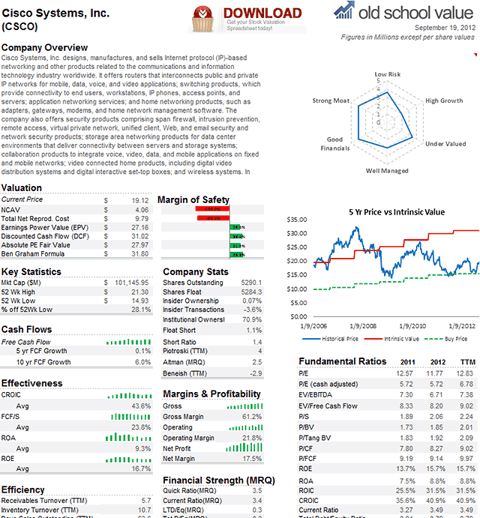 A Quick Glance at CSCO
Here are a few numbers to think about first:
28.1% off its 52-week low
5yr FCF growth of 0.1%
10yr FCF growth of 6%
CROIC of 40%
FCF/Sales of 24%
and then some TTM relative valuation numbers:
PE of 12.83
Cash adjusted PE of 6.8
EV/EBITDA of 7.4
EV/FCF of 9
Putting these numbers together, it's clear that CSCO has slowed down considerably, but is able to use what it has to generate excess returns. If you ignore all the excess cash CSCO has, the valuation multiples are incredibly low.
Benjamin Graham assigned a PE value of 8.5 to no-growth companies. CSCO currently has a cash-adjusted PE of 6.8. The EV/EBITDA also blacks out cash but includes debt in the valuation, but still comes out very close to 6.8. In other words, the market is assigning zero growth for the company.
But I want to take a closer fundamental look at the numbers and valuation. There is a lot of qualitative discussion on CSCO already, so I'll leave that area alone and simply focus on what the accounting and fundamentals tell us.
CSCO is a Well-Run Company
Despite the competition and economic pressures that have faced the company, management has surprisingly run the business well. I measure company/management effectiveness based on looking at multiple year periods for:
Of the four, you may be unfamiliar with CROIC. It's actually one of my favorite investing metrics and is essentially how much free cash flow per dollar the business generates from invested capital.
The higher the CROIC, the more cash the company is generating - and it also indicates that the business is a profitable one. Rarely do you see a high CROIC but low or negative FCF.
Back to CSCO. CROIC is consistently above 40%, which shows that management is making the right decisions when it comes to investing their capital.
But Signs of Slowing Down is Evident
Despite CSCO's business being managed well, CSCO is still suffering from slowing growth. In the past 3 years and TTM, Days Sales Outstanding has increased while Days Payables Outstanding has decreased.
This could mean that CSCO is offering more lenient terms to customers to sell its products, while at the same time, suppliers are requesting quicker payments.

If you now compare CSCO's numbers from the last 5 years to the last 10 years, you see that it has slowed down on both the top and bottom line.
5yr revenue growth averaged 4.7% vs. 10yr revenue growth of 10.1%.
5yr earnings growth: 3.3% vs. 10yr earnings growth: 9.5%
5yr FCF growth: 0% vs. 10yr FCF growth: 6%
Given the size and number of products CSCO has in its portfolio, it is highly unlikely that any speedy growth turnaround is going to take place.
What Does This Mean in Terms of Market Expectation?
Analysts are predicting that CSCO's earnings will grow at 7.73%, but by performing a reverse valuation using the Ben Graham Formula, Mr. Market is predicting that EPS growth will be 2.7%.

You see that when I manually enter a growth rate of 2.7%, I get very close to the current share price. If I do the same using the OSV stock valuation reverse DCF model with a discount rate of 10%, the expected growth is -8%. In other words, the market is expecting CSCO to contract - to show negative growth. If CSCO managed to only contract by 4%, then it would be worth around $22.30.
Take a look at this sensitivity matrix to see how the market is pricing the stock and the various stock prices under different scenarios.

Warren Buffett has said that you don't need to weigh a fat person to know whether that person is fat or not. That's what the reverse valuations I performed are designed to do. So far, CSCO is cheap without having to perform any detailed forward looking valuations. But where is the fun in just leaving it at that?
Cisco's Intrinsic Value Ranges
I use multiple valuation models because using a single model to determine a valuation is flawed in that it only focuses on one method. I'll use a DCF to value CSCO based on FCF, Ben Graham formula based on earnings, a PE adjustment method using multiples, and a no-growth valuation model called EPV. (To learn more about each method, see a previous stock valuation article on my blog.)
DCF Valuation
5yr FCF growth was 0%, so I will be optimistic and use 3%.
10% discount rate
FCF of $10,000m
The DCF intrinsic value comes out close to $29.

Ben Graham Earnings Valuation
Analysts are predicting earnings growth next year of 7.73%. My forecasting model shows something similar at 7.5%.
Rather than the analyst estimate of $1.94 in earnings, I will go with my forecast of $1.56.
The Ben Graham intrinsic value comes out to $29.

PE Adjustment Valuation
By giving points based on the quality of its business, financials and earnings predictability, the PE is adjusted to come with a fair value PE.
16/20 points for business
20/20 for financial
15/20 for earnings predictability
Using these points, the OSV stock valuation model gives CSCO a fair value PE of 18.77, which equals a fair value stock price of $28.

Earnings Power Value Model
The EPV model calculates the value of the business in a no-growth scenario and also looks at whether a moat exists for earnings power to continue. The no-growth scenario for CSCO turns out to be $26.70, which is consistent with the points mentioned throughout this analysis.
CSCO has a very big moat capable of sustaining its earnings power.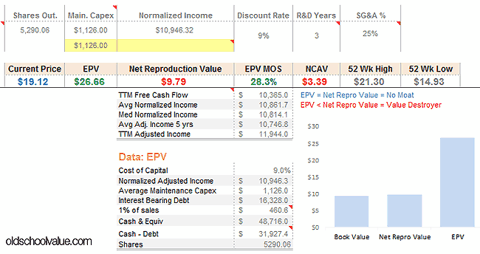 Based on four valuation models, CSCO is consistently hovering around the $26-$29, which is an upside of 35-50%.
Comparing Competitors Side by Side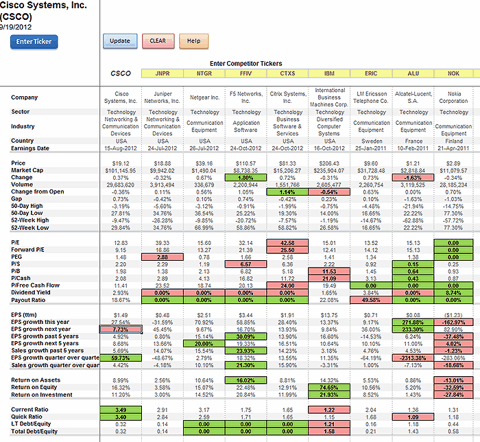 Summing Up
From a fundamental point of view, CSCO generates plenty of cash, generates excess returns and is a solid business. The problem lies with growth. CSCO is unlikely to be able to turn things around quickly due to its size, but the dividends it now pays out should suit dividend investors.
Although I've valued CSCO at around the $28 mark, it doesn't fit in well with my portfolio. I prefer to find something with stronger earnings power and the ability to grow into a market.
Disclosure: I have no positions in any stocks mentioned, and no plans to initiate any positions within the next 72 hours. I wrote this article myself, and it expresses my own opinions. I am not receiving compensation for it (other than from Seeking Alpha). I have no business relationship with any company whose stock is mentioned in this article.