More evidence of significant changes in the behavior of American consumers.
 U.S. motorists drove less for a seventh consecutive month in May, as vehicle-miles traveled on all U.S. roads fell 3.7 percent during the month from a year earlier, the Federal Highway Administration said in a report yesterday. The seven-month slide is the longest downward streak since 1979.

Demand for oil and petroleum products dropped 4.3 percent in May from a year earlier to 19.7 million barrels a day, according to Energy Department data released yesterday. That's 889,000 barrels a day less on average for the first five months of the year, compared with the same period a year before.
U.S. monthly total crude oil and petroleum products supplied (in million barrels per day) Data source: EIA.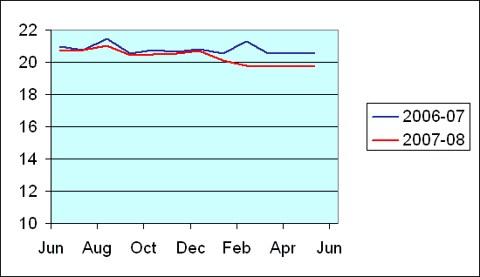 U.S. gasoline demand appeared to be quite unresponsive to price during 2001-2006. My interpretation is that the primary reason we ignored $3.00 gasoline is because we could afford to. But as gas prices rose and the number of gallons purchased held steady, the budget share for energy has gone up pretty dramatically over the last year. Fewer people seem to be ignoring $4.00.