Ford (NYSE:F) gave a positive outlook yesterday when it presented its 2012 strategy at the Citi Global Industrial Conference. The company is planning to roll out new products in the European market, which will eventually put an end to the sales decline, for which the stock has been heavily punished. This can also mean that the losses in Europe have reached a bottom for Ford, and a turnaround is expected soon. If things work out the way that Ford has planned them, there are chances that the market will positively revise the stock's multiples.
Ford expects its EPS to be 30 cents this quarter, just a notch above the estimate of 29 cents. There are chances that the company may benefit from a lower tax rate, which can be $1.3 billion rather than the earlier estimated figure of $1.4 billion.
North America
Ford gets over 60% of its revenues from the North American market. The company has introduced some new cars in the market in the first half, and has planned to introduce more in the second half. The Focus Electric, Flex, New Escape, Mustang V6 and Taurus (new model) are some of the examples. There has been an increasing trend towards small cars that are more fuel efficient, and can be easily afforded by consumers, especially in recessionary times. That is probably why the Ford Escape, a small utility, was a big hit this August, with 32% higher sales YoY.
Ford plans to launch the All New C-Max Hybrid, C-Max Energi, All-New MKZ and a super duty truck in the second half of the year. Also, it has been creating a buzz for its new Fusion Sedan - the Ford Fusion 2013. Ford estimates a SAAR of 14.5-15 million for North America this year. The company enjoyed a market share of 15.4% in the first half, and expects the figure for 2012 to be a bit lower than the 16.5% share in 2011.
Product refresh rate was also disclosed by Ford. This is the percentage of sales coming from significantly refreshed or new products in a year. The rate is expected to accelerate in 2013, and remain robust in 2014. This was of primary concern to the market, as investors were worried that Ford's product cycle may slow down in 2013.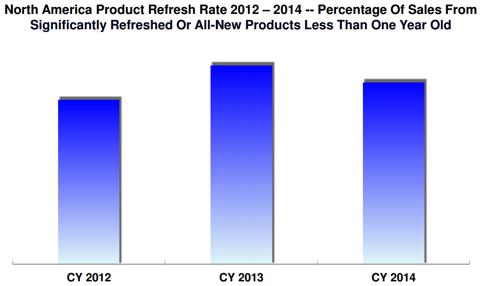 Overall, the company seems to be bullish on the North American market for the year.
Europe
Ford has shown concerns over the bleak macro conditions in Europe, from where it generates 23% of its total revenues. Earlier this quarter, it increased its loss forecast from European operations from $500 million to $1 billion. The data released by the European Association of Automobile Manufacturers for the month of August showed that new car registrations had fallen by 8.9% YoY. Even Germany, which is considered to be the strongest European economy, reported a 4.7% YoY decline in demand. That is probably why Moody's recently cut its global auto sales growth rate forecast for 2013 from 4.5% to 2.9%.
Ford has planned to execute the One Ford plan globally. Along with this restructuring plan, Ford has planned a vast product launch in Europe, which it expects can help pull the company out of losses. The company is set to launch 15 new vehicles in the next five years. Ford expects 20% growth in vehicle sales over the next five years. The product acceleration will include passenger vehicles, multi-activity vehicles, SUVs and pickups.
Ford enjoyed a market share of 8.1% in Europe in the first half, and is expected to have a share of 8.3% for the year.
China
The recent political tensions between China and Japan have led to massive anti-Japan protests in China. Honda (NYSE:HMC), Nissan and Toyota (NYSE:TM) are expected to lose sizable market share. They have already cut production guidance. In a zero sum game, Ford can also win from this situation, even though Ford's presence in China is way less than its Detroit rival, General Motors (NYSE:GM), and German manufacturers like Volkswagen and BMW. Currently, Ford gets 7% of its total revenues from Asia.
Conclusion
Ford is expecting a higher operating margin for its automotive division (5.6%) than 2011's margin of 5.4%. Ford is trading at a forward p/e multiple of 7x. A turnaround in Europe can mean a turnaround for Ford, and will lead the market to revise the multiples at which Ford is currently trading. Historically, the stock has traded at a p/e multiple of 10x. If the European division turnaround happens the stock can trade at its historical p/e multiple, which means an upside of 43% just from the expansion of p/e multiple (current p/e multiple of 7x vs historical average of 10x).
Disclosure: I have no positions in any stocks mentioned, and no plans to initiate any positions within the next 72 hours.
Business relationship disclosure: The article has been written by Qineqt's Industrials Analyst. Qineqt is not receiving compensation for it (other than from Seeking Alpha). Qineqt has no business relationship with any company whose stock is mentioned in this article.