As a newly informed dividend-growth (DG) investor, I'm always interested in learning about companies I haven't heard about. I'm also interested in learning more about my current holdings and if they're still a good fit for me. In this article, I wanted to look at one current holding: Rockwell Collins (NYSE:COL). The purpose of this article is to look at the company itself and see if we learn any insights into our investing approach. The other half of the stock-purchasing game - valuation - is always important, but is not included in this article.
Some Background
I've been an investor of Rockwell Collins since it was spun off in 2001 from Rockwell International (now Rockwell Automation, ROK). I've enjoyed watching both of these companies DRIP themselves over the years. In case you're wondering, I've held ROK since I inherited it in 1987 at the ripe old age of 5 months. I've basically been an investor for life (although not always informed).
Back to Rockwell Collins
Most DG investors define a DG stock as one that has increased its dividend payout per share every year for at least 5 years. I'm not sure why 5 years was picked. My guess is that it most likely pertains to Dave Fish's CCC list. In any event, Rockwell Collins does not meet the 5 year requirement and you won't find it on his normal CCC lists. However, you will find it as one of his "Frozen Angels" under the "Notes' tab.
The following chart shows Rockwell Collins' dividends/share vs EPS. The 2001 EPS is pro forma, and the 2012 EPS is estimated, as is the expected dividend payout for the remainder of the year. (Source: Yahoo Finance and the EDGAR online website).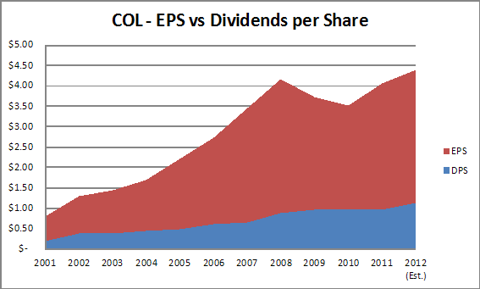 As you can see, the dividends are paid out comfortably by EPS. Earnings have done well over the last 11 years. If you ignore the 2 years of dividend freezes (just go with me here, I promise this is going somewhere), Rockwell Collins seems like it would make a good DG company to invest in.
But what else is different about these dividends (other than the freezes)? Rockwell Collins is one of those weird companies that increase the dividend every-other year instead of every single year. In the following chart, I show the announced dividend increase. For comparison sake, I also show Coca-Cola's (NYSE:KO) announced dividend increases over the last 11 years. When judging a prospective DG company, I find it useful to compare against the DG stalwarts.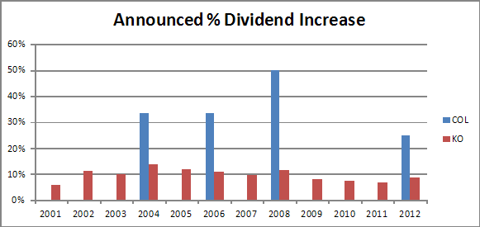 Whoa! Coke's yearly dividend increases have been predictably stable over the years (6-14%). But Rockwell Collins' yearly dividend increases are all over the map (0-50%). I can see why some DG investors prefer stability.
Now for the fun table
My next question was: How does the difference in dividend growth rate (DGR) compare over the long term? Rockwell Collins' first dividend payout was $0.09 in Q3 of 2001. Well, by sheer luck, I also noticed that Coke's dividend payout was $0.09 in Q3 of 2001 (split adjusted). Let's see how much has been paid out since then. (For illustrative purposes, I'm ignoring any dividend reinvesting that may have been used).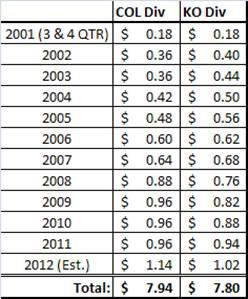 Well, isn't that interesting? Since Q3 of 2001, both of these companies have paid out almost the exact same amount in dividends per share. Their average DGR over this time period was 10-11%/yr. Given similar purchase prices, you'd also be at similar yield-on-costs. The only difference was the large differences in DGR between the two companies.
Note: on July 6th, 2001, you could've purchased split-adjusted Coke for $22.30 or Rockwell Collins for $21.72. So they were also very similar in price at that time.
So what type of DG investor are you?
The DGR differences shown between Rockwell Collins and Coke highlight the importance of goals and objectives in determining the types of companies that one should invest in.
For those using the DG investment method, is your goal to:
Receive increasing dividends with a yearly DGR of >10%/yr (portfolio-wide or stock-specific)?; or
Receive increasing dividends with a long-term DGR of >10%/yr (portfolio-wide or stock-specific)?
Note: Long-term can be any time frame of your choosing. In this case, goal A could be a subset of goal B.
Obviously, the correct answer is A or B or A & B. I'd wager that those in retirement are more concerned with goal A, while those of us with many decades of accumulating stocks don't care either way. I've chosen portfolio-wide goal B with long-term equal to 7 years. You choose what you want.
The point is that if you choose goal B, then you should consider companies that may be "off the map," such as Rockwell Collins. I think it's wise for DG investors to not constrain themselves to the CCC lists. Feel free to look at the "Frozen Angels" or companies mentioned elsewhere. Remember, you pick the companies that adhere to your goals. Even a company that isn't "technically" a DG company can still meet the goals of a DG investor.
My own Path
Would I like to hold shares of Coke some day? Yes. Will I keep holding on to my shares of Rockwell Collins? Yes. Is it because of my stated goal to have a long-term portfolio DGR of >10%/yr? Actually, No.
I'll be holding on to both Rockwell Collins and Rockwell Automation regardless of my goals. My investment goals may change during my life, but I'll always want to hold on to these. They are special keepsakes from my past. They could both go down to zero and I wouldn't care about their performance.
Disclosure: I am long COL, ROK. I wrote this article myself, and it expresses my own opinions. I am not receiving compensation for it. I have no business relationship with any company whose stock is mentioned in this article.