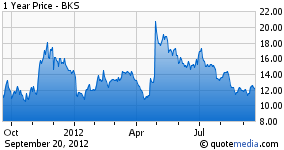 Wal-Mart (NYSE:WMT) has stopped selling Amazon's (NASDAQ:AMZN) Kindle. While this somewhat surprising announcement is no doubt related to animosity between the two largest rivals in the world of retail, there is another element to this story. To understand it, you should take a look at the supply chain management for the Barnes and Noble (NYSE:BKS) Nook.
Now, I've written a couple of positive articles about Barnes and Noble lately. But I just can't stop finding reasons to be positive about the future of this company. Although it is often written off as a David in a land of Goliaths, the Nook has multiple long-term competitive advantages that its much larger competitors can only dream about. I believe they may become the Dell (NASDAQ:DELL) of tablet computers. The first and perhaps the most important of those competitive advantages is Barnes and Noble's disruptive supply chain.
Enter Kinaxis
Over the last year Barnes and Noble has embarked on a fairly ambitious project. Barnes and Noble's Nook division uses RapidResponse software by Kinaxis to coordinate supply chain demand planning and inventory management. Shortly before the launch of the Nook Tablet last year, they connected the point of sale system at every store that carries Nook devices directly to the control tower management software. This makes real-time sales and inventory data instantly available to the Nook supply chain managers.
Now, when I say every store that carries Nook devices, I don't just mean every Barnes and Noble store. I mean 13,000 different points of sales for the product. Books-a-million (NASDAQ:BAMM) locations are included in this system. Wal-Mart, Target (NYSE:TGT) and Best Buy (NYSE:BBY) locations are included in this system. When the Nook heads to the U.K., John Lewis and other retail partners will probably be included in the system as well. Barnes and Noble is working toward real-time inventory visibility for every nook and cranny of their retail channel, so to speak. This is the most extensive deployment of the Kinaxis software ever and Kinaxis featured Barnes and Noble as the keynote speaker at the Kinaxis Kinexions 2011 conference last holiday season.
This high degree of integration with distributors is unique to Barnes and Noble. In part because it is innovative, but also because it is difficult to negotiate. Retailers would be hesitant to give this sort of data to Samsung (OTC:SSNLF), Apple (NASDAQ:AAPL) or Google (NASDAQ:GOOG). And of course, Amazon is public enemy number one for any retailer.
Why Do This?
Well, for one thing it greatly speeds up the distribution of Nook units. The precursor to this setup was the bookmaster inventory system Barnes and Noble uses to restock books in their own stores. After the Borders bankruptcy, a former Borders executive stated that, as a result of that an other systems, Barnes and Noble could restock titles in 2-3 days when it took Borders up to 16 weeks to do the same thing. The retailers carrying the Nook are probably more efficient than Borders was, but restocking products with poor visibility still creates delays. Long product lead times can slow down the clearance of inventory levels through warehouses, which in turn can lead to lost revenue from inventory "rot" and delayed launches for new products.
Disruptive Thinking For An Electronics Maker
But I think what's most revolutionary about this management system is that it reflects the fact that Barnes and Noble is focusing on sell-through at the retail level in the first place. Electronic manufacturers don't usually do that.
This is because, unlike bookstores which are allowed to return unsold titles to the publisher for a full refund, electronics stores and general merchandisers are rarely guaranteed returns by the manufacturer. When those types of stores have excess merchandise they wholesale it or throw it away. As a result electronic manufacturers have grown accustomed to overstuffing retail channels. It doesn't matter if a large percentage of their product winds up at liquidation auctions instead of in the hands of consumers because the manufacturer has already been paid.
But for this sort of wastefulness only make sense when the manufacturers charges a hefty markup on the hardware in the first place. Barnes and Noble doesn't want to sell the hardware with a markup- they have a razor and blade business model that doesn't work until the device ends up in the hands of an actual consumer. So they avoid channel stuffing. Take a look at the wholesale auctions from Best Buy at this website. You see a lot of Kindle keyboards, Motorola Xooms and Samsung Galaxies, but you don't see Nooks.
If you think about it, it actually makes more sense for Barnes and Noble to take back unsold inventory - the same way publishers have always taken back unsold books - and sell it at a loss as a refurbished unit then to let retailers wholesale or scrap it. That's exactly what Barnes and Noble has been doing.
Barnes and Noble was criticized for this statement n their most recent earnings report that "in order to optimize the supply chain for new products, [we] took back Nook Simple touch inventory following the previously announced holiday sales shortfall." But what many failed to realize was that was a function, not a failure, of their business model. Barnes and Noble simply taking the overstock back so they can replenish stock of the NST's in their own stores and in preparation for the European expansion.
A Bonus Incentive
An added bonus to the "returnable" model is that other retailers appreciate it. If Amazon insists on forcing retailers eat the cost of unwanted merchandise but Barnes and Noble is willing to take it back, then guess who's product gets dropped from the shelves? Particularly given Amazon's insistence on online exclusivity for the Kindle.
Which brings us to Target's decision stopped selling the Kindle in May, and Wal-Mart's decision today.
Risk Vs. Reward
Barnes and Noble's stock price has spiked several times in the past two years on news of investments from Microsoft (NASDAQ:MSFT) and Liberty Media (LMCA), but between announcements the stock has lagged amid concerns that the stores may follow the path of Blockbuster video and worries about the profitablity of the Nook.
While I appreciate that the company has been losing money, and survival is never guaranteed, I believe fears of bankruptcy are overblown. The retail division of the company reported $94 million in profit in 2011 and the college division reported $70 million in the same year. The loss is due to controllable investment in the Nook division.
The potential upside from the Nook division is difficult to calculate, but long term sales in the the tens or even hundreds of billions are possible.
I believe the risk/reward trade-off is well worth it for those initiating or holding long term positions in Barnes and Noble stock.
Disclosure: I am long BKS. I wrote this article myself, and it expresses my own opinions. I am not receiving compensation for it (other than from Seeking Alpha). I have no business relationship with any company whose stock is mentioned in this article. I am short AMZN, I am long GOOG