In a week marked by a furthered short-term collapse of oil and a stronger U.S. dollar, the gold market saw prices drop off by $40 to settle near $925 an ounce. Investors seem quick to point the finger at the commodities market, using any sign of weakness as a cause for a stock market rally, but is the gold rush of late actually winding down?
It's been a roller coaster ride by all means in the U.S. economy over the first two quarters. With the stock market sent into bear market territory, precious metals like gold and silver have soared to new highs before experiencing a recent correction ranging from 10% to 20%. Since hitting an intraday high at $1,033 an ounce on March 17th after a horrific Bear Stearns bailout, things have been range-bound in the gold market as prices have drifted in the mid-$800 to mid-$900 levels. I believe this trend is bound to break to the upside very soon, and I want to be invested when that inevitably happens.
The Case for Skeptics
Analysts point to gold as a market that has been over-heated by inflationary fears. Gold is a typical safety net during hard economic times, as it is commonly used as an alternative currency. Gold's implied volatility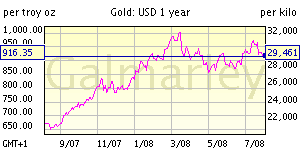 currently sits around 36 according to Rob Kurzatkowski, futures analyst with optionsXpress in Chicago. This is significant because historical averages are pinned closer to the low 20s.
On top of near-term volatility and concern over a quick price appreciation, many point the finger at falling demand for the commodity itself. An estimated two-thirds of gold's overall demand stems from jewelry fabrication, the demand for which dropped over 50% in the first half of 2008. However, despite this falling demand prices managed a 15% incline in the commodity over that same time-span. What this means to investors is that all "real" demand is being entirely ignored by traders in favor of investment demand.
Three Reasons Why Gold Moves Higher
Despite volatility that can cause short-term fear (such as that found in recent weeks), there are several reasons why the momentum points to higher prices in gold. I am concluding that we can all but ignore the typical "real world" supply-demand equation in favor of investment demand. The major catalysts I see for gold's uptrend include:
Bullish trends in the gold options markets
The historical "gold-oil ratio" averages
Potential market-moving events to drive demand
Gold Options: As recently as Friday, July 25, options trading action pointed to levels upwards of $1,200 in the gold market. Bullion definitely has a chance to rally past these record-breaking levels, as a flurry of bets from out-of-the-money calls has a targeted range all the way up to $1,500 per ounce. After a recent fall in the commodity market, there has been strong volume on December $1,000 calls and spreads between $1,200 and $1,300. As gold options are currently dirt-cheap for traders, the trend in the options markets has higher gains on the radar.
Gold-Oil Ratio: One of the more interesting data points is the historical average gold-oil ratio which is at this point in time completely off the mark. If history proves an effective lesson, precious metals need to increase dramatically while oil needs to continue its decline. As we are sitting right now, gold would need to hit the $2,000 per ounce mark in order for the ratio to balance. Granted, this can be offset slightly with oil tailing off further; but the case for rising precious metals is evident.

World Events: Certain market moving world events could lead to a staggering demand for gold, adding yet another catalyst to the bullish playbook. With the possibility of domestic & international economic disaster, a strong threat of inflation around the world, the potential catastrophic war between Israel & Iran and even flailing currency markets, any one of these deal-breaker events could cause a sharp jerk upwards in the gold markets. Investors betting on the world's furthered economic demise are moving all the chips on the table toward the precious metals markets.
Playing the Gold Trend with Stocks
While it takes a seasoned investor to place bets on actual commodity trades, there are many ways for individuals to capture the growth by investing in alternative stocks such as precious metal miners. I have owned Yamana Gold (NYSE:AUY) [12.30, 0.00 (0.00%)] several times in the past, and continue to pump-and-dump the trade for
profits. I have never suffered a loss trading the company, and look to enter in soon now that we have reached sub-$13 per share levels on AUY. My two other favorites in the

gold market are much larger in size with hands in other precious metal markets. These names are Barrick Gold (NYSE:ABX) [42.58, 0.00 (0.00%)] and GoldCorp (NYSE:GG) [39.60, 0.00 (0.00%)].
As much as I enjoy speculating on the future growth in gold with names like Yamana, Barrick & GoldCorp, those that appreciate long-term success may wish to have a look at Freeport-McMoRan  (NYSE:FCX) [95.63, 0.00 (0.00%)], a leading purveyor of gold and copper that seems to hold much steadier in long term patterns. FCX is a great hedge in any portfolio, and can add a fresh look of diversification if you don't mind marginally lowering your upside to balance risk.
Predictions & Opinion
In my mind, there is absolutely no reason that gold should still be sitting below $1,000. I am calling for $1,150 an ounce by the first quarter of 2009. With commodity levels headed back toward $900, I feel that a rebound in precious metal markets is imminent despite the occasional bear market rally on flailing oil prices. If you can stand the volatile short-term movements in the market, gold bulls may soon be rewarded.
Disclaimer: The mutual fund that the author is associated with is long FCX