A large trader used a pair of ETFs to swap out of the agriculture sector and into a sizable oil position on Wednesday. The $60 million trade shows how institutional investors and hedge funds are using liquid ETFs to trade sectors and asset classes.
Shortly after 11 am Eastern on Wednesday, a big trader appears to have sold about $60 million worth of PowerShares DB Agriculture Fund (NYSEARCA:DBA) and rolled the proceeds into PowerShares DB Oil Fund (NYSEARCA:DBO).
Trading volume in oil ETFs exploded Wednesday as crude futures fell sharply for the third straight session.
Trading spreads remained tight in the two commodity ETFs amid the heavy volume and volatility.
The DBA/DBO swap is another example of hedge funds and institutions turning to ETFs for large trades, and their comfort in the products' liquidity and tight spreads.
It's an interesting trade. A large institution appears to be booking a profit in the agriculture fund after the summer rally, and rolling into the oil ETF on this week's dip.
PowerShares DB Agriculture Fund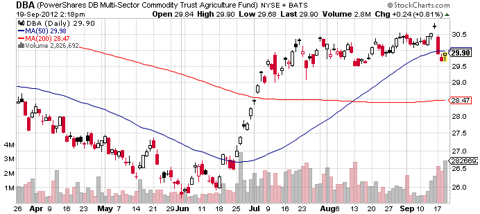 PowerShares DB Oil Fund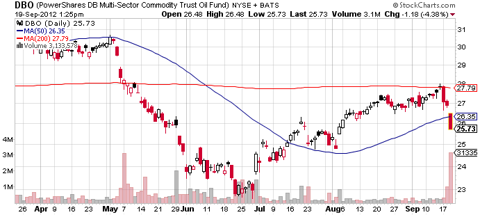 Disclosure: I have no positions in any stocks mentioned, and no plans to initiate any positions within the next 72 hours. I wrote this article myself, and it expresses my own opinions. I am not receiving compensation for it. I have no business relationship with any company whose stock is mentioned in this article.