Market Recap
The market bottomed early in the day as the market continues to perform well since the Fed's QE3 announcement. The Philly Fed Index came in better than expected at just over -1 vs. the -4 expectations, which helped the market rebound today. At the same time, initial jobless claims were a bit higher than expected but flat week-over-week as they remain at the 380K level. The rebound by the market was good to see for the bullish picture, and without much news tomorrow, sets up for a potentially strong options expiration day tomorrow. The Fed has put a very strong floor in the market, and without Europe upsetting the picture, things are continuing to move higher. Until we get some major snag in the European picture, things should remain pretty solid.
Here are some stocks we like moving into the rest of the week and beyond:
Stocks To Trade
Today, we are looking at an earnings trade in Chipotle Mexican Grill (NYSE:CMG), longs in Potash (POT) and Target (NYSE:TGT), and shorts in US Bancorp (NYSE:USB) and Apollo Group (NASDAQ:APOL).
For an earnings trade, we like the looks of playing CMG bearish into earnings. While we like the company for the long-term, CMG seems to be rolling over and may sell off a bit into earnings as traders take profits at the $350 level. Further, the last slate of earnings for the company were weaker than the market was expecting, which does not bode a lot of confidence heading into this report. Same-store sales have been commented as above estimates, but at the same time, CMG is a heavily traded stock. Traders will play the previous gap down rather than the fundamental picture of strong sales. The $350 level has signaled as a top, and we like using that area for an aggressive bear call spread of 350/360 for a max gain of 60%.
Trade: CMG, Oct20, 350/360 Bear Call Spread
Max Gain: 60%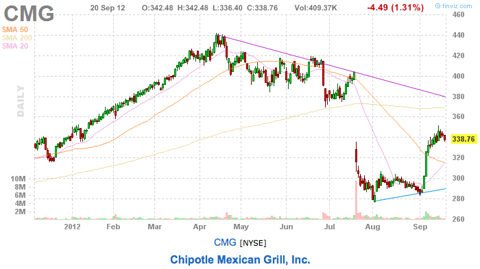 For longs, we like the looks of Potash and Target . Despite the market's weakness today, POT continued to strengthen, and it actually broke a key level of $45. As we head into the winter, agricultural stocks tend to get seasonal strength, and we like POT over the next couple weeks here to break out after it formed an inverse head and shoulders after bottoming at the beginning of September. POT has great value with a future P/E of 11.5 and 80% growth in EPS this year. We believe that the stock should make a nice run into earnings, and a test of 46 over the next couple weeks looks likely. Look for more breakout over 45.50. Another bullish play we like is Target for options. The company was recently upgraded to Buy with its price target increased to $80 by us for the year. We are looking for a late 2012 run in Target as the company gears up for its international expansion into Canada. The company has brought back its core business with smart fashion, P-Fresh line, and less attention to bringing in the discount shopper. We believe the company looks poised to break even higher after moving over $65 today and like selling the 65/62.50 bull put spread for a 38% max gain.
Stock Trade: Long, POT
Breakout Point: Broke already, but look for more over 45.50
Options Trade: TGT, Oct20, 65/62.50 Bull Put Spread
Max Gain: 38%
For shorts, we like the looks of US Bancorp and Apollo Group. USB is getting very close to breaking an upward wedge that it is in, and we believe that if the market does weaken, financials will be one of the biggest sufferers. USB has very strong support from 33.80 - 34.00. A break of 33.80 would really be a negative for this stock, and we believe it would make a pretty strong move to the downside if that occurred. The issue for USB is that they move mostly with the rest of the financials. Those strengthen on European "risk-off" moves, but when that situation looks dire, financials suffer.
We believe that a lot of the upside from QE3 and Draghi has moved into stocks, and they are starting to roll over without another catalyst. USB looks ready to break. APOL is very fundamentally weak as the explosion of for-profit education has now imploded. APOL has not been able to get over $30 since August despite all of the strength in the market, and the stock continues to suffer as there is no upside catalyst. Sure there is value with a sub-10 future P/E. Yet, the future P/E is higher than the current P/E. EPS is dwindling, and if the job market picks up at all in the next year, APOL will be in an even bigger hole. We like the Oct20 33/34 Bear Call Spread for a 20% max gain.
Stock Trade: USB, Short
Breakout point: 38.80
Options Trade: APOL, Oct20, 33/34 Bear Call Spread
Max Gain: 30%
Tomorrow's Outlook:
The market looks pretty solid right now, and even today's weakness was bought up. Investors want to be in the market right now, and they are putting their money to work. We do believe a correction of some kind should come in the next 2-4 weeks, but until something catalyzes it, we should move up on great news and flat on anything else. Tomorrow, we have no major data to be released and options expiration day. A lot of stocks should pin key levels tomorrow, so it will most likely be a flat market day with different stocks continuing their current trends.
Our Moves/Holdings:
We had a great day in the market as we locked in some nice gains. We got a 2% gain on our Watson Pharma (WPI) long, Cardinal (NYSE:CAH) short. We also hit our target on an AutoZone bull put spread from our Earnings Alpha Portfolio for a 25% gain. We did hit our stop loss on Sysco (NYSE:SYY) though for a breakeven trade. We added a long in Potash and short in US Bancorp as well as a bull put spread in Target .
We have the following positions:
In our Short-Term Equity Portfolio we are long Watson Pharma, Potash, and Yum! (NYSE:YUM). We are short Cardinal Health and US Bancorp.
In our Options Portfolio, we are long Apple (NASDAQ:AAPL). We are short OpenTable (NASDAQ:OPEN).
In our Earnings Alpha Portfolio, we are long Target , Alexion (NASDAQ:ALXN), Costco (NASDAQ:COST), Polaris (NYSE:PII), Crocs (NASDAQ:CROX), Discover Financial (NYSE:DFS).
In our Goldman Sachs Up/Down Paper Portfolio, we are long American Water Works (NYSE:AWK), Apple , Manitowoc (NYSE:MTW) and Fiserv (NASDAQ:FISV).
Chart courtesy of finviz.com.
Disclosure: I have no positions in any stocks mentioned, and no plans to initiate any positions within the next 72 hours.
Business relationship disclosure: The Oxen Group is a team of analysts. This article was written by David Ristau, one of our writers. We did not receive compensation for this article (other than from Seeking Alpha), and we have no business relationship with any company whose stock is mentioned in this article.