Despite the fact that CYS Investments (CYS) cut its dividend by 10% beginning with its Q3 dividend distribution, it is still providing a solid 12% dividend yield to income oriented investors. We are not surprised to see mREITs cutting per share dividend distributions to investors due to the narrowing spreads that the firms are realizing on the mortgage portfolios. CYS's quarterly dividend reached its peak of $.60/share in 2011 and remained constant until Q2 2011, when it was reduced to $.55/share in Q3 2011, $.50/share in Q4 2011 and $.45/share in Q3 2012. One of the things we like best about CYS is the fact that its financial reporting is best in class with regards to its mREIT peers. Hallmarks of CYS's financial reporting include the following:
It publishes a schedule of its investments
No OCI account on its balance sheet
All gains and losses are taken through the income statement
CYS's NAV (per share) reflects mark-to-market accounting since its inception
Despite the fact that CYS reduced its quarterly dividend distribution, its Q2 2012 core earnings did not see much of a decline versus Q1 2012 levels. Despite facing an increasingly challenging investment environment, CYS's Q2 2012 core EPS (excluding gains from investments and unrealized depreciation on swap and cap contracts) was $.38, versus $.39 in Q1 2012. CYS also realized $.49/share in EPS during the quarter from gains and losses on investments and derivative contracts. CYS's small decline in Core EPS from Q1 2012 to Q2 2012 compared favorably versus American Capital Agency's (AGNC) 34% linked quarter decline, which is the most respected mREIT in the industry.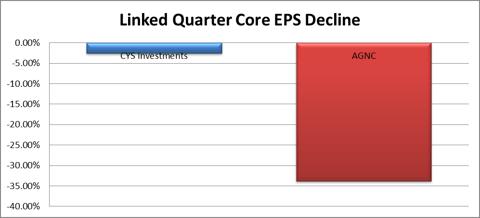 Source: MRQ Earnings Releases for CYS and AGNC
We were hoping that the Federal Reserve would have refrained from additional monetary easing actions. We understand that political partisanship is preventing fiscal and macroeconomic policy solutions from passing Congress and we understand that the Federal Reserve felt pressured into monetary easing. With the Fed launching QE3 and making it open-ended, we expect interest rate spreads to continue to compress and this will eventually lead to more frequent dividend cuts from mREITs. We believe that investors are approaching mREIT investments with the same perspective that we have in that the flattening yield curve is making it impossible to generate a respectable investment yield.
We believe that investors are clueing into the fact that mREITs will not generate significant per share dividend growth. We also believe that the reason why investors continue to bid up mREITs even though the mREITs are seeing increased market price premiums to book values is because investors are attracted to the high current dividend yields and mainly want to make sure that the dividends are not drastically cut. Because CYS has already cut its dividend three times due to the flattening yield curve, we are not expecting it to engage in any more significant reductions in the future. We also expect CYS's near term dividends to be supported by the need to distribute taxable capital gains earned from the sale or maturity of investments.
In conclusion, our three favorite mREITs are CYS, AGNC and American Capital Mortgage Investment (MTGE). Of these three, we like CYS the best, then MTGE and finally AGNC. These are our favorite mREITs because we find these three companies to be the best in breed in the mREIT sector. In our previous reports on CYS, we discussed how the company specializes in the 15 year mortgage segment. We noticed that CYS's weighted average CPR rate for its agency RMBS securities decreased from 19.5% as of Q4 2011 to 17.3% in Q1 2012 and 15.8% in Q2 2012. Not only is this lower than the average CPR rate for all agency RMBS in the market, but it is declining, whereas AGNC's is seeing an increase in its weighted average agency RMBS portfolio CPR rate from 8% last year to 12% in Q2 2012. The tie-breaking criteria we used to rank CYS, MTGE and AGNC is the premium to book value ratio for the companies.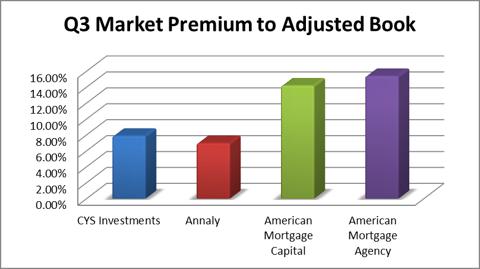 Sources: Morningstar Direct, CYS Q2 2012 10-Q and Saibus Research estimates
Disclosure: I am long MTGE, CYS. I wrote this article myself, and it expresses my own opinions. I am not receiving compensation for it (other than from Seeking Alpha). I have no business relationship with any company whose stock is mentioned in this article.
Additional disclosure: This article was written by an analyst at Saibus Research. Saibus Research has not received compensation directly or indirectly for expressing the recommendation in this article. We have no business relationship with any company whose stock is mentioned in this article. Under no circumstances must this report be considered an offer to buy, sell, subscribe for or trade securities or other instruments.