Many traders are betting that the Chinese demand for iron ore and steel could pick up later in the year. Drybulker stocks, especially the ones that trade on short-term contracts, like DryShips (NASDAQ:DRYS), Excel Maritime (NYSE:EXM) and Genco Shipping (NYSE:GNK), went up by 7%, 13% and 6.5%, respectively. Stats from China showed that iron ore prices rebounded from their lowest level in three years after the Chinese government approved more than $150 billion for infrastructural development in the second largest economy of the world.
The rise in steel and iron prices was also depicted by the sharp surge of 9% in the Baltic Dry Index (BDIY) in the last two days. BDIY is composed of weighted averages of indices of Capesize, Panamax, Handysize and Supramax. However, these indices depend upon the cost of transporting commodities, like grain and iron ore. This of course is further dependent on the prices and demand of commodities. More the demand for commodities, the higher their prices will be; and more demand will lead to a rise in charter rates for vessels, thus leading to a rise in BDIY.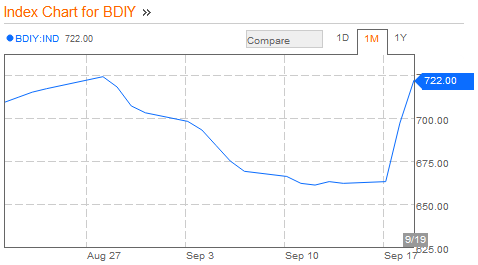 The first week of September
The first week of September was an eventful one for drybulkers. The earnings for Capesize improved by 70% WoW (week over week), but this was offset by falls of 3% and 15% in the rates of Handymax and Panamax, respectively. The decline in Handymax can be attributed to the falling supply of grains due to the worst ever U.S. drought since 1956.
Ship chartering activity also picked up. 26 Capesizes were chartered in the spot market; showing an increase of 24% WoW. This is worth some attention, since total Capesize vessels chartered are 54% of the existing fleet, with 24% alone coming in the first week of September. Capesizes are commonly used to transport iron ore, the commodity from which dry bulkers make up most of their revenues. 85% of the total new capacity will be used to transport iron ore. This is above the 81% in the last week of August and the average for 2011 of 73%.
According to DryShips daily market report for today, the average value of time charters for Capesize increased by $68, and for Supramax by $65. However, the TCE collapsed for Panamax by $201.
BDIY takes some days to adjust to reflect a substantial change in shipping activity. This is because charter rates of the vessels rise only after a persistent rise in demand. This is why BDIY took almost a fortnight to adjust to the sharp rise in shipping activity.
Navios Maritime (NYSE:NM)
NM has been working hard to reduce its expenses, which is how the company has survived, despite its depressed Time Charter Equivalent Rates (TCE). The company is not burning cash. NM claimed in its earnings presentation that it was able to generate an Average Contracted Daily Charter-Out Rate of $20,870, which was 30% greater than the breakeven rate of $15,950; this rate is expected to rise to $28,683 in 2013.
Debt is also not a problem, given the following debt maturities: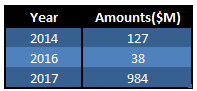 Unlike, DryShips, NM has not diluted shareholders' holdings by issuing too many shares. The company expanded its outstanding shares by only 4% in the last three years, as compared to 744% for DRYS (from 45 million to 380 million). The market considers that this company ranks highest among dry bulkers expected to make positive free cash flows in the future. With a dividend yield of 6.5%, NM looks like an attractive option in the long run. However, the only issue with NM is that it has signed many long-term contracts at depressed charter levels. Therefore, a rise in BDIY may not be of any help to the company, as the charter rates have already been locked for many of its contracts.
DryShips Inc.
DRYS used to be a pure play on the BDIY in 2008-09. By this we mean that DRYS used to book charters using short-term daily charter rates. In this way, when demand for commodities went down, DRYS would avoid locking its vessels in low charter rates. However, this became a nightmare for the company, when BDIY collapsed to all-time low levels, as the company had not locked into long-run favorable rates. DRYS still has the same policy, as it anticipates that the BDIY will rebound in the near future. However, this has led to a miserable utilization rate of 44%.
Another one of the risks attached to the stock is the level of debt that DRYS carries and has to pay in the future. Although the company is not burning cash, it is bound to pay $754 million in 2013 and almost $1 billion in 2014. This is enormous given its current cash balance of $367 million.
However, DRYS has 65% stake in Ocean Rig (NASDAQ:ORIG), which if sold could bring more than $2 billion to the company at the current market rate. Along with this, CEO George Economou has a reputation of destroying shareholder value, which means he will be more than willing to sell ORIG shares to pay debt, in case the company does not have enough cash resources at the time of debt maturities.
ORIG's stakes make DRYS an attractive buy.

Conclusion
The change in rates of Capesize is surely a positive point for the Drybulk Industry. It may be the first signal to the market that the industry's revival is just around the corner. However, it will be early to conclude anything at this point in time. The billion dollar question to be asked is:
"Is the rise in shipping activity temporary? And is it just because of the Chinese approval of a budget for infrastructural development, or is it a structural change in the industry, which may have finally turned around?"
Important catalysts to look out for are:
Persistent recovery in the Chinese GDP growth rate.
A company striking a deal to get sufficient debt in order to survive the crisis.
Disclosure: I have no positions in any stocks mentioned, and no plans to initiate any positions within the next 72 hours.
Business relationship disclosure: The article has been written by Qineqt's Industrials Analyst. Qineqt is not receiving compensation for it (other than from Seeking Alpha). Qineqt has no business relationship with any company whose stock is mentioned in this article.