I oft have people send me emails or put a comment under an article that is themed something along the lines of Sirius XM Radio Inc. (NASDAQ:SIRI) will be at $5 by this time next year. My standard response is to ask some very general questions about the business that demonstrate why the individual feels that this is possible. More often than not, the person that feels so bullish about the stock does not respond.
Another typical comment I see is that Sirius XM should be able to get to $10 because, "that is where Pandora is and Sirius XM is a much better company with a much better business model." My response to this is fairly typical. Sirius carries a much higher valuation than Pandora Media (NYSE:P), but the share price is less because Sirius has a lot more shares on the market than does Pandora.
The purpose of this article is to try to help investors better understand valuations. Investing is about understanding the market, researching the business, and understanding how a company such as Sirius XM is valued. It is not about having a good product, having high revenue, and adding a lot of subscribers. Sirius XM could add millions of subscribers tomorrow at $2 per month, but that would not help the business.
Typically, there are two ways that a media company like Sirius XM is valued. It is by the EV/EBITDA ratio or a multiple of Free Cash Flow. Even EPS does not really matter. In fact, a company can deliver a very modest EPS quarter after quarter and return great value to investors through FCF or EBITDA growth.
Sirius XM At $5 Per Share By September of 2013
If you are in the school of thought that this is possible, this section of the article is for you. Hopefully it gets you to think a bit more deeply and better understand valuations. I value Sirius XM by EV/EBITDA multiple. Essentially, the multiple is the value at which this company trades. Sirius XM, typically, ranges between a multiple of 15 and a multiple of 20, with a peak multiple of about 23.
To get a better grasp of this, I will show you what Sirius XM is currently trading at. It assumes that the company has about $800 million in cash. It also places the fully diluted share count at 6.799 billion to account for the convertible debt conversion that can happen because the stock price is above $1.87.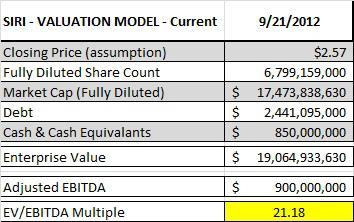 As you can see, the equity is currently trading at a multiple of 21. This is above the normal ranges, and represents a premium as compared to Sirius XM's peers.
So how does Sirius XM appreciate in value? Well, for one thing, we are getting close to a period of time where the company should outline guidance for 2013. Until the company issues guidance, we can only make assumptions. Let's start with a few and then model them:
Is it safe to assume that Sirius XM will buy back shares between now and September of 2013? It seems to be the common thought for most. Can the company buy back 800 million shares? If so, at what price?
Let's assume that the company can buy 800 million shares at $2.75 each. That would require $2.2 billion. Sirius XM should be able to have free cash flow of $75 million per month, and should finish the year with $800 million in cash. We should assume that the company will keep $500 million of cash on hand. In this situation, I will assume that all free cash (except $500 million) is used for share buybacks.
This would mean that the company will have $1 billion in cash available for buybacks, and will have to borrow $1.2 billion. The model looks like this: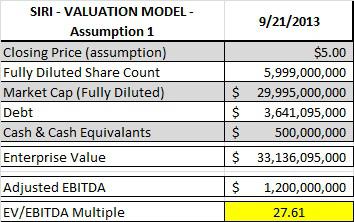 As you can see, a $5 price target using the assumptions above take the SIRI valuation to levels that it has never seen, and goes even beyond the growth model that any reasonable model uses.
Now lets take it a step further. Can Sirius XM buy back 1.6 billion shares? At a price of $2.75 each, the cost would be $4.4 billion. We have already determined that the company will have $1 billion in cash available, so the added debt would need to be $3.4 billion. Lets model this and see what we get: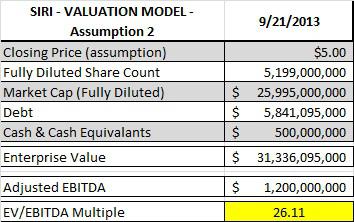 As you can see, an even more aggressive share buyback, and the added debt still carry a multiple of 26 if Sirius XM were to be trading at $5 per share. The fact of the matter is that the cash and EBITDA are the only metrics that can drive this multiple down to a reasonable level.
Sirius XM will do $900 million in EBITDA this year. While it can never happen, lets assume that Sirius XM can double that and arrive at $1.8 billion of EBITDA in 2013 and model it. This would mean FCF of $125 million per month (remember $75 million per month was reasonable). If the company were to do that it would mean that they could have an additional $400 million in cash for share buybacks, and the debt could be $3 billion instead of $3.4 billion. Let's model it: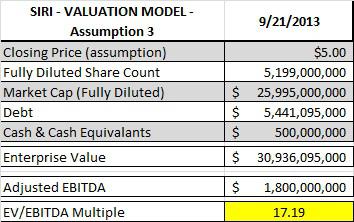 This model finally gets us to the sweet spot in terms of valuation! But what did it take to get there?
The company buying back shares at $2.75. This will not likely happen under any model that has the share price at $5 within months of a buyback.
It required the company showing 100% EBITDA growth going from $900 million to $1.9 billion. The company has been growing EBITDA at about 20% to 24%.
It took a taking free cash flow from its current $60 million per month to an incredible $125 million per month
Doing a valuation model is very easy, and well worth your time. Being excited about the prospects of a stock can sometimes make people carry expectations that simply can not be reasonably met. It is one reason why this equity has scads of investors that keep "waiting until next year" for the "pop". Here is what it takes to build an EV/EBITDA model:
Enterprise has the following formula:
Market Cap + Debt - Cash
EBITDA is guidance is provided by the company.
Take the Enterprise Value and divide it by the EBITDA to arrive at a multiple.
Hopefully, this article will serve to help some investors better understand models, price targets, and how they help determine the value of the company. It is only by building a model that you can check to see if your thoughts about success and share price are realistic. Remember, a savvy investor is one that understands how to properly value an equity.
Disclosure: I am long SIRI. I wrote this article myself, and it expresses my own opinions. I am not receiving compensation for it (other than from Seeking Alpha). I have no business relationship with any company whose stock is mentioned in this article.