In 2011, the Consumer Staples (referred to as CS elsewhere in this article) sector rose 10.5% versus a relatively flatter S&P 500 index. In 2012 so far, the sector has underperformed (9.7%) compared to the S&P 500 (14.3%). The main difference between the two years has been volatility and the outperformance of the broader market.
However, looking at the five-year performance of the market indices versus the CS sector, one finds that this sector has completely outperformed with an impressive return of 29.4%, compared to the entire S&P500 index (-4.5%), the NASDAQ or should we say the "NASDApple" (19.4%) and the Russell 3000 (-2.4%). Take a look at the comparison table below.
Click to enlarge

So if you think that the market is slowly running out of more 52-week highs, and want good returns with lesser risks and stable dividend streams, what are the best stocks?
In my opinion, the two best options at current prices and market conditions are CVS Caremark Corporation (NYSE:CVS) and Wal-Mart Stores, Inc. (NYSE:WMT) because both these companies have posted higher relative growth in earnings as also relatively higher dividend growth in the past 10 years, during which both companies endured extremes of successes and meltdowns.
Let us take a look at the important metrics, catalysts, risks and target prices for both these companies.
CVS Caremark Corp
Current price (at the time of writing): $47.81, Dividend: 1.36%
Volatility and Risk: CVS trades at a low 1-year annualized Beta of 0.63 and decent Standard Deviation of 0.17. A low standard deviation indicates that the stock price did not swing wildly up and down.
Valuation: CVS trades at a modest P/E of 16.9, and has PEG ratio is 1.27. The company's Price/Book ratio is 1.57, Price/Sales ratio is 0.52. The Price/Cash Flow ratio is 11.28. These are excellent metrics compared to peers.
Growth: Thanks mainly to Express Scripts (NASDAQ:ESRX), CVS' earnings have grown substantially. Its EPS growth estimated for this year versus the previous year is a solid 20.18%, while the revenue growth (trailing 12 months) is at 16%. The company's five-year historical earnings growth is a solid 10.11%.
Take a look at the EPS growth trend for the company from 2011 to 2014. In the chart below, the 2011 EPS is the actual EPS, while all others are most recent estimates.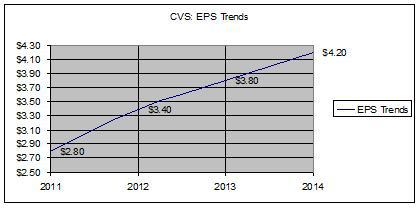 Catalysts: Market consolidations among healthcare companies that use Express Scripts will benefit CVS. Another catalyst is the $6 billion share buyback that the company announced recently.
Risks: Loss of market share due to competition and a weakening consumer wallet are main risks for CVS.
Target Price: Considering that CVS has historically traded in the 16-17.5 times P/E multiple, applying the 2014 EPS estimate of $4.20, the target price for CVS is in the $67.20-$71.40 range, which is a huge 40.5%-49.3% upside.
Wal-Mart
Current price: $74.75, Dividend: 2.14%
Volatility and Risk: Wal-Mart has very low Beta (1-year annualized) of 0.33, and its standard deviation (also 1-year annualized) is low at 0.16 - both metrics indicate that the risk and volatility associated with the stock is very less.
Valuation: Wal-Mart at its current price is not overpriced. The company's PEG ratio is 1.87, Price/Book ratio is 3.57, Price/Sales ratio is 0.55 and Price/Cash Flow ratio is 10.28 - all good metrics compared to peers.
Growth: Wal-Mart has enjoyed a solid 5 year historical EPS growth of a 9.23%. Its estimated EPS growth for this year compared to previous year is 9.62%, and revenue growth for trailing 12 months (versus prior TTM) is 6.68% (use TTM here instead of quarterly to discard seasonality in sales). The company's Cash Flow growth rate is positive as well.
Take a look at the EPS growth trend for the company from 2011 to 2014. In the chart below, the 2011 EPS is the actual EPS, while all others are most recent estimates.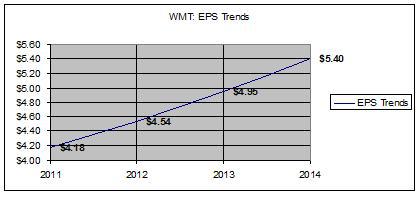 Catalysts: Wal-Mart is planning a major reduction in capital spending, which investors should welcome.
Risks: The biggest risks for Wal-Mart include a declining purchasing power of the consumer, high inflation, and failure to maintain margins in newer markets.
Target Price: Considering Wal-Mart's historical P/E of 15.7 and 2014 EPS estimate of $5.40, the target price works out to close to $84.78 - 13.4% above the current price.
Conclusion
The CS index has been underperforming since August, which was when it hit an all-time high. However, with the S&P500 at such high levels, conservative minded investors may want to select top picks in this sector, as a volatility cushion for their portfolios.
If you are a conservative investor who believes that "slow and steady wins the race", and that the broader market has appreciated a bit too much in 2012, Wal-Mart and CVS are two stocks in the CS sector that give high returns at much lesser risks, provided that you remain patient and invest with a longer-term (1-2 years) horizon.
Disclosure: I have no positions in any stocks mentioned, and no plans to initiate any positions within the next 72 hours. I wrote this article myself, and it expresses my own opinions. I am not receiving compensation for it (other than from Seeking Alpha). I have no business relationship with any company whose stock is mentioned in this article.