The E-Mini S&P 500 action Thursday typified the lull after the exhilaration. The global growth is so slight that world leaders are taking steps to ramp up the recovery of each nation. All the stimulus received last week was bought into and now this market needs some better numbers and perhaps a resolution to the "fiscal cliff" dilemma.
The China HSBC manufacturing PMI increased in September to 47.8 from the previous 47.6. Any number under 50 still points to contraction. China set an annual growth target of 7.5% in March. They also approved plans to activate a $158 billion infrastructure project to improve subways to roads.
Greece has been working with the troika consisting of the European Unit (EU), European Central Bank (ECB) and the International Monetary Fund (IMF) to come up with cuts up to $9.5 billion euros to date... and the talks continue. The troika may have to leave and come back to finalize the budget cuts to qualify for the rescue tranche.
Egypt is requesting a $4.8 billion loan from the IMF and talks should be concluded by year's end. Iran is starting to buckle under the sanctions imposed by the US and the EU as inflation is running about 25% and anywhere between 500,000 to 800,000 Iranians have had job losses this year. Iran had been the fourth largest oil producer and the thirteenth largest auto-maker in the world in 2011. If the market does not see global growth then we are headed to previous lows.
On the stock side: JP Morgan Chase and Co. (NYSE:JPM) was down 0.22 % to $41.25. Citigroup Inc. (NYSE:C) was down 0.99 % to $33.84. Bank of America (NYSE:BAC) was down 0.59 % to $9.23. Alcoa Inc. (NYSE:AA) was down 2.32 % to $9.25. Boeing Co. (NYSE:BA) was down 0.07 % to $69.85. Caterpillar Inc. (NYSE:CAT) was down 1.49 % to $92.54. General Electric Co. (NYSE:GE) was up 0.65 % to $22.41. Halliburton Co. (NYSE:HAL) was down 0.77 % to $36.13. Hewlett Packard Co. (NYSE:HPQ) was down 1.88 % to $17.76. SPDR Select Sector Fund - Financial (NYSEARCA:XLF) was down 0.56 % to $15.95.
Friday, we have no major US economic reports due out.
E-Mini S&P 500 Chart.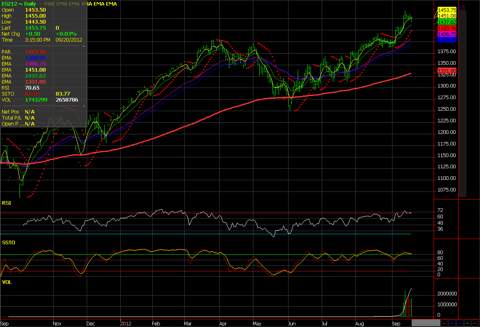 Friday, what to expect: We maintain a bullish bias unless the (December) E-Mini S&P 500 penetrates $1423.75. Friday, we anticipate an inside to higher to outside day. Thursday's range was $1455.00 - $1443.50. The market settled at $1453.75. Our comfort zone or point of control for this market is $1450.50. Our anticipated range for Friday's trading is $1459.50 - $1438.50.
Disclosure: I have no positions in any stocks mentioned, and no plans to initiate any positions within the next 72 hours. I wrote this article myself, and it expresses my own opinions. I am not receiving compensation for it. I have no business relationship with any company whose stock is mentioned in this article.