Are there still any undervalued high dividend stocks still out there after the market's big rally? With the S&P up over 14% since the June lows, you'd think that everything was overbought and overvalued...BUT, there are still a few bargains out there. We keep finding them in the Energy Royalty Trust space, which features many stocks with double digit dividend yields. We've added Chesapeake Granite Wash Trust (NYSE:CHKR) to the Energy section of our High Dividend Stocks By Sector Tables, as it's currently yielding over 12%.
Profile: Chesapeake Granite Wash Trust, went public on Nov. 11, 2011, derives its royalties from Chesapeake Energy's (NYSE:CHK) interests in specified oil and natural gas properties located in the Colony Granite Wash play in Washita County in the Anadarko Basin of western Oklahoma.
Chesapeake has interests in 69 existing horizontal wells ("Producing Wells"), and in 118 horizontal development wells ("Development Wells") that have been or that are to be drilled. Chesapeake intends to drill and complete, or cause to be drilled and completed, the Development Wells by June 30, 2015 and is obligated to complete such drilling by June 30, 2016. Chesapeake has retained an interest in each of the Producing Wells and Development Wells and currently operates 95% of the Producing Wells and the completed Development Wells and expects to operate approximately 92% of the remaining Development Wells.
The Trust does not conduct any operations or activities other than owning the Royalty Interests and activities related to such ownership. The Trust's purpose is generally to own the Royalty Interests, to distribute to the Trust unitholders cash that the Trust receives in respect to the Royalty Interests and the hedging arrangements, and to perform certain administrative functions in respect to the Royalty Interests and the Trust units. The Trust derives all or substantially all of its income and cash flow from the Royalty Interests and the hedging arrangements. The Trust is treated as a partnership for federal income tax purposes. (Source: CHKR 10Q)
After topping out in March, CHKR fell in the 2nd quarter, and is currently very oversold on its stochastic chart: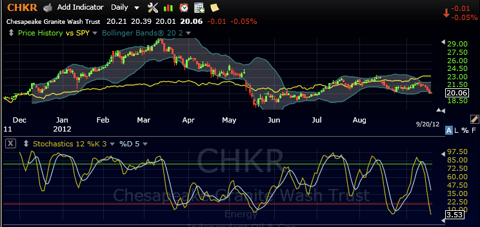 One of CHKR's advantages over some other energy trusts is that it earns royalties on a mix of asset that include oil and natural gas liquids, in addition to natural gas, which has become a very cheap commodity over the past few years. Here's how CHKR's asset mix has played out since its 2011 inception. As oil's price has risen, it has become a bigger % of CHKR's royalty revenues, while natural gas's falling prices have caused its % to shrink:

Dividends: CHKR has paid 4 distributions thus far, and its next ex-dividend date should probably come in mid-November, unlike 2011, when it made its first payout in December, since it had just gone public in November: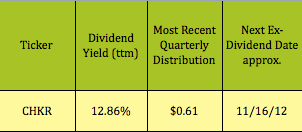 Unlike many dividend stocks, CHKR's distributions fluctuate from quarter to quarter. They have shown a downward trend in 2012, but analysts are predicting higher payouts for the last 2 quarters of 2012 production.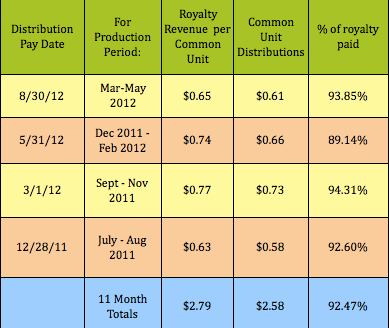 Future Royalty Estimates: Analysts are currently estimating "earnings", i.e. royalties, of $2.75 for 2012, and $3.25 for 2013, which, coupled with its low 7.19 P/E, gives CHKR a very low 2013 PEG ratio: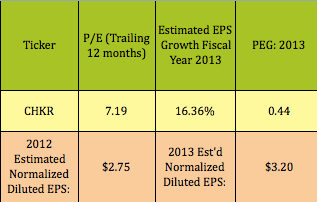 Alternative Strategy: Even though CHKR is oversold on its chart, it could stay oversold. If you're leery of a possible "value trap" scenario, here's another way you can profit from this stock. We've listed this put trade for CKHR, which has a high options yield, and offers you a lower break-even price, that's not too far from CHKR's 52-week low.
You can find more info on this trade and over 30 other put trades in our Covered Puts Table:

Disclaimer: This article is written for informational purposes only and isn't intended as investment advice.
Disclosure: I have no positions in any stocks mentioned, but may initiate a long position in CHKR over the next 72 hours. I wrote this article myself, and it expresses my own opinions. I am not receiving compensation for it (other than from Seeking Alpha). I have no business relationship with any company whose stock is mentioned in this article.