By Brad Zigler
Let's not get ahead of ourselves. First, the numbers.
Spot crude oil futures headed into this morning's NYMEX floor session off 84 cents after weaker overnight trading. Analysts had talked up a forecast for a 900,000-barrel drawdown in crude oil inventories, but the Energy Department threw cold water on those expectations. Oil stocks, instead, were reported down only 100,000 barrels. Still, the 295.2-million-barrel stash held outside the Strategic Petroleum Reserve is below normal for this time of year. A year ago, some 342.2 million barrels were held in inventory.
Analysts' calls on refinery usage, at 87.2%, were dead-on for this report. Oil processing, measured by capacity utilization, picked up a scant 0.1% over the previous week as gasoline production fell to an average 9.0 million barrels a day. Distillate fuel production, including diesel and heating oil, however, increased to a daily average of 4.7 million barrels. A year ago, refineries were cranking away at 93.6% of capacity.
The crude oil market remains locked in contango. The spread between September and December NYMEX crude was $1.38 a barrel Tuesday, still a far distance from a full carrying charge. A year ago, NYMEX crude was inverted, with the nearby delivery commanding a $1.96 premium over the contract three months out. Inversion, or backwardation, develops when supplies are perceived to be tight, and is explained in "The Battle Against Contango."
NYMEX Quarterly Contango (Positive)/Backwardation (Negative)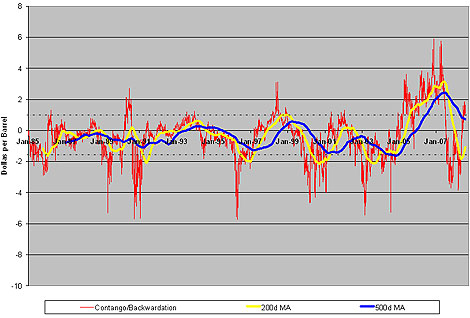 Analysts' guesstimates for gasoline stocks - a rise of 100,000 barrels - were way off. Levels, instead, plummeted by 3.5 million barrels. That still keeps inventories at the upper end of their normal range for this time of year, though.
Distillate fuel inventories, at 2.4 million barrels, rose more than the consensus expectation of 1.7 million barrels, putting stocks in the upper half of their seasonal average as well.
On Tuesday, the spot NYMEX crack spread (September crude/October products) fell to $9.16 a barrel, allowing a gross refining margin of 7.5%. A week earlier, the available profit margin was $12.14 a barrel, or 9.5%. A year ago, there was a potential $10.59-a-barrel, or 13.8%, profit to be made by refining. (For an explanation of the crack spread and its seasonal tendencies, see "Time For Crack Spreads?")
NYMEX Crack Spread