On September 20, 2012, Enterprise Products Partners LP (NYSE:EPD) announced that pending approval, it would increase its dividend to $0.65 for Q3 2012 and $0.66 for Q4 2012. EPD announced that several projects had exceeded expectations. This raise seems a done deal. EPD would not announce this unless it was sure to be approved. If you extrapolate the last raise, this means the dividend for EPD will soon be 4.83% annualized. According to the Associated Press these increases are due to "several projects having exceeded production expectations." AP did not specifically say which or why. However, EPD has huge infrastructure and it has huge growth projects that should see dividends move much higher in the near future.
One of the good items has to be the start up of the second train at the Yoakum Natural Gas Processing Facility in the Eagle Ford shale. This was announced September 10, 2012. This will increase the extraction capability of the plant to 74,000 bpd of NGLs. EPD's Seaway Pipeline reversal opened in May 2012. I am sure both EPD and its 50% partner, Enbridge (NYSE:ENB), are profiting greatly from this. It has the capacity to bring 150,00 bopd from the log jam in Cushing, OK to the Texas Gulf Coast. It's utilization has to be near 100%. EPD plans to bring the first expansion of this pipeline (+250,000 bopd) online in Q1 2013. This too will get completely booked quickly, if it is not already. From the way EPD is gushing, this project may be ahead of schedule.
EPD recently opened its Phase I Eagle Ford oil pipeline. This is a 350,000 bpd pipeline that moves oil 147 miles from Wilson County to Sealy, Texas, where EPD has its huge ECHO crude oil terminal. This is not fully completed yet. When it is done it will provide access to approximately 4 million bpd of refining capacity. This too should give EPD a nice earnings boost in the near term. On August 6, 2012, EPD announced that it had taken on a partner, Plains All American Pipeline (NYSE:PAA), in the furtherance of this venture. The joint venture will extend the line from Gardendale in LaSalle County to Three Rivers in Live Oak County. From there it will continue on to Corpus Christi. The JV will also build a new 35-mile pipeline segment from Three rivers to EPD's Lyssy station in Wilson County. The facility will include a marine station in Corpus Christi and 1.8 million barrels of storage capacity across the system. Parts of this system are scheduled to go online in Q4 2012. The rest are scheduled to go online in 1H 2013. The tariff rate will be $1.25 per barrel from Gardendale to all destinations. This sounds like another big money maker. With the prolific Eagle Ford feeding it, it is sure to stay nearly 100% busy for some time.
EPD is on schedule to bring the third train for the Yoakum Natural Gas Processing Facility online in Q1 of 2013. This will increase extraction capacity to 111,000 bpd of NGLs. A 173-mile extension of EPD's NGL pipeline system from Yoakum to LaSalle County, Texas is on schedule to begin service in Q2 2013.
EPD has recently completed a debottlenecking project on its existing export facility on the Houston Ship Channel to increase EPD's propane export capacity by 100,000 barrels per month. This may have added to recent profits. EPD has also been working on a much larger project to increase capacity there by up to 3.5 million barrels per month. This expansion was reported ahead of schedule in May 2012. It was scheduled to go online in Q4 2012. It may be there already (or nearly so). These extra exports should not only help EPD's bottom line, they should help to raise the price of propane in the US. The beneficiaries of this will be better able to pay EPD for its services.
EPD plans a further 450,000 bpd expansion of the Seaway pipeline beyond the 250,000 bpd expansion mentioned above. The target date for this is 2014. EPD will construct a 149 mile crude gathering pipeline to serve the Lucius oil and gas field in the southern Keathley Canyon area of the deepwater central Gulf of Mexico. The SEKCO Oil Pipeline is expected to begin service by mid-2014.
The 1,230 mile ATEX Express NGLs pipeline from Appalachia to Texas will transport NGLs from the prolific Marcellus and Utica shale plays to the Texas gulf Coast. This is expected to begin operations in 2014. It will be operated by EPD. It will be jointly owned by EPD --35%, Enbridge Energy Partners (NYSE:EEP) -- 35%, Anadarko (NYSE:APC) -- 20%, and DCP Midstream Partners (DPM) -- 10%. The need for this transport is high. The ATEX Express is sure to be a big money maker too. The refineries that make ethylene, propylene, styrene, etc. are largely in Texas. Many export facilities are there too. EPD has connectivity to all US Gulf Coast petrochemical plants, which amount to about 95% of all US petrochemical capacity. The ATEX Express and the many other above listed projects are just some of EPD's projects, but the above abbreviated list should give you an idea of how fast EPD is growing. In total $7.5B in growth projects are under construction.
EPD is a buy at almost any time. When it has just announced two more dividend/distribution raises, it is even more of a buy. When it has a pipeline of projects set to add further to its earnings in the near term, it is again more of a buy. When its new expansions will increase exports, which should lead to higher US NGLs prices, it is more of a buy. This is a huge company with an enterprise value of $63.62B and a market cap of $48.35B. It has a total return since 1998 that is approaching 2000%. The S&P 500 return does not even begin to compare. Few companies have as stellar a record of success as EPD. It is currently trading at a PE of 19.92 and an FPE of 21.20. I am not sure why that last figure is not lower, but EPD's growth is astounding. Perhaps some think it will take until 2014 to really see things take off, but the growth stories of stocks do not get much better than EPD's.
The two year chart of EPD provides some technical direction for this trade.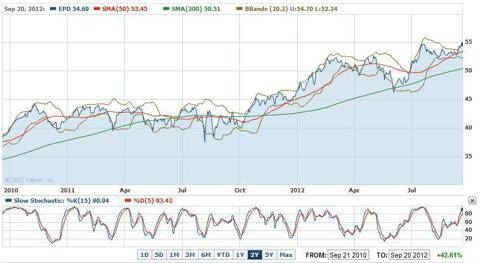 The slow stochastic shows that EPD is at or near overbought levels. The main chart shows that EPD is in a strong uptrend. Its 50-day SMA is strongly above its 200-day SMA; and its price line is above its 50-day SMA. It is not grossly overbought. It can still be bought. However, you may wish to average in to guard against a near term retracement in the overall market.
Note: Some of the above fundamental financial data is from Yahoo Finance.
Good Luck Trading.
Disclosure: I have no positions in any stocks mentioned, but may initiate a long position in EPD over the next 72 hours. I wrote this article myself, and it expresses my own opinions. I am not receiving compensation for it (other than from Seeking Alpha). I have no business relationship with any company whose stock is mentioned in this article.