Cisco Systems (CSCO) designs, manufactures and sells Internet Protocol based networking and other communication and IT products. The company operates in many regions such as US, Canada, Europe and Asia Pacific.
Over the years, Cisco has consistently been a growing and profitable company. Let's have a look at its historical operating performance in the last 10 years.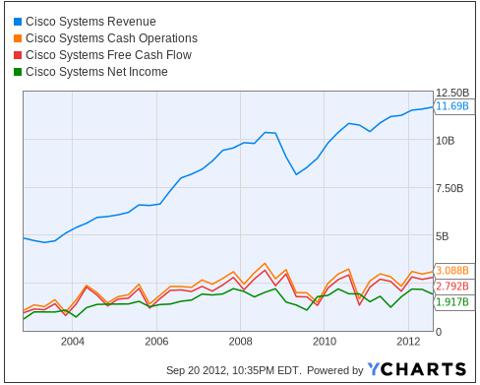 It should be noticed that all key operating metrics including revenue, net income, cash flow from operations and free cash flow, experienced good growth in the previous 10 years. The 10-year annualized growth of revenue, net income, operating cash flow and free cash flow are 9.33%, 8.43%, 8.17% and 8.65% respectively. In addition, as Cisco has kept reducing its number of shares outstanding over time, from 7.2 billion to 5.4 billion shares in the last 10 years. So the per share figures have much higher growth. The annualized growth in the same period of EPS and free cash flow per share are 11.5% and 11.8% respectively.
Besides, its profitability ratios have been fluctuating in the good range.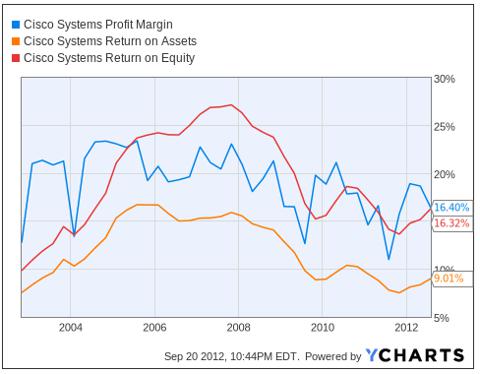 During the last 10 years, its profit margin has been in the 15%-23% range, the return on equity has been in the 12%-26% range. In the fiscal year 2012, the return on equity was 16%. And at the current price of $19.11 per share, Cisco is trading at only 2x book value. So by purchasing Cisco at this valuation, ceteris paribus, investors would roughly expect to have the return of around 8%.
Furthermore, Cisco has a strong balance sheet, with a lot of liquid assets, including cash and investments in high investment grade fixed income securities. The total amount of cash and investments is around $48 billion. With $16.3 billion in debt and $101 billion market capitalization, the enterprise value is around $69.3 billion. In 2012, the company generated $10.3 billion in free cash flow. So effectively, the EV/FCF is only 6.7x.
The high cash balance combined with the fact that Cisco has paid dividends since 2011, is a good sign. It seems that Cisco has begun to return cash to shareholders in the form of dividends. It paid out $0.12 dividend per share in 2011 and $0.28 in fiscal 2012. The current dividend yield is 2.93%.
For the business looking forward, the recent Cisco and VMware (VMW) strategic partnership to deliver next generation cloud infrastructures, will benefit both companies in the long run. The partnership will take advantage of VMware cloud infrastructure and Cisco's Data Center Networking and Fabric Computing platforms. Pat Gelsinger, Incoming CEO of VMware commented:
The software-defined data center will deliver the next leap in software-based data center automation across server, storage and networking, but it requires equal hardware and systems-based innovation. We are very excited to further our partnership with Cisco, the industry-leading innovator in networking, as we believe it will bring significant value to our joint customers through the integration of the VMware cloud infrastructure platform with Cisco's intelligent network fabric.
In terms of valuation, comparing with other technology players including Microsoft (MSFT), International Business Machine (IBM), Juniper Networks (JNPR), Polycom (PLCM), Motorola Solutions (MSI), Ericsson (ERIC), Cisco seems to be a good bet with good operating performance and cheaper valuations.

Cisco has the second highest number in net profit margin and operating margin, only after Microsoft. However, Microsoft is trading at nearly 16x P/E and 4x P/B whereas Cisco is at nearly 13x P/E and 2x P/B.
Personally, I think Cisco hasn't got the best to come for its shareholders yet. Cisco is a buy now because of the following reasons:
The business has economic scale advantages, a good reputation and high customer switching costs.
It's beginning to return cash to shareholders as a form of increasing dividends.
Its recent partnership with VMware to develop next generation cloud infrastructures.
It has good operating metrics in the industry combined with low valuation.
Disclosure: I have no positions in any stocks mentioned, and no plans to initiate any positions within the next 72 hours. I wrote this article myself, and it expresses my own opinions. I am not receiving compensation for it (other than from Seeking Alpha). I have no business relationship with any company whose stock is mentioned in this article.