In part 1 of my positive thesis on Roche ADR (OTCQX:RHHBY), I concluded that Roche met my initial three investment criteria. This included a leadership position in its industry, strong international revenue, and robust free cash flow generation. I also described in detail the generic implications for Roche and the questionable risks of competitive biosimilar products. In part 2 of my examination, I will focus on Roche's relative valuation, dividend history, and pipeline of new products.
Relative Valuation
My preferred method to evaluate pharmaceutical firms is on relative valuation based upon sales, or price/sales analysis. As for relative sales valuation, Roche is trading toward its lower range in history. Roche has traded at a price/sales ratio range of 2.3 to 5.0 over the past decade. The highest price/sales ratio in the past ten years occurred in August of 2006. At that point in time, Roche traded at a price of $46.50 a share, nearly equivalent to today's price. However, during this same time Roche's revenue has increased by 40%. Thus, although Roche's stock price has stagnated since 2006, its sales have continued to rise.
Roche ADR 7-year sales history
| | | |
| --- | --- | --- |
| Year | Sales | Price/Sales Ratio |
| 2011 | 47653 | 3.1 |
| 2010 | 45904 | 2.5 |
| 2009 | 45376 | 3.1 |
| 2008 | 42201 | 3.4 |
| 2007 | 38521 | 3.7 |
| 2006 | 33448 | 4.2 |
| 2005 | 28760 | 4.7 |
If Roche continues to grow sales at a reasonable estimate of 4% per year, sales per share would reach $15.95 by 2015. At that level, if Roche maintained its mean average price/sales ratio of 3.6, my price target would be $57.50 per share, 25% above today's market price. At 4 times sales, Roche could hypothetically advance to $63.50 per share.
| | |
| --- | --- |
| SPS Projected | $15.95 |
| Price/Sales 2015 | 3.6 |
| Target Price | $57.50 |
Dividends
Dividends would be a very important consideration for investing in Roche. As the price of Roche has advanced by nearly $10 a share since June from a low of $39 a share, the capital appreciation potential of Roche is less robust. However, total return of owning Roche shares will be enhanced by its strong dividend growth. Historically, those firms that pay and grow dividends over time outperform those firms that do not. For any investment candidate, I require a dividend not only be paid, but for the growth rate in future dividends be above the market.
Roche ADR 5-year dividend history
| Declared date | Gross dividend USD | Growth Rate |
| --- | --- | --- |
| 06 Mar 2012 | 1.84 | 4.5 |
| 02 Mar 2011 | 1.76 | 26.6 |
| 02 Mar 2010 | 1.39 | 32.5 |
| 10 Mar 2009 | 1.05 | -5.5 |
| 04 Mar 2008 | 1.12 | 62.3 |
| 05 Mar 2007 | 0.69 | 46.8 |
| 04 Mar 2006 | 0.47 | ---- |
Roche has demonstrated a consistent ability to grow dividends, sometimes in substantial amounts. Although Roche does not have a consistent dollar dividend policy in any given year, it has continued to pay dividends for 25 consecutive years. The average growth rate in the table above is 25.5% per year.
Although the Roche board has not given indications on future growth rates in dividends, we can assume through the history of dividend payments it will be substantial. Given that Roche is expected to earn $3.85 per share in earnings in 2013, the yearly dividend represents a payout ratio of less than 50%. At its current rate of annual payment of $1.84 per share, Roche is now yielding 3.8%.
Future Catalysts and Pipeline
For Roche to reach my price target of $58 + plus per share by 2015, overall sales growth must continue to advance above the low digit pace of the past two years. A return to the 8% growth rate of sales for Roche will be difficult given its biosimilar risk and its reliance on three large pharmaceutical products (Avastin, Rituxan, Herceptin) that are mature. Roche, however, continues to innovate and spend a larger than average share on research and development (8 billion Swiss francs). 50% of Roche's R&D budget is allocated to the oncology franchise. The firm's R&D/Sales ratio is the highest of any major pharmaceutical firm (chart).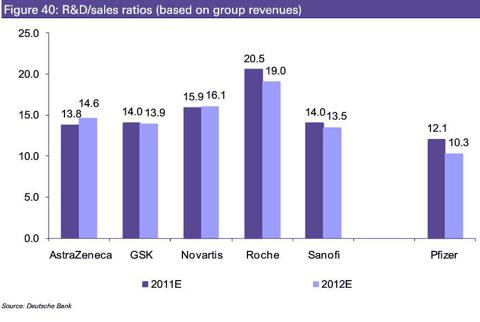 Many drug firms, including Roche, are attempting to maintain market share in its foundational products. There are two methods to accomplish this. First, Roche is attempting to expand the product's use in new markets. For example, Roche filed a September application with the Japanese Ministry of Health, Labor and Welfare for the approval of Avastin for recurrent glioblastoma. Roche continues to expand its products not only in developed markets like Japan, but also in emerging market countries where demand should rise with income levels.
The second methodology is to add new capability to your primary product. Roche is attempting this with its large product Herceptin. The benefits of Herceptin to patients will be enhanced in the future through the launch of T-DM1 and the recently approved Perjeta. These two products are expected to further strengthen Roche's HER2 franchise over the coming years. Data showing encouraging efficacy, safety for T-DM1 were presented at the American Society of Clinical Oncology annual conference in June. The Phase III EMILIA study of T-DMI (T-DM1) demonstrated that the drug extended the lives of patients with HER2-positive breast cancer and caused fewer side effects. TDM-1 (T-DM1) is unique as it delivers Herceptin directly to the cell to increase the drug's efficacy (T-DM1 is unique as it delivers the chemotherapy DM1 directly to the cancer cell). TDM-1(T-DM1) is known as a antibody-drug conjugate (NYSE:ADC), which combines the specificity of antibodies with the power of chemotherapy. The goal is to improve the effectiveness of the primary drug and with fewer complications. Roche filed this year for both U.S. and European approval for TDM-1.
In June, the FDA approved Perjeta for combination with Herceptin and docetaxel chemotherapy for the treatment of people with HER2-positive metastatic breast cancer. Perjeta was given the green light after FDA-priority review. Roche has also filed for approval in the EU and Japan. Perjeta in combination with Herceptin is likely to shift the standard of care for HER2-positive breast cancer. If TDM-1 is approved with Perjeta, HER2-positive breast cancer patients could initially be treated with a combination of Perjeta, herceptin and chemotherapy, followed by second-line treatment with TDM-1.
What is unique about Roche's program in breast cancer is it could be amenable to a variety of different cancers. Many analysts are of the opinion that this new combination of treatments could add $2 billion in new revenue for the Herceptin franchise over the next five years, lessening the impact of biosimilars that will come on the market in Europe in 2014/2015. Also within oncology, Roche announced it received European approval for Zelboraf (vemurafenib) as a monotherapy for the treatment of adult patients with metastatic melanoma, the most aggressive form of skin cancer. The company also has onartuzumab (MetMAb) in its late-stage pipeline. It is currently in a phase III combination study with Tarceva for non-small cell lung cancer patients. Roche expects results from the study in 2014. Additionally, Roche is a leader in the development of ADCs like TDM-1. It has a total of nine ADCs in its development pipeline. RG7593, a humanised IgG1 monoclonal antibody (anti-CD22) is one of these ADC's. RG7593 had produced "very promising" early results in blood cancer.
One of the issues for Roche over the past decade is its inability to develop major franchises outside its cancer product portfolio. Roche recently had two large failures including diabetes drug taspoglutide and cholesterol drug dalcetrapib. Roche does maintain a good franchise with Lucentis, which is an ophthalmologic product to treat wet age-related macular degeneration. Lucentis brought in $1.8 billion in revenue last year for Roche. The drug has been facing new competition in that market from Regeneron Pharmaceutical's Eylea, which is cheaper and can be administered with fewer injections. However, Lucentis has just received U.S. Food & Drug Administration approval for the treatment of diabetic macular edema. The drug is the first and the only FDA-approved treatment for this condition. This approval should stabilize Lucentis product revenue for the next few years.
Despite the failures of taspoglutide and dalcetrapib, Roche has several developments underway. Two of the most interesting and that could deliver multi-billion dollar revenue for Roche are within the cardiovascular and alzheimers fields. Dalcetrapib was Roche's top cardiovascular candidate. Roche has not given up on heart disease, however. Another drug in development called RG7652 is progressing into more advanced trials after significantly reducing levels of "bad" LDL cholesterol by targeting a protein called PCSK9 - a hot area of research for several other companies.
The PCSK9 gene makes a protein that disrupts the facility of liver cells to shred bad cholesterol out of the blood. PCSK9 drugs could assist the 2 million Americans who cannot withstand statins. Additionally, a larger proportion of the population cannot get cholesterol low enough with a statin, or if they can it comes at a higher dose with more side effects. Unfortunately, Roche is competing with Sanofi (NYSE:SNY) and partner Regeneron (NASDAQ:REGN), which have already begun enrollment for late-stage trials for their REGN727 drug that also targets the PCSK9 gene to lower cholesterol. In Sanofi's trial, the experimental drug cut LDL by up to 72% at the 150 mg dose. Amgen (NASDAQ:AMGN) presented positive data on its PCSK9 candidate earlier this year. In the 51-patient study, patients receiving monthly injections of their drug AMG 145, and taking low to moderate doses of statins, had up to a 66 percent reduction in "bad" LDL cholesterol by the eighth week of the study. AMG145 is currently in a phase II program consisting of six studies which will involve about 1,900 patients. The timing of the various trials places Roche about 12 to 15 months behind Sanofi and Regeneron and nine months to a year behind Amgen. But as the cholesterol market is extremely large, Roche's PCSK9 product could well produce revenue over $1 billion.
Another growing area of importance for Roche is its neuroscience franchise. It is pursuing a number of projects against Alzheimer's disease, with gantenerumab being the most highly developed treatment. Roche might have moved into a strong position in the race to relieve Alzheimers in 2012. Recently there have been several setbacks at competitors, including bapineuzumab from Pfizer (NYSE:PFE) and Johnson & Johnson (NYSE:JNJ). Also, solanezumab from Eli Lilly (NYSE:LLY) proved no elixir for an immediate solution. Roche is one of the leaders in the prevention of Alzheimer's disease, testing whether eliminating amyloid beta early in a person's life can ultimately prevent the ailment. Roche recently doubled its size of clinical trials on gantenerumab based upon early positive results. Due to the fact that Roche enlarged the number of patients from 360 to 770 now has made it a final-stage Phase III, trial. Early results have demonstrated that not only did gantenerumab reduce amyloid plaques in the brain, but it has accomplished it more rapidly than other contending drugs. Full data and results from the pivotal study are now expected in 2015. Roche has three other Alzheimer's drugs in clinical tests, including crenezumab. This experimental Alzheimer's drug is being tested among members of an extended family of about 5,000 people from the Antioquia region of Colombia. They carry a gene that causes them to develop Alzheimers early, with some experiencing symptoms of memory loss in their mid-30s. Roche hopes to enroll the first patients in early 2013, and have the first interim analysis in early 2017.
Given its very strong and insulated oncology program, I believe Roche can continue to maintain its leadership position in cancer care. Although biosimilar risk is real, the impact could be substantially less than feared. This is especially true in the U.S. market, where biosimilars have yet to be released and uncertainty exists of physician approval and patient acceptance. Roche's diagnostic division is also a market leader and provides stable cash flow. Roche has interesting candidates in both cardiology and Alzheimers that could be blockbuster drugs. Lastly, Roche has a very moderate valuation and an above average dividend yield. Put this together and Roche should have a place in any individual's diversified portfolio.
Disclosure: I am long OTCQX:RHHBY. I wrote this article myself, and it expresses my own opinions. I am not receiving compensation for it (other than from Seeking Alpha). I have no business relationship with any company whose stock is mentioned in this article.