Priceline bears: Leverage your position with this simple strategy
This strategy should only be employed if your outlook on the stock is bearish, as you could be triggered into a short position as a result of selling an uncovered call. If you were thinking of shorting the stock, then this strategy provides you with chance to have a short position in the stock without having to actually short the stock. To achieve this, you sell a call and use the proceeds to purchase puts. Another benefit of this strategy is that you always have the option of rolling the call if the stock trades above the strike price you sold the calls at. Rolling the call will prevent you from being triggered into a short position.
Reasons to be cautious on Priceline (PCLN)
It is facing a significant amount of litigation, like many other online travel companies. The main issue is whether its revenue is under the same statute applicable to hotels. The company has argued that they do not own or operate the hotels, and that they are already collecting and sending to hotels the tax on wholesale prices, which are being paid by the hotel. Priceline also asserts that offline agents are not required to pay occupancy tax. Certain data has come to light that shows that online travel companies have been collecting occupancy taxes on the retail value of the rooms sold but remitting taxes on wholesale prices to the hotels. While online travel companies are winning some battles, they are losing some also.
EPS came in at $7.85, higher than analysts' estimates of roughly $7.36 per share, but revenues came in at $1.33 billion, falling short of analyst estimates of $1.35 billion. The company expects third-quarter earnings to come in the $11.10-$12.10 per share range, which is below the $12.76 expected by most analysts. The stock gapped down to $559 on the 8th from its prior close of $679 on the 7th of August. This clearly illustrates that investors are skittish and any sign of weakness could have a major impact on the price of the stock.
The stock topped out in April and has been drifting lower for the past five months. Markets are forward-looking and perhaps the market feels that the stock is still overvalued as the current uptrend does not look very strong.
It is also experiencing significant competition from the likes of Expedia, Orbitz Worldwide (NYSE:OWW) and Travelocity. Its move into countries such as China will also not go unchallenged. It will have to deal with local players who have already experienced some success and perhaps have a better understanding of what the locals are looking for. In such an environment, it will face pricing pressures, which could have a negative impact on margins.

Yet, according to travel-research firm PhoCusWright, Priceline accounts for just about 12% of U.S.-based OTA bookings, compared with about 45% for Expedia, about 25% for Orbitz and about 20% for Travelocity. For Q1 2012, Priceline's international gross bookings, excluding foreign-exchange effects, jumped 58% from a year earlier, while domestic growth was just 12%.

This overdependence on overseas markets could put it in a vulnerable position. Growth in China is stalling, and Europe is on the verge of slipping into a second recession. In fact, based on unemployment statistics, one could argue that Spain and Greece are already in a 2nd recession. A second recession would increase economic uncertainty and definitely have an impact on consumer spending. In Southern Europe, where the economic outlook is the gloomiest, it is already seeing weakness and consumers cutting back on purchases.
Technical outlook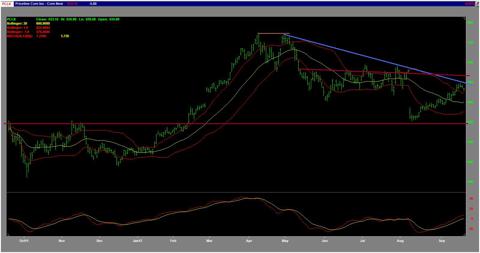 It put in a double top formation back in April, which is normally a bearish development. This appears to be true in this case, as the stock has been trending progressively lower since then. After gapping down on the 8th of August it has bounced back and could possibly trade to the $675-$690 ranges, a former zone of support now turned into resistance. There is also a layer of resistance that comes into play in the $649-$655 ranges. It traded as high as $649.30 on the 18th but was unable to hold above this level. A failure to break above this zone could push it to take out its recent lows and test the $550 ranges.
Suggested strategy for Priceline
This is a rather volatile stock, so investors need to have the stomach to deal with this volatility. We would divide the money we are going to put into this play into two lots as it has two zones of resistance. If it closes above $655 it could trade as high as $690 with the possibility of spiking to $700 on an intraday basis. Deploy the first lot when it trades in the $655 plus ranges and the second lot if it trades to the $690 ranges. .
Part 1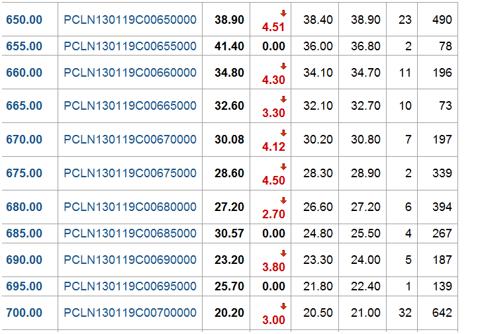 The Jan 2013, 695 calls are trading in the $21.80-$22.40 ranges, if the stock trades to the $655 plus ranges, these calls should trade in the $30.00-$31.00 ranges. We will assume that these calls can be sold at $30.00 or better. For each contract sold, $3000 will be deposited into your account.
The second half of the money should be deployed if the stock trades to $690 or higher. If it trades to these ranges, the above calls will be close to the money and should trade in the $45-$47 ranges. We will assume that the calls can be sold at $45 or better.
Part 2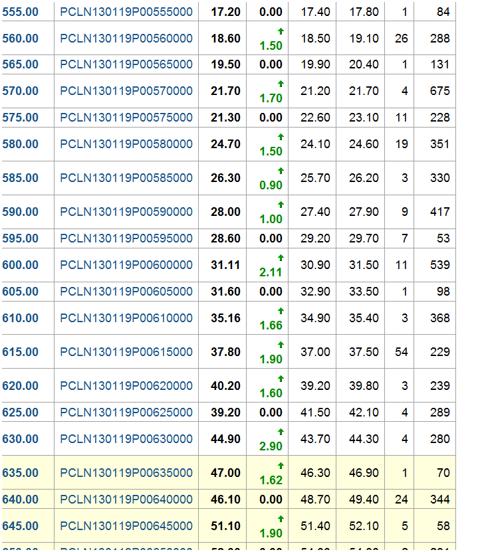 The Jan 2013, 555 puts are trading in the $17.40-$17.80 ranges. If the stock trades to the suggested ranges these puts should trade in the $12.00-$13.00 ranges. For this example we will assume that we can purchase these puts for $13.00 or better. For each call sold, you will be able to purchase 2 puts and have a net credit of $400 left over.
If the stock trades to the $690 plus ranges, and a second lot of Jan 2013, 695 calls are sold, you will have another $4500 to use. At this point we would go after the Jan 2013, 600 puts. They are currently trading in the $30.90-$31.50 ranges and should drop roughly to the $17.00-$19.00 range if the stock trades to $690 or higher. We will assume that each put can be purchased for $18.00. You will be able to purchase up to 2 puts and have a net credit of $900 left over.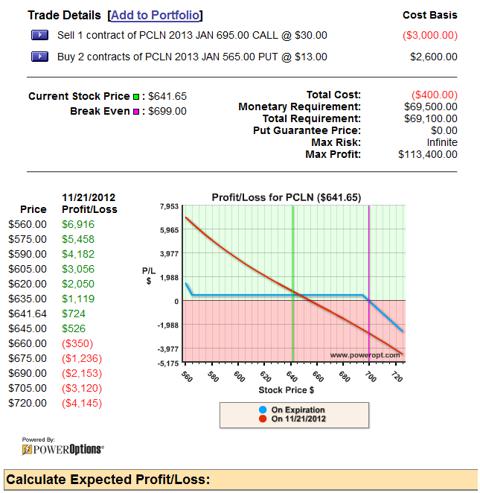 Benefits and risks associated with this with this strategy
The ability to open a short position without actually having to short the stock
If the stock trades above the strike price, you sold the calls at, then you will have the chance of opening up a short position at a much better price. In this case depending on the number of puts you purchased your entry price will range from $699 (if you purchased two puts) to $712 (if you purchased only one put). If the stock trades to $690 or better and another lot of calls are sold, the entry points would change slightly. In this case if you purchased two puts your entry price would be $704, and if you purchased one put your entry price would be $722.
If the stock trades above the price, you sold the calls at you can always roll the call and avoid having to short the stock.
The biggest risk is that you could be triggered into a short position and technically be exposed to unlimited amounts of risk. Technically, there is no limit to how high a stock can move, but there is a limit to how low it can trade.
Conclusion
You could be pushed into holding a short position if the stock trades above the strike price you sold the calls at. Therefore, you should only implement this strategy if you are bearish and are already thinking about shorting the stock. If you are bearish on the stock, this strategy provides you with a chance of shorting the stock at a better price. If you have a change of heart and feel the stock could trade higher, you can roll the call. Buy back the old call and sell new calls that are out of the money.
A major portion of the historical/research data used in this article was obtained from zacks.com. Options tables sourced from yahoofinance.com. Option profit /loss graphs sourced from poweropt.com
Disclaimer
It is imperative that you do your due diligence and then determine if the above strategy meets with your risk tolerance levels. The Latin maxim caveat emptor applies-let the buyer beware
Disclosure: I have no positions in any stocks mentioned, and no plans to initiate any positions within the next 72 hours.
Business relationship disclosure: This article was prepared for Tactical Investor by one of our analysts. We have not received any compensation for expressing the recommendations in this article. We have no business relationships with any of the companies mentioned in this article.