BlackRock (NYSE:BLK)
When looking to add a financial sector stock to a portfolio, it is tempting to analyze the "bulge bracket" investment banks. However, these may not always be the best choice: screening through the players in the capital markets, BlackRock has piqued my interest. BlackRock warrants a second look because analysts expect it to grow earnings by 10% in 2012 and 12% in 2013. Beyond this, BlackRock has beaten analyst estimates for the past six consecutive quarters.
Industry and Business Outline:
BlackRock is the world's largest publicly-traded investment firm, providing a range of investment and risk management services. As of December 31, 2011, BlackRock had $3.513 trillion of assets under management. BlackRock derives its revenue from client businesses, and does not engage in proprietary trading or any other activities that could pose as conflicting with the interests of its clients. BlackRock combined with Barclays Global Investors in 2009, which allowed them to develop a product range including direct single- and multi-asset class portfolios as well as open-ended and closed-ended mutual funds (iShares) and ETFs. The company also engages in typical capital markets transactions such as securities lending.
When analyzing BlackRock, it is important to keep in mind that any company involved in the capital markets will be affected by overall economic developments and more specifically the stock market. Given the recent risk-on, BlackRock and other capital markets players should perform well.
Financial Ratios: Overview and Comparison to Comparable Companies
Comparable companies: State Street Corp (NYSE:STT), Franklin Resources Inc (NYSE:BEN),BB&T Corp (NYSE:BBT), and PNC Financial Services Group (NYSE:PNC).
| | | | | | | |
| --- | --- | --- | --- | --- | --- | --- |
| | BLK | SST | BEN | BBT | PNC | Average |
| Market Cap | $31.7 Billion | $20.8 Billion | $26.6 Billion | $23.4 Billion | $34.8 Billion | $27.46 Billion |
| Current Share Price | $182.96 | $43.82 | $125.91 | $33.48 | $66.4 | - |
| Dividend Yield | 3.28% | 2.21% | 0.86% | 2.39% | 2.43% | 2.23% |
| Dividend Payout Ratio | 47.02% | 25.83% | 12.86% | 27.25% | 44.95% | 31.58% |
| Price/ Earnings (TTM) | 14.6 | 11.9 | 14.8 | 13.9 | 13.8 | 13.80 |
| PEG Ratio | 1.17 | 1.35 | 1.61 | 1.33 | 3.69 | 1.83 |
| Price/ Book | 1.28 | 1.07 | 3.05 | 1.28 | 1.03 | 1.54 |
| Return on Equity | 9.13% | 9.47% | 21.68% | 9.56% | 7.77% | 11.52% |
BlackRock currently trades at $182.96. At this level, the company is priced at a P/E of 14.6 and PEG ratio (using an 12.5% growth estimate in the coming 5 years, taken from Fidelity) of 1.17. Compared to comparable firms, BlackRock's Price/ Earnings is a bit high but not in overbought territory, and the lowest PEG ratio indicates that the Price/ Earnings ratio is reflecting higher anticipated growth.
An important metric for financial firms is Price/ Book, and BlackRock trades at a 1.28 multiple based on this ratio. Based on competitors being in the same range, BlackRock is fairly valued based on this metric. Beyond this, the company generates a Return on Equity of 9.13%, in line with competitors when ignoring the outlier, BEN. Finally, the company has the highest annualized dividend with an above average payout ratio. However, the payout ratio is not of concern to me because the company has issued quarterly dividends without missing any since 2003.
Overall, BlackRock is fairly valued based on Price/ Book, Return on Equity, and Price/ Earnings, but the PEG ratio is indicating that the firm may be slightly undervalued if it can realize its expected growth. I believe the firm will be able to meet its growth expectations, especially when considering the fact that the firm has beaten expectations for the past six consecutive quarters.
6-Month Chart: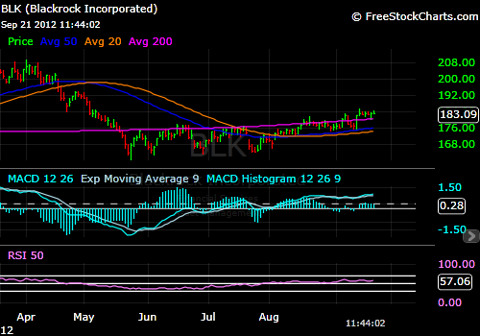 BlackRock's chart shows that the stock experienced significant downside momentum beginning in April through the end of May. Since then, the stock has had gradual upside momentum. The 20 and 50 day moving averages are below the 200 day moving average, however, both have turned upward and a convergence to the 200 day moving average can be expected. Observing the MACD, this indicator is above the center line, a bullish sign. Finally, the RSI is above its center line and illustrates upward momentum. Overall, the chart of BLK is showing limited downside risk and some upward momentum.
Conclusion:
At current levels, BlackRock poses a unique investment opportunity. The company was beaten down in April and May, but recent chart indicators signal upward momentum and a recovery towards previous stock prices. Furthermore, BlackRock is poised for growth with a PEG ratio of 1.17 and offers a slight buffer to any downside risk with a consistent 3% annualized dividend. Overall, I believe BlackRock offers upside to investors seeking a position in the financial sector and more specifically capital markets.
Disclosure: I have no positions in any stocks mentioned, and no plans to initiate any positions within the next 72 hours. I wrote this article myself, and it expresses my own opinions. I am not receiving compensation for it (other than from Seeking Alpha). I have no business relationship with any company whose stock is mentioned in this article.