On September 19th, J.C. Penney (NYSE:JCP) CEO Ron Johnson gave a tour of the company's new store concept to analysts in Dallas, Texas. As always, Ron Johnson beautifully articulated the company's future prospects and his vision to transform the department store business. However, towards the end of the webcast presentation that concluded the tour, his tone and tune on short term performance and aggressive financials goals set forth also "transformed." Most importantly, he warned investors and analysts that 2H2012 performance will look like the first half.
The market has behaved kindly to J.C. Penney and CEO intervention of negative news. The early morning release of Q2 2012 earnings, JCP stock was down around 10% premarket. This was until Ron "Magic" Johnson took the stage at 8am and relaxed investor fears of a very large negative earnings surprise. Q2 street estimates were $-.07 while actual results were $-.37. By the time the market opened JCP stock was up 10%, many believed to be attributed to Ron's charismatic presentation.
Critics and conservative thinkers tend to feel he is being excessively optimistic and over-promising. I tend to agree with this but I also believe this turnaround cannot succeed without him leading with this type of attitude. Simply put, Ron Johnson is just being himself and not being "market correct" (the stock market equivalent to "politically correct"). Ron Johnson is a first time CEO and will have to soften the rhetoric and sales pitch as time goes on.
The recent warning and change of tune has JCP's stock declining over 17% and could decline further to a more conservative valuation.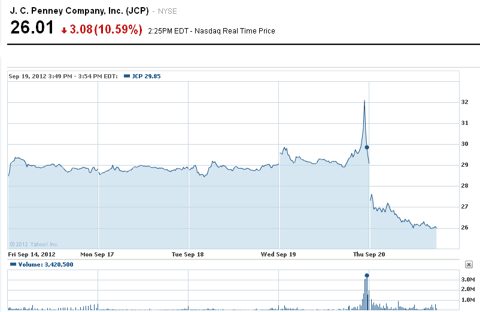 The 5 Billion Dollar Question - Short-term and Long-term cash needs
The JCP transformation will cost approximately $5 billion and is expected to be complete by the FY2015. That is approximately $1.25 billion per year until completion. Where will this money come from? Unfortunately it will not be financed by 2012 operations cash because JCP will most likely lose a lot of money. Yet in August, management stood by their plans to "self-fund" the transformation.
Despite JCP's plans to self-fund, deviation from the plan could be a leading indicator for poorer short term performance. In my opinion, their July $248 million sale of Simon REIT investments prior to their August $230 million maturity indicated shortage of operations cash flow and needed to raise cash. Another instance was the January renegotiation of their credit facility. If the covenants and guidelines were not changed, JCP would not have been able to borrow from it because they would not have met the fixed coverage, liquidity, and asset coverage ratios needed to borrow.
Issuing new debt or borrowing from the credit line will make J.C. Penney a riskier investment and shake out anxious investors.
Goldman Sachs Global Retail Conference, September 5th - Interview with JCP CFO Ken Hannah
Key Points:
· A major constraint to quickly transform the company will be having capital required to do so.
o The speed to which they will transform and move forward is based on the amount of operating cash that is generated by the business.
· He did not clearly reiterate whether JCP would have $1 billion in cash by year-end (not including non-core asset sales).
· Still planning to spend around $850 million on capital expenditures for 2012, majority spent on changes to store and shopping environment ($500 million slated for the 2nd half of 2012).
· A total of 40 mini-shops are planned to be operating by holiday of 2013. Though construction of shops will not begin until spring (beginning of Q2). Approximately 700 stores have 12 mini-shops operating for holiday 2012.
Investment Thesis
In the near-term, expect lack-luster top-line performance with incremental improvements in SGA and gross margin. As the strategy builds out in the next couple of years, a conservative 2015 model implies $3.50+ earnings power.
Two-key areas to watch will be (1) the content changes that will drive increased sales in 2013 (2012 SSS -20%) and (2) JCP's ability to self-fund the transformation without the use of $1.5 billion credit line.
Valuation
With a conservative 2015 earnings outlook of $3.50 discounted to 2012 and trading at peer P/E multiple of 13x, my model shows a current price target of $32.50.
Disclosure: I have no positions in any stocks mentioned, and no plans to initiate any positions within the next 72 hours. I wrote this article myself, and it expresses my own opinions. I am not receiving compensation for it (other than from Seeking Alpha). I have no business relationship with any company whose stock is mentioned in this article.