By Carla Fried
In terms of growth potential, it's not exactly a state secret that China's economy, as befits an emerging industrial power, runs circles around our economic growth.
While the U.S. would be thrilled if GDP growth could hit 3%, China is dealing with a slowdown that has knocked its growth down to 6% or so. So both economies are struggling, right? Now take a look at how that has played out in each country's stock market.
(click images to enlarge)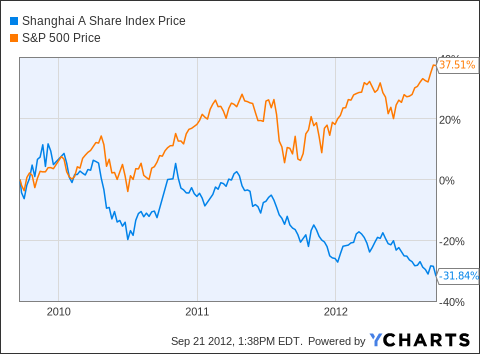 Francois Sicart, founder of Tocqueville Asset Management, noted in a recent shareholder letter that the Shanghai stock market remains nearly two-thirds below its frothy 2007 peak.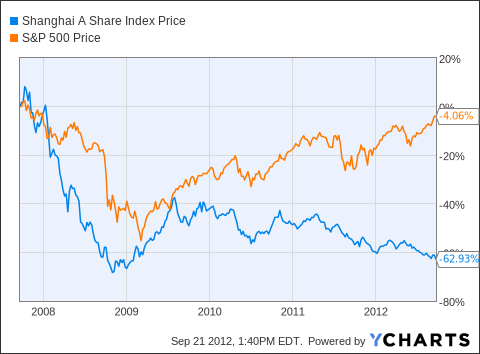 "This has shocked many former unconditional enthusiasts of the Chinese stock market. The anxiety has been compounded by the rebirth of all the old arguments why the success of China's hybrid economic and political system cannot last. At the very least, I find this conjunction of factors intriguing for a contrarian investor," wrote Sicart.
In mid-September, Jeff Gundlach of Doubleline told a Bloomberg investor conference that he thinks the sell-off in China now spells opportunity. "In general, equities should be bought when there's fear, rather than when there's enthusiasm," Gundlach said, adding that his trade would be to short the S&P 500 and go long China.
Russ Koesterich, global chief investment strategist for BlackRock's iShares operations, is also in the camp that China offers a compelling valuation. "[China] stocks are trading close to trough valuations, with the price-to-earnings (P/E) ratio at less than nine times forward earnings and price-to-book (P/B) at around 1.25. Our in-house model is forecasting growth of approximately 7.8% to 7.9% in the third quarter, slightly ahead of the consensus," Koesterich wrote in a recent blog post.
He notes there are, of course, some headwinds to be mindful of, but Koesterich concludes that investors have seemingly taken much of that into account already: "I feel that the slowdown in growth is already reflected in the price of Chinese equities. Should the economy decelerate further, I would revisit my view. But for now, I think the bad news is already baked into the price," Koesterich wrote.
If you've got an emerging markets ETF tucked into your portfolio, you likely already have exposure to the China market. For example, the $59 billion Vanguard MSCI Emerging Markets ETF (NYSEARCA:VWO) has nearly 19% invested in China. For a more direct stake, there's the iShares MSCI China Index ETF (NYSEARCA:MCHI) and the SPDR S&P China ETF (NYSEARCA:GXC).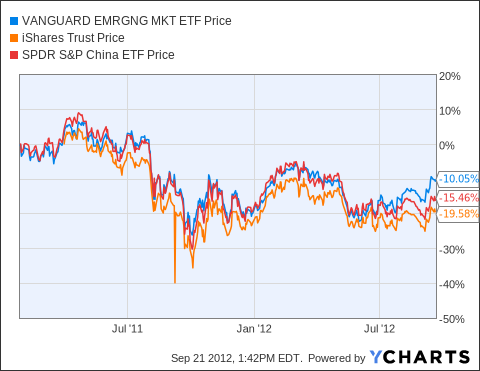 China Mobile (NYSE:CHL) and energy firm CNOOC (NYSE:CEO) rank among the 10 largest holdings in all three ETFs. Both companies have fared better than broad market China averages over the past three years.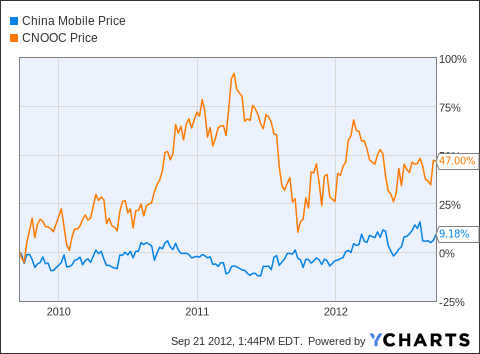 For the dividend seeker, China Mobile's current yield is above 3%.
Carla Fried is an editor for the YCharts Pro Investor Service, which includes professional stock charts, stock ratings and portfolio strategies.
Disclosure: I have no positions in any stocks mentioned, and no plans to initiate any positions within the next 72 hours. I wrote this article myself, and it expresses my own opinions. I am not receiving compensation for it. I have no business relationship with any company whose stock is mentioned in this article.