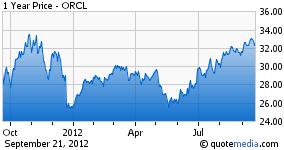 Last week's earnings announcement from Oracle (NYSE:ORCL) highlighted deficiencies in its ability to meet Wall Street revenue expectations. The company reported $8.2 billion in revenue, missing Wall Street expectations by $200 million. EPS was $0.53 and in-line with estimates, buoyed by a share buyback program and aggressive cost-cutting measures. Guidance for its current quarter told investors to expect more of the same. Sales expectations were lowered to $9 billion at the mid-point, versus the Street's estimate of $9.2 billion.
Underlying reasons for Oracle's uninspiring results can be found in Pipeline Data's post-earnings analysis on SeekingAlpha. As for the company's outlook, ORCL's performance degradation highlights its continued evolution as a corporation.
Oracle first emerged as a database vendor in the late-80s and 90s. Ellison's competitive zeal enabled the company to overcome a life-threatening period of turbulence to emerge as the world's #1 vendor. Investors were rewarded with a 100-bagger. Eventually, the database market matured and ORCL evolved into an acquirer and consolidator of application vendors. It eventually branched into infrastructure and hardware. It became extraordinarily adept at wringing costs from acquired entities, driving operating margins to maximum levels. This drove continued capital gains for its investor base. From the time of its PeopleSoft acquisition to the anniversary of the Sun deal, ORCL returned 15% to shareholders annually. Not exactly a 100-bagger, but enviable when compared to the 2.5% returns provided by the S&P 500 during the same timeframe.
However, after years of making annual and ever-larger acquisitions, the early-2011 deal for Sun seemingly marked the end of ORCL's consolidation era…and that could spell trouble. Without new acquisitions to fuel further operating margin accretion, ORCL's growth in cash flow from operations has slowed. It was 29% in fiscal 2011, 22% in fiscal 2012, and just 4% in the just-announced quarter.
This has occurred despite having invested over $12 billion of cash into acquisitions over the past 3 years. Tack on $8 billion for share buybacks and you will have accounted for $20 billion of the company's $33.6 billion in cash flow from operations over that time frame. Of course, the company's $4 billion in average annual acquisitions are instrumental to its cash flow growth, so one could argue that it should be treated as capex when calculating its free cash flow (FCF) yield. If you run the numbers under that assumption, we see $9 billion of FCF against a $160 billion market cap - a 5.6% FCF yield. This is not an enticing metric for a company whose revenues are now declining.
Indeed, it appears that Oracle has once-again evolved. This time, it is focused on smaller acquisitions, internal cost cutting, and stock repurchases to drive EPS higher. Clearly, such a strategy can't have the same level of positive impact as its past incarnations. At some point, you run out of ways to cut internal costs without having a negative impact on the company's long-term prospects. Just ask HP, where years of tight R&D spending left the company in a weakened competitive position, leading to a share-price implosion.
This creates an interesting segue to introduce where Mark Hurd's influence comes in.
Hurd's tenure at HP ran from September 22, 2006 through August 6, 2010. His peers (including ex-Oracle exec Ray Lane and IBM CEO Sam Palmisano) characterized Hurd's reign as having been driven by deep cost cutting which drove several quarters of earnings growth and share-price outperformance (sound familiar?). However, after 2 1/2 years, this strategy began to impact HP's reputation for innovation. Soon, it shares stopped outperforming. Soon after that, they started underperforming. Finally, the earnings misses started rolling in, sending the shares into free fall, leading to it becoming one of the most notable "Dogs of the Dow."
Since departing HP, Hurd has spent the past 2 years at ORCL, an organization that already had a expense-slashing culture. Thus, the question begs - if HP's was only able to muster 10 quarters of stock outperformance from Hurd's cost-cutting ways, how much farther will ORCL get?
While investors ponder that question, Oracle insiders have spent the last three months selling $85 million worth stock, the highest level seen at ORCL over the past year.
Disclosure: I have no positions in any stocks mentioned, and no plans to initiate any positions within the next 72 hours. I wrote this article myself, and it expresses my own opinions. I am not receiving compensation for it (other than from Seeking Alpha). I have no business relationship with any company whose stock is mentioned in this article.