Shares of IPG Photonics (IPGP) are up sharply since the beginning of the year, as its latest models of lasers look more and more like game-changing technology. But considering the heartbreak these shares have doled out before - the price more than doubled in the first half of 2011 before losing almost all that by December - should we expect better staying power now? Actually, yes, even after the following stock chart.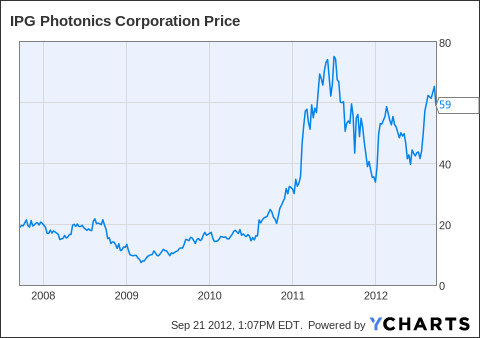 IPG is a 20-year-old laser maker founded on the invention of Russian physicist Valentin P. Gapontsev, a man lauded as the father of optical fiber laser technology. These lasers are stronger and cheaper to use than traditional kind that require CO-2 gas or crystals, and IPG's market cap has grown to $3.2 billion as the technology improved. Recently, there's been a tipping point with the technology; cost came down enough and capabilities went up enough to get a lot of major laser users interested in converting to optical fiber devices.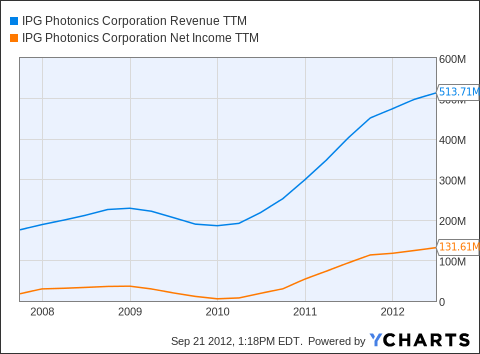 IPGP Revenue TTM data by YCharts
That shift creates something of a windfall for IPG. Since the end of 2009, revenues are up 176%, but profits rose more than 10 times faster. Profit margins are just so much better on new technology.
<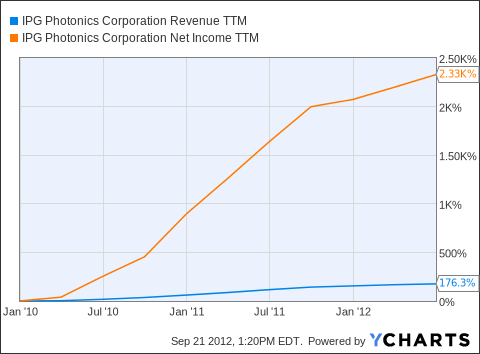 IPGP Revenue TTM data by YCharts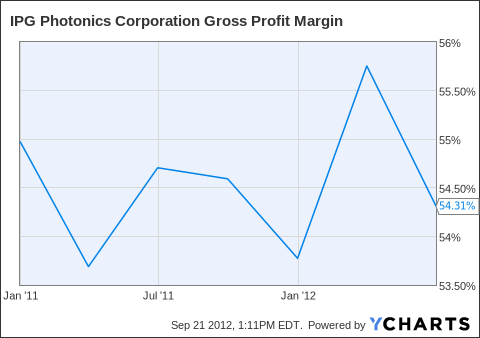 IPGP Gross Profit Margin data by YCharts
Manufacturers like auto companies are big customers now, having discovered that the new lasers can cut cleanly through heavy metal and weld without the heavy costs of conventional models. While IPG has competitors in the business, those companies appear to be losing market share to IPG. The chief executive of laser maker Rofin-Sinar Technologies (RSTI) last month complained of sales declines in China, and he described the market conditions for his company this way: "In general, business is somewhat shaky." IPG reported doing well in China and Europe despite their macro-economic trouble.
IPG shares currently carry a raft of buy recommendations, as analysts generally believe this is just the beginning of growth in optical fiber lasers. They represent somewhere south of 20% of the laser market now.
There's no guarantee that IPG shares won't repeat last year's swoon. But last year's share price drop had more to do with concerns about general economic growth than any trouble specific to the company. In fact, IPG pretty consistently beat analysts' earnings forecasts. But high valuations on its shares made them an easy target for worried investors looking to take profits.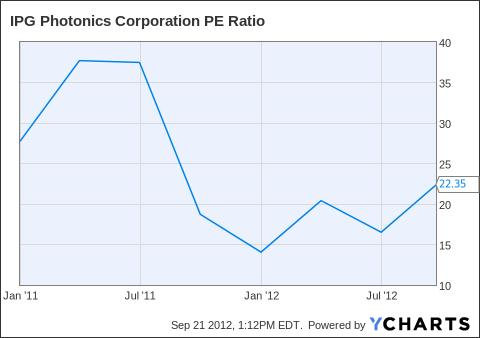 IPGP PE Ratio data by YCharts
There's still plenty of worry in the market over weak economies, and IPG's fortunes are somewhat tied to cyclical businesses that may yet cut spending. Also, competition is bound to grow in this technology now that industry's buying it. But compare IPG's share valuation now to a year ago. Its current PE ratio of 22 doesn't exactly make it a bargain, but it's a lot lower than the 34 PE the shares sported last June. It's more likely to be spared the massive plunge of last year if the market gets ugly.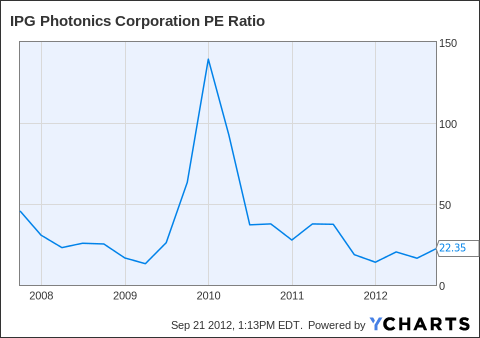 IPGP PE Ratio data by YCharts
As a financially strong, leading seller of a new technology, IPG is a popular growth stock. And like most growth companies, the price of its shares will sometimes rise a lot faster than its actual fortunes, making corrections in twitchy markets all but inevitable. They'll probably be a lot easier to bear for those on the low-valuation end of the buying.
Disclosure:
I have no positions in any stocks mentioned, and no plans to initiate any positions within the next 72 hours. I wrote this article myself, and it expresses my own opinions. I am not receiving compensation for it. I have no business relationship with any company whose stock is mentioned in this article.