Things are not looking good for OCZ Technology Group (NASDAQ:OCZ). The company's last two earnings reports were underwhelming, the most recent revenue warning raised further concerns, and the resignation of founder and CEO Ryan Petersen further solidified that things aren't looking so hot at the company.
There's no time left for OCZ to prove itself. After proving unable to turn a profit for the entirety of its existence, it's time for management to get shareholders their money back by selling the company while it is still can.
The Achilles Heel To OCZ's Business Model
OCZ competes in the solid state drive market. In particular, it focuses on low margin, high volume consumer drives. The problem with this business model is simple: OCZ has absolutely no control over the production of the NAND flash, which is the single most expensive part of the bill-of-materials for a typical solid state drive. The company relies on purchasing NAND flash from third party fabs such as Intel (NASDAQ:INTC), Samsung, and Micron (NASDAQ:MU). Buying required components from larger suppliers is fine, but these companies also sell competing solutions, so right off the bat, these larger companies have pricing power advantage as well as a sheer unit volume advantage.
To further dig the knife in, the NAND flash manufacturers, tired of NAND flash prices sinking like a rock (something that OCZ took advantage of), decided to cut back production and effectively create a "shortage." Now, this shortage will benefit the companies that make their own NAND, but the fabless drive assemblers will soon find the consumer drive segment to continue to be unprofitable.
A NAND Deal?
The company has reportedly been working on establishing a NAND purchasing agreement with one of the fabs in order to try to mitigate the margin and supply issues that it has currently faced. In order to evaluate the likelihood of such a deal, it is important to look at the potential candidates:
Toshiba
Hynix
Samsung
Intel
Micron
Unfortunately, each and every one of these NAND flash producers also produces competing products to OCZ's product lineup in the high volume consumer space. A NAND deal that would give OCZ any real cost advantage, especially given the company's willingness to discount drives and sacrifice margins for top-line growth, would hurt these firms' own attempts at running profitable businesses in the consumer space.
But investors were repeatedly assured by management that the company was shifting its mix more towards high margin enterprise solutions, ala Fusion-IO (NYSE:FIO) and STEC (NASDAQ:STEC) in order to combat this problem.
Where Are The Enterprise Wins?
In the enterprise world, there are two types of solid state drives: the hard disk replacement kind, and the flash-caching kind. Fundamentally, the hard disk replacement drives are essentially isomorphic to the consumer drives but use higher grade NAND flash, have more extensive validation/qualification, and command a margin premium.
The crown jewel of the enterprise strategy, however, is the PCI-E/SAN replacement products. OCZ's latest product in this space, the "Z-Drive R4," is actually a "pretty solid performer" according to Anandtech, a leading technology review site. However, the question is: where are the sales?
The products in this segment are relatively new and enterprise products have particularly long qualification times when it comes to deployment. Management has indicated that investors should see a significant ramp in sales in this segment during the second half of FY2013, so this will be a key factor in the upcoming earnings guidance for investors to watch for.
Dilution and Cash Burn: Significant Problems
Something that should have every OCZ shareholder on edge is the significant destruction of shareholder value that comes from excessive dilution of shares through multiple secondary offerings as well as stock-based compensation plans for employees. A graph of the share count over the short life of the company as a public entity raises significant red flags:
OCZ Shares Outstanding data by YCharts
Further, even with the very significant amounts of cash raised during numerous secondary offerings, the company has still been unable to turn an operating profit and has instead burned through the majority of the shareholders' money: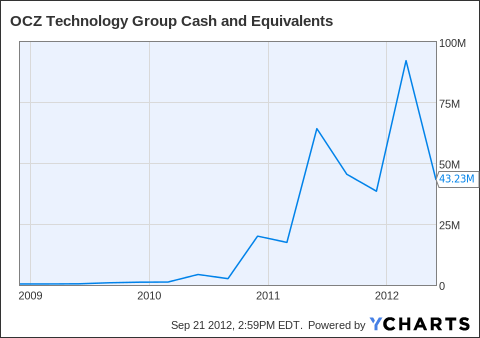 OCZ Cash and Equivalents data by YCharts
Even more troubling is that at the recent preliminary earnings call in which the company warned that it would significantly miss its revenue estimates, ex-CEO Ryan Petersen noted that the company continued to use its cash to purchase NAND during the quarter. Now, in the last quarter, the company burned through half of its remaining cash even with NAND prices falling. With a NAND shortage now in play, it is strongly within reason that the company has burned the majority of the remainder of its cash and will now need to tap its credit line.
Yet Another Secondary?
The company is also now not in a position to dilute shares further. When the company issued secondary offerings in the past, it was while the share price was at levels over twice as high as the most recent price of roughly $4.20 per share. After each offering, the company's shares immediately saw a significant decline.
At current prices, the company would have to issue significantly more shares than it has in the past. Such dilution would significantly destroy shareholder wealth, and it is likely that the company's stock would plummet in value on such an offering. This forces OCZ into tapping the credit markets if it wants to avoid further destroying significant shareholder value through dilution -- but that hasn't stopped the company in the past.
Execution Blunders
In the most recent quarter, OCZ reported record bookings of roughly $140M but was only able to ship roughly $113M of it during the quarter. The cited reason for the inability to ship all of the orders were due to a shortage of voltage regulators for the drives.
Another alarming fact is that even with $27M of revenue deferred into the current quarter, the company still updated its outlook to indicate flat revenues Q/Q. This means that in the current quarter, revenues were actually, using the midpoint of the updated guided $110M-$120M range, roughly $88M, a sequential decrease.
ex-CEO Ryan Petersen made a remark at this year's dbAccess Technology conference that bookings for the quarter were so high as to "lack credibility." However, despite the "good" problem of demand exceeding supply, OCZ's primary customers are OEMs who need to ship systems by a certain date. If OCZ continually proves itself unable to deliver, it will very quickly lose its clients - nobody wants to do business with a partner that can't deliver, especially in a commodity business where there are numerous suppliers.
The NAND Shortage?
A quick glance at the inventory levels is enough to question the credibility of the claims of the "NAND shortage" cited by OCZ and confirmed as an industry-wide problem by Micron: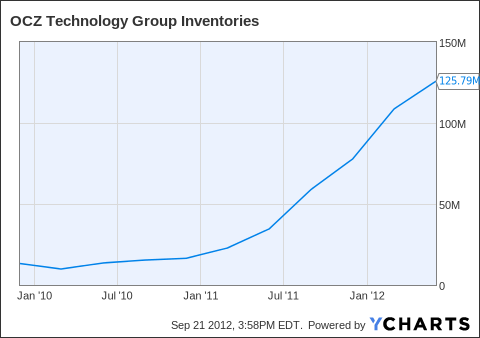 OCZ Inventories data by YCharts
So, what in the world is with the monotonically increasing inventory levels? Could OCZ be simply using an industry wide NAND shortage as a scapegoat for weaker than expected demand?
According to the FQ1 2013 conference call, CFO Arthur Knapp made the following comments about inventory:
"Turning to the Q1 balance sheet, our cash was approximately $43M, a decrease of $49M from Q4. Inventory levels increased by $17M to $126M, due principally to a quarter end NAND purchase of $14M, consistent with our prior comments that we will strategically build inventory to prepare for future business levels."
Okay, so let me get this straight. Inventories were at $126M at the end of the quarter but the company was only able to do $110M - $120M in revenue due to a NAND shortage?
Unfortunately, this is likely indicative that the company's inventory, which according to management consists primarily of NAND flash, is not properly priced and has depreciated since purchase. However, in an environment where NAND is suffering a shortage, one would think that the value of the inventory would be more valuable, not less.
According to a tweet by Theo Valich of Bright Side Of News on July 29th, 2012,
"According to trusted sources, over 50% of OCZ's inventory is low-end NAND and is useless...Time will tell..."
Could Mr. Valich have been correct? While nothing is confirmed, this should raise some eyebrows.
Fire Sales On Drives
Another thing to note is that OCZ generally undercuts competitors - even the ones with their own NAND fabs such as Micron - by a significant amount. Now keeping in mind that NAND flash is by far the most expensive item on the bill-of-materials, and further noting that gross margin enhancements such as internally designed controllers/firmware are not likely to offset a NAND pricing disadvantage, how can OCZ manage to do this and achieve profitability?
It is apparent that it cannot, as multiple quarters of negative cash flow and losses have shown. With the rapid pace of drive releases, OCZ is constantly discounting older models (that also have lower gross margins) to extremely low prices. Not only does this negatively impact the top and bottom lines, the incredibly low prices of last-generation drives will undoubtedly cannibalize sales of the newer, higher margin drives.
Could lower ASPs be the root cause of the revenue misses? Could the inventory line on the balance sheet not simply consist of raw NAND but in fact older, unsold drives priced at MSRP?
This certainly seems likely! A quick scan of Newegg.com shows an ample supply of last generation Agility 3 and Vertex 3 drives at very low prices made even lower by the inclusion of a mail-in-rebate. Further, as OCZ has recently announced next generation drives under the "Vector" brand name utilizing OCZ's own "Barefoot 3" controller, the current Vertex 4 line is very likely to see significant price drops.
Time To Sell The Company
Quarter over quarter, institutional ownership in OCZ has risen:
Image Courtesy of Yahoo Finance

In fact, 89% of the float is now owned by institutions. It is clear that these holders are unhappy with management, and it is even more clear that their investment is now in serious jeopardy. The company's nearly out of cash, it lacks a CEO, and it faces very serious competition on the solid state drive side from the folks who manufacture the NAND flash.
Fortunately for the current shareholders, OCZ is worth a lot more individually than it is as a unit. For a company with a NAND fab, the next logical step would be to acquire the technology to develop and deploy its own controller technology. OCZ's acquisition of Indilinx, and its development of a next generation controller, could prove to be of significant value to a larger player. LSI Corporation (NASDAQ:LSI-OLD) bought SandForce for $322M, Hynix acquired Link-A-Media for $248M, so an acquisition of OCZ for its Indilinx division for around these prices does not seem unreasonable.
Further, OCZ has quite a bit of exposure to enterprise flash caching and virtualization software via its acquisition of SANRAD. Finally, OCZ's "Z-Drive R4" enterprise PCI-E flash solutions are, as mentioned above, extremely competitive with the best any other company has to offer. With a larger budget, fairly free of cash constraints, the technology here could be developed to be quite competitive with the likes of Fusion-IO and STEC.
The potential for an acquisition is likely what is keeping the share price from falling even further, so I would recommend against shorting the stock at these levels. Any hint of a buyout will lead to a massive squeeze, as it did in July/August.
Conclusion
So there you have it: OCZ needs to sell itself to the highest bidder as soon as possible. Its technology is valuable, but competing in the high volume low margin SSD business directly is bound to fail in the face of stiff competition from NAND-fab owners. OCZ's advantage lies in its clever acquisitions and development of technology that a larger, more financially secure company could put to use. The problem is, who would want to buy it?
Disclosure: I am long INTC. I wrote this article myself, and it expresses my own opinions. I am not receiving compensation for it (other than from Seeking Alpha). I have no business relationship with any company whose stock is mentioned in this article.