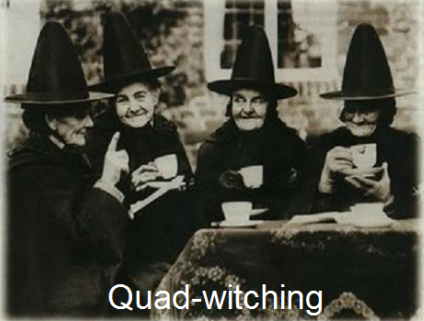 I've been taking a working vacation - better said, working on catching some fish. But I note that since leaving on Tuesday not much has changed with markets. In the eurozone it seems authorities there wish to postpone serious decision making until after the U.S. election. That's rather curious and lets you draw your own conclusion. Oil markets have taken a beating on inventory issues. It seems the supposed "fat-fingered" trade or SPR release rumor weren't correct. It may be some traders got some inside information on inventory data. Again, draw your own conclusion. The Islamic world or at least activists there have continued their violent protests against perceived insults to their prophet. Those in the western world scratch their heads and just shrug.
In the meantime Friday's quad-witching was a pretty uneventful and volume was light.
The dollar (NYSEARCA:UUP) remains weak overall and precious metals like gold (NYSEARCA:GLD) and silver (NYSEARCA:SLV) remained steady after some previous selling. Beyond Apple (NASDAQ:AAPL) which as you know has become "the market", not much has changed throughout the week. The leading sectors remain in real estate best expressed by Homebuilders (BATS:ITB). Bonds (NYSEARCA:TLT) continued to be steady.
Volume remains quite light for quad-witching day although Thursday's volume was higher as traders began to roll over and unwind positions. Breadth per the WSJ was positive.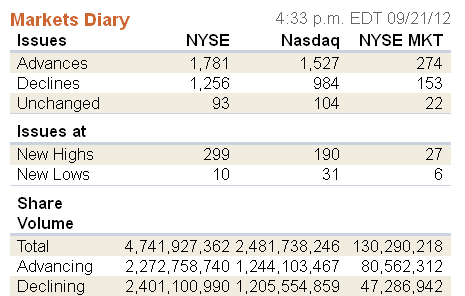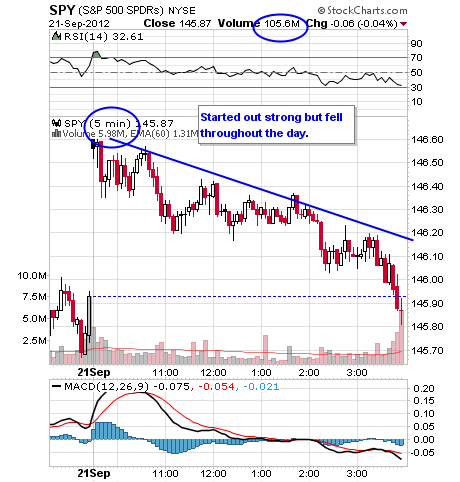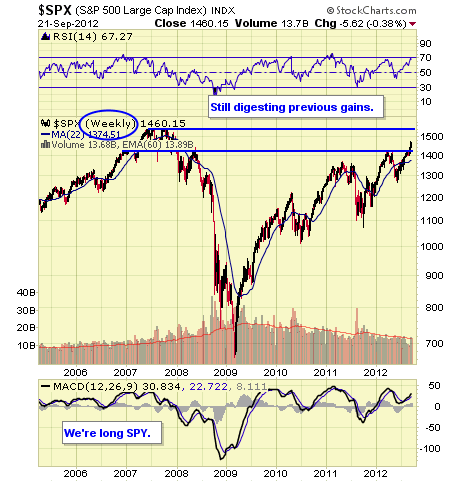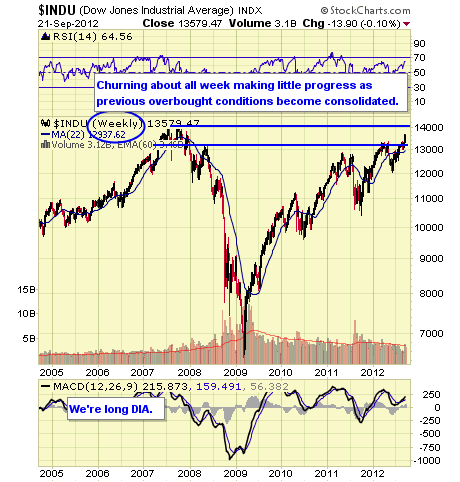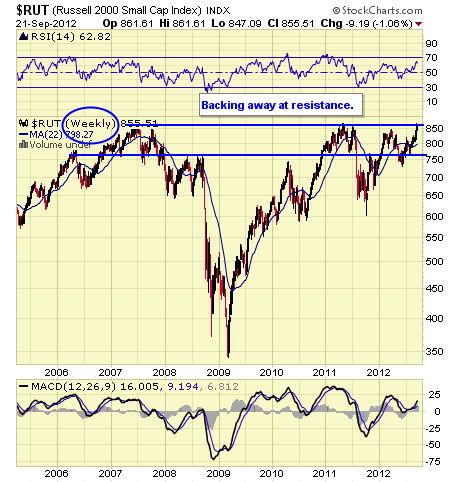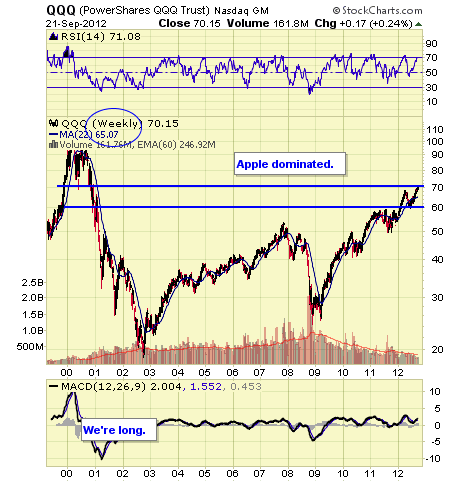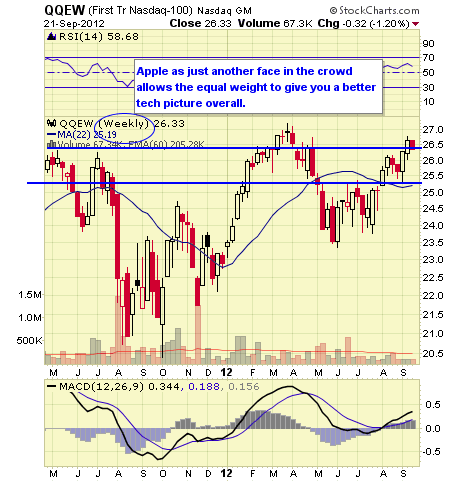 Continue to U.S. Sector, Stocks & Bond ETFs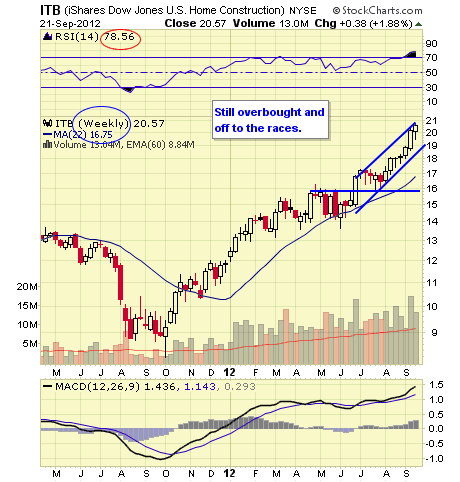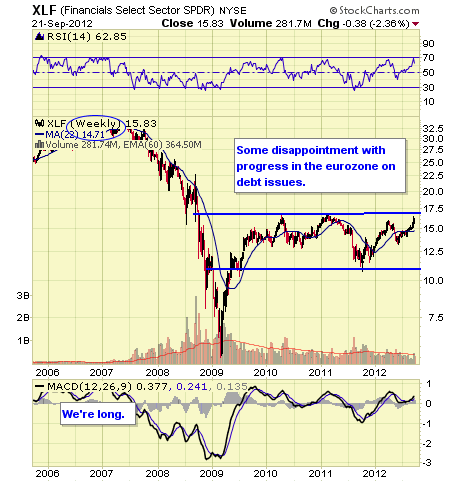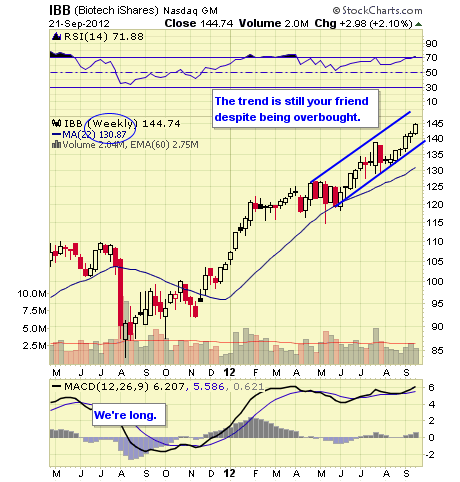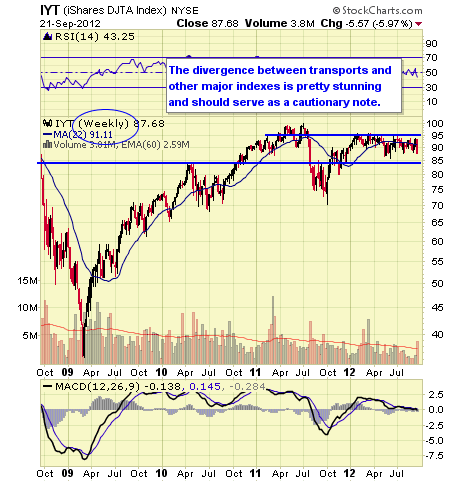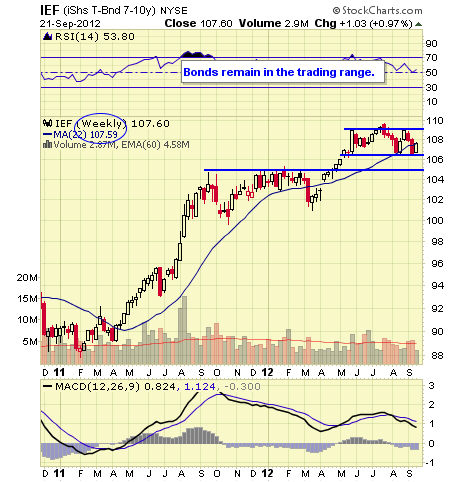 Continue to Currency & Commodity Market ETFs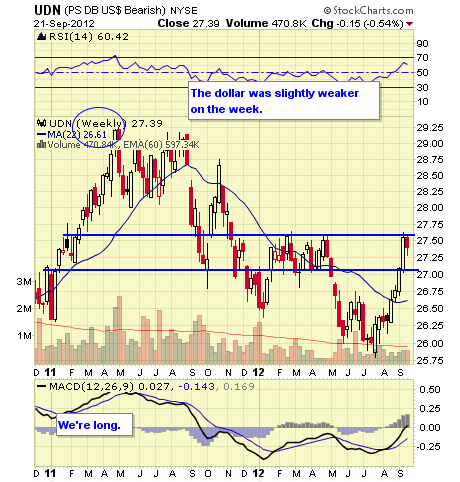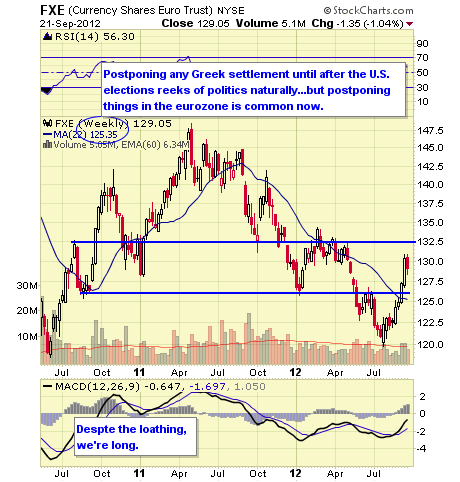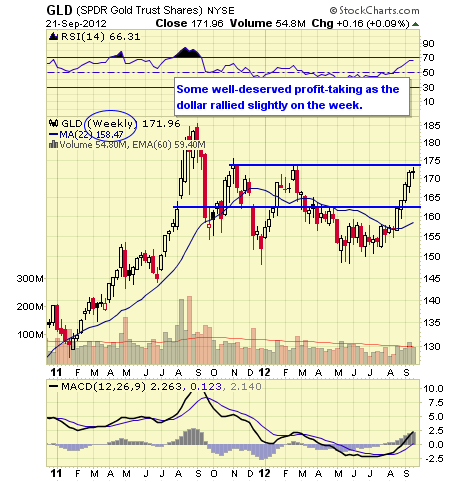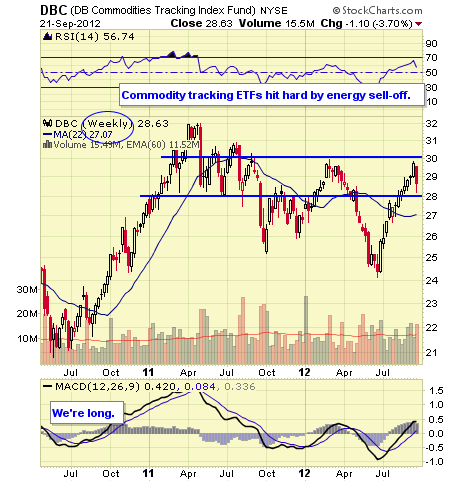 Continue to Overseas Sectors & ETFs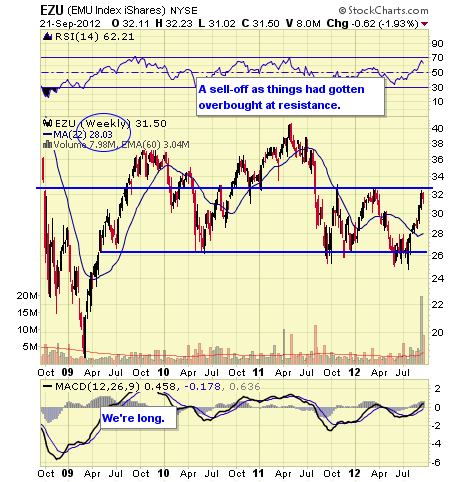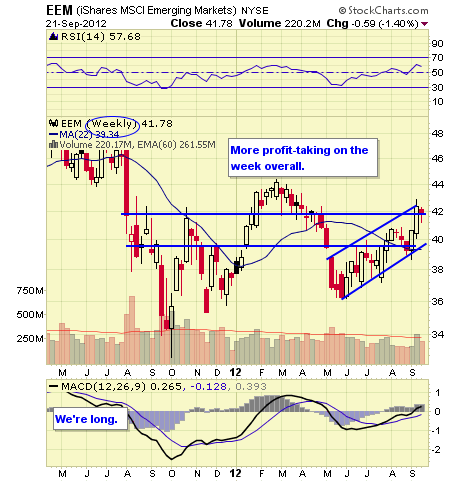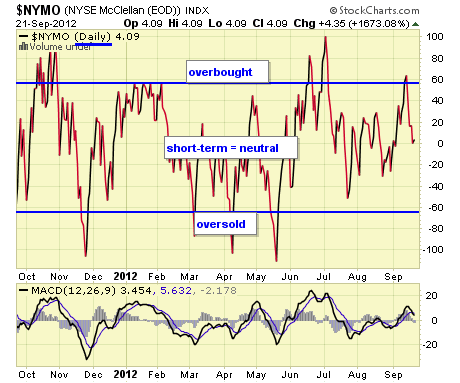 The NYMO is a market breadth indicator that is based on the difference between the number of advancing and declining issues on the NYSE. When readings are +60/-60 markets are extended short-term.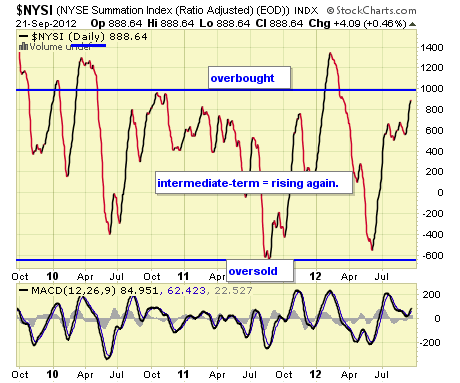 The McClellan Summation Index is a long-term version of the McClellan Oscillator. It is a market breadth indicator, and interpretation is similar to that of the McClellan Oscillator, except that it is more suited to major trends. I believe readings of +1000/-1000 reveal markets as much extended.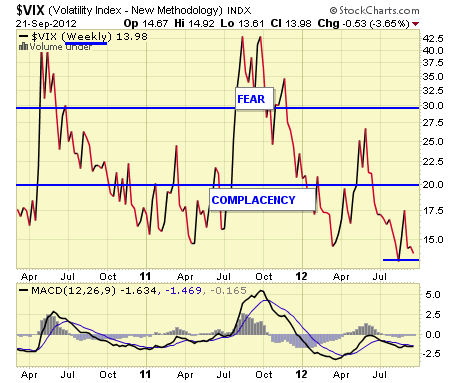 The VIX is a widely used measure of market risk and is often referred to as the "investor fear gauge". Our own interpretation is highlighted in the chart above. The VIX measures the level of put option activity over a 30-day period. Greater buying of put options (protection) causes the index to rise.
A short posting today as we're still on the road. Not much overall changed in markets this week except in a few sectors.
I'll be back in the turret in a big way come Wednesday.
Have a great weekend!
Disclaimer: The ETF Digest maintains active ETF trading portfolios and a wide selection of ETFs away from portfolios in an independent listing. Current "trading" positions in active portfolios if any are embedded within charts: Lazy & Hedged Lazy Portfolios maintain the follow positions: VT, MGV, BND, BSV, VGT, VWO, VNO, IAU, DJCI, DJP, VMBS, VIG, ILF, EWA, IEV, EWC, EWJ, EWG, & EWU.
The charts and comments are only the author's view of market activity and aren't recommendations to buy or sell any security. Market sectors and related ETFs are selected based on his opinion as to their importance in providing the viewer a comprehensive summary of market conditions for the featured period. Chart annotations aren't predictive of any future market action rather they only demonstrate the author's opinion as to a range of possibilities going forward. More detailed information, including actionable alerts, are available to subscribers at www.etfdigest.com.
Disclosure: I have no positions in any stocks mentioned, and no plans to initiate any positions within the next 72 hours. I wrote this article myself, and it expresses my own opinions. I am not receiving compensation for it. I have no business relationship with any company whose stock is mentioned in this article.