Mom-n-pop investors may not be taking on more risk, but institutional investors are. Perhaps the best example came in a Wall Street Journal article today by Kirsten Grind. Specifically, fund managers are investing in riskier high yield bonds, yet those funds still compare their "benchmark-beating" returns against benchmarks with safer assets (e.g., investment grade bonds).
The good news? Those who own one or more of the nearly 200 "benchmark beaters" are seeing super-sized returns. The bad news? Those mutual fund owners are unlikely to understand the risks that their funds are taking.
Indeed, greater transparency in ETFs is one of the huge reasons for selecting them over traditional mutual funds. If you want intermediate investment grade corporate bonds, you can confidently purchase iShares Barclays Intermediate Credit Bond (NYSEARCA:CIU); the exchange-traded vehicle passively tracks an established index in the Barclays U.S. Intermediate Credit Bond Index. Similarly, if one chooses to take on more risk with higher yielding, non-investment-grade bonds, he/she might pursue the SPDR Barclays Capital High Yield Bond ETF (NYSEARCA:JNK). Simply stated, there's far less ambiguity about exchange-traded index fund assets as compared to actively managed mutual funds.
With so many actively managed mutual fund managers trying to keep pace with indexes that have been hitting multi-year highs, understanding the ongoing rally becomes easier. Add open-ended quantitative easing in Europe as well as the U.S., and even hedge funds have had to give up their short positions.
Moreover, the breadth of the rally is wide. A quick check of new 52-week highs is showing strength in small caps, large caps, foreign, domestic, economically sensitive and economically agnostic. If you want dividend-payers, iShares Telecom (BATS:IYZ) and Morgan Stanley Cushing MLP (NYSEARCA:MLPY) keep hitting new peaks. If you want a housing recovery angle, iShares DJ Home Construction (BATS:ITB) as well as iShares FTSE NAREIT Mortgage REITS (BATS:REM) regularly reach new pinnacles. Low volatility or high volatility, being "long" the market has been profitable.
That said, one has to wonder how long the bears will stay silent. For instance, on this very Friday (9/21/12), Yahoo Finance ran with a headline, Near Perfect Conditions Suggest 30% Rally for Stocks in Next 12 Months. Anyone who has checked in on Yahoo Finance features over the last three months has seen feature after feature of interviews with those who believed a 20% decline or 30% bear or even 50% collapse were coming very shortly. Now they are interviewing and/or quoting the most bullish analysts and money managers?
Even if the market direction churns its way higher, it is more prudent to wait for a pullback. That may be 4%-5% for some folks. Others may want to wait for a more substantive correction of 8%-10%. The fact remains that nearly all of the "good news" has seen stocks rocketing higher since June; rare is the historical precedent for a non-stop party.
Is there anything worth buying today? Assets with QE tailwinds at their back that have come back to a 50-day trendline are worthy of consideration. PowerShares DB Commodity (NYSEARCA:DBC) may fit in your mix.
(click image to enlarge)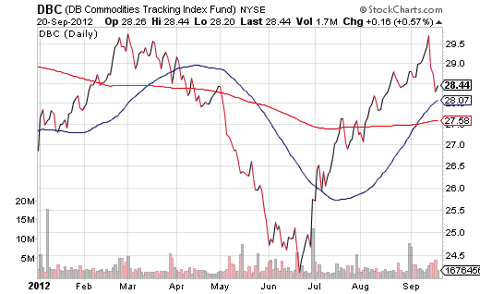 Keep in mind, foreigners are still bending over backwards to get into the perceived safety of Japanese government bonds, or "JGBs." That certainly suggests that governments and institutions still see a strong possibility of a global recession and/or a eurozone disaster. Rather than sell everything and join the JGB buyers, you can still ride the rally with sensible stop-limit orders and ETF hedging strategies.
Listen to Gary's latest podcast here.
Disclosure: ETF Expert is a web log ("blog") that makes the world of ETFs easier to understand. Gary Gordon, MS, CFP is the president of Pacific Park Financial, Inc., a Registered Investment Adviser with the SEC. Gary Gordon, Pacific Park Financial, Inc, and/or its clients may hold positions in the ETFs, mutual funds, and/or any investment asset mentioned above. The commentary does not constitute individualized investment advice. The opinions offered herein are not personalized recommendations to buy, sell or hold securities. At times, issuers of exchange-traded products compensate Pacific Park Financial, Inc. or its subsidiaries for advertising at the ETF Expert web site. ETF Expert content is created independently of any advertising relationships.