The emerging market growth story seems to have fallen by the wayside. First, global recession fears put kindling wood under the modern-day industrializers. That put pressure on China and India. Next, resources from oil to metals began tanking... and that put pressure on Brazil and Russia.
The seemingly invincible "emergers" have not only NOT decoupled, but they've fallen on particularly challenging days. The bearish results have been every bit as ugly as anything stateside... and then some. All of the majors -- the SPDR S&P Emerging Markets (NYSEARCA:GMM), Vanguard Emerging Market (NYSEARCA:VWO), iShares MSCI Emerging Markets Index Fund (NYSEARCA:EEM) -- are down roughly 25% from their 2007 highs.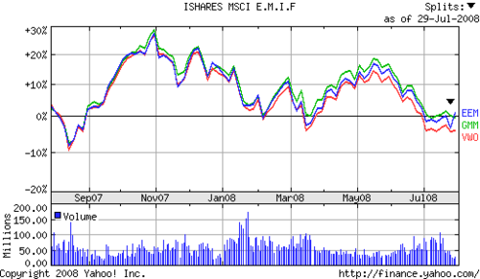 Yet few people really believe that emerging country growth is going to fall off the map. Brazil (NYSEARCA:EWZ), in particular, seems to have far too much going for it.
The question for many really seems to be... how long before confidence in emerging country growth is restored? Is it ultimately tied to the credit crisis? Will it depend on natural resource prices stabilizing? Or will some simply re-explore the fundamentals.
Well... I am in the latter camp. And if what I found at the WisdomTree web site holds any basis in fact, I am genuinely intrigued.
As of 7/29/08, the WisdomTree Emerging Market High Yield Fund (NYSEARCA:DEM) sports a 9.36 P/E. That's a double-digit earnings yield on the theoretical front that certainly makes treasury bonds look very inferior. And the dividend yield? It's currently north of 8%.
Of course, the chief concern for most emerging market investors is the risk involved. So while the hypothetical beta over 5 years is roughly 20% higher than that of the developed nation iShares MSCI EAFE Index Fund (NYSEARCA:EFA) or the S&P 500 SPDR Trust (NYSEARCA:SPY), other risk measures such as drawdown suggest that DEM may not be any riskier than domestic or developed market investments. (Note the tighter range-bound nature for the WisdomTree Emerging Market High Yield Fund.)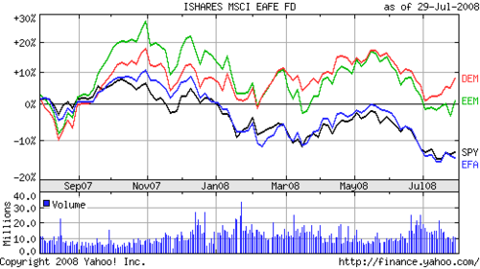 From a fundamental analysis, it gets even better. At the current price for WisdomTree's DEM, the price-to-book is 0.67. And the price-to-sales is 1.14. When's the last time you looked at a diversified investment with a P/E lower than 10, a P/B under 1, a P/S near 1 and a dividend yield north of 8%?
So is WisdomTree's DEM Too Good To Be True? I don't think so. I'd be worried if the facts pertained to a single company, but DEM is very well-diversified across several hundred established companies that pay out the highest dividend yield in emerging countries.
There's no single company accounting for more than 4% of the fund's movement. You have a decent spread across large-, mid- and small-caps. And unlike the majority of dividend-oriented ETFs, financials do not account for 35%, 45% or 55% of the fund. Telecom comes in first at 18.5%, whereas banks are roughly 16%.
Perhaps the only bone of contention is the 27% weight to Taiwan. Yet personally, having lived in Taiwan (Republic of China) for roughly 1 1/2 years, I am quite fond of the Asian tiger. Moreover, I've written extensively about Taiwan in many ETF Expert columns that may explain some of the country's more recent fortunes. (Note: I've profiled the WisdomTree Emerging Market High Yield Fund on several occasions as well.)
Let's face it... bears are nasty. So there's simply no way to know if the worst is behind us or the worst is yet to come.
That said, a long-term investor would have trouble denigrating DEM. It may or may not be too good to be true; it's certainly worthy of a spot on a short list of "buys."
Disclosure Statement: ETF Expert is a web log ("blog") that makes the world of ETFs easier to understand. Pacific Park Financial, Inc., a Registered Investment Advisor with the SEC, may hold positions in the ETFs, mutual funds and/or index funds mentioned above. Investors who are interested in money management services may visit the Pacific Park Financial, Inc. web site.