As we all know, the American economy has seen a huge surge in oil production within its borders. One of the main beneficiaries has been Phillips 66 (NYSE:PSX).
If you're unfamiliar with this name, Phillips 66 split from ConocoPhillips (NYSE:COP). It's a refinery operator with 15 refining operations throughout the U.S., Europe, and Malaysia. It operates over 15,000 miles of pipeline and has 10,000 marketing outlets throughout the U.S. Its operations generate over 2.2 million barrels of oil per day.
Even better, look at its net income per barrel of $4.37: it's almost double compared to last year. Net income rose 13.7 percent in the second quarter alone.
And so the stock has been on a radical tear for the last 90 days. Even as the American economy has stalled for the last few months, this stock appears to be ready for additional gains even after showing great strength since June: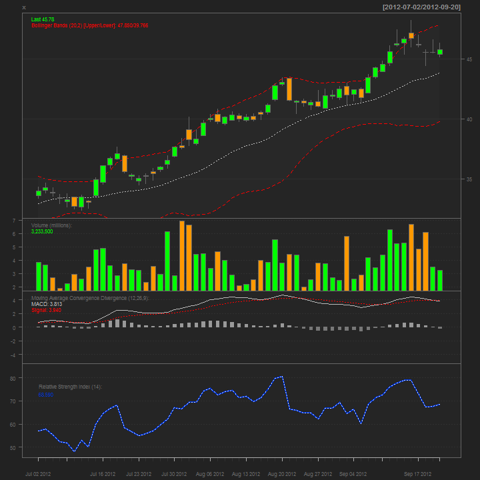 (Here is the source)
As you can tell from the above chart, PSX has had a stellar run over the last 3 months. Although it appears the stock is trading within the upper range of the Bollinger Bands, it is also safe to say that the stock is neither being overbought nor oversold as it sits perfectly in the range of the Relative Strength Indicator. It might be wise to wait for a short-term pull back, and immediately acquire stock as the lower buying opportunity presents itself. It seems PSX will be a long-term bull run with the above reasons.
As long as domestic oil stays fairly cheap (under $100) and there are no international shocks, this stock should easily rise over the next six months to a year.
And so Phillips 66 should come under serious consideration for anyone considering a medium term investment in a strongly-growing company that keeps delivering value to shareholders.
Disclosure: I have no positions in any stocks mentioned, and no plans to initiate any positions within the next 72 hours. I wrote this article myself, and it expresses my own opinions. I am not receiving compensation for it (other than from Seeking Alpha). I have no business relationship with any company whose stock is mentioned in this article.