Prospect Capital Corporation (NASDAQ:PSEC) has just issued new senior notes. The new bonds are callable and are currently priced at $100.00 with a 5.85% coupon. The notes are not listed as being convertible, the prospectus for Prospect Capital Corp. 5.85% Senior Notes states:
...we expect to use the net proceeds from the sale of the notes initially to maintain balance sheet liquidity, involving repayment of debt under our credit facility, investments in high quality short-term debt instruments or a combination thereof, and thereafter to make long-term investments in accordance with our investment objective.
Unfortunately the new Prospect Capital bonds are not rated by Moody's and they are callable. Moody's does rate Prospect Funding LLC., which is a "senior secured revolving credit facility for Prospect Capital Corporation." The credit facility is rated far better than Prospect Capital Corp.'s own credit rating.
Here is a comparison between Prospect Capital's new issue and Berkshire Hathaway (BRK.A; BRK.B), General Electric Company (NYSE:GE) and Wal-Mart Stores, Inc. (NYSE:WMT) call protected Corp. bonds:
| | | | |
| --- | --- | --- | --- |
| | credit rating | price | yield |
| Prospect Cap Corp Fr 5.85% 09/15/19 (cusip: 74348YAS0)Survivor Option, Call 09/15/13@Par, callable, sinking fund protection | -/BBB | 100.00 | 5.85% |
| Berkshire Hathaway Inc Del Sr Nt 3.4% 01/31/2022 (cusip: 084670BF4) call protected, sinking fund protection | Aa2/AA+ | 106.92 | 2.56% |
| General Electric Capital Corp Fr 4.45% 09-15-26, Survivor Option (cusip: 36966TCZ3) call protected, sinking fund protection | A1/AA+ | 105.18 | 3.96% |
| General Electric Capital Corp Fr 5% 12/15/27 Survivor Option (cusip: 36966TAZ5) call protected, sinking fund protection | A1/AA+ | 108.99 | 4.19% |
| Wal-Mart Stores Inc Deb 6.75% 10/15/2023 (cusip: 931142AU7) call protected, sinking fund protection | Aa2/AA | 138.70 | 2.68% |
Note: This list is based on bonds currently on the secondary market.
Two recent Seeking Alpha articles offer opposing views of Prospect Capital. In Be Wary of Prospect Capital SA author Hype Zero does not mince words:
... an investor's $15 initial investment is worth $20.83 ($10 in dividend + $10.83 in n.a.v). That is an anemic return of almost 39% over 8 years. That return is definitely not worth the risk!
In 10.50% Yielding Prospect Capital Offers Growth SA Author Todd Johnson points out "the company pays monthly dividends." Of Prospect Capital's 'peer group' he writes:
I prefer to buy additional shares in American Capital (NASDAQ:ACAS). American Capital receives quarterly fees upon shareholder equity in American Capital Agency Corp. (NASDAQ:AGNC) and American Capital Mortgage (NASDAQ:MTGE).
Debt to Equity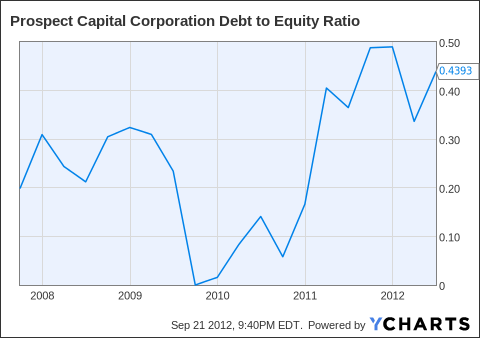 PSEC Debt to Equity Ratio data by YCharts
Though the new Prospect Capital Corp. bonds are callable, some investors could consider the 5.8% yield to be a good deal, (even though the bonds could be called.) It is of the utmost importance that investors refer to the company's prospectus for details:
Redemption Information: Callable at 100.000% on 09/15/2013 and every coupon date thereafter...

The date from which interest shall accrue on the Notes is Thursday, September 27, 2012. The "Interest Payment Dates" for the Notes shall be March 15 and September 15 of each year, commencing March 15, 2013...
The prospectus states that the redemption price is $1,000. The price of the bonds could go down if the company's credit is downgraded, if interest rates go up or if the company defaults. Another recent prospectus for Prospect Capital 6.95% senior notes (PRY) states:
Convertible Bonds Buyback

Between January 30, 2012 and February 2, 2012, we repurchased $5.0 million of our August 2016 convertible bonds at a price of 97.5% of par, including commissions. The transactions will result in our recognizing $10,000 of loss in the quarter ended March 31, 2012.
Layered Strategy
For the purposes of an example an investor could consider mixing the lower credit quality Prospect Capital Corp. bonds with call protected, higher credit quality Corp. bonds. Or another favored call protected bond.
The reasoning is simple, diversification. The fact is I tend to avoid General Electric Corp. bonds, even though they are rated well and yield more than several contemporaries. This is because General Electric has a ton of debt.
When Prospect Capital's debt to equity ratio chart is juxtaposed with General Electric, the jagged graph appears to be small and smooth: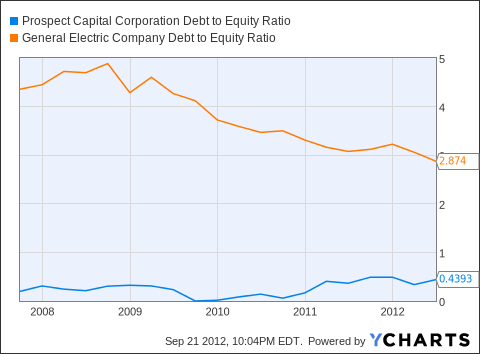 PSEC Debt to Equity Ratio data by YCharts
Let's compare them to Berkshire Hathaway and Wal-Mart' debt to equity ratio, however this time let's look at the maximum available history: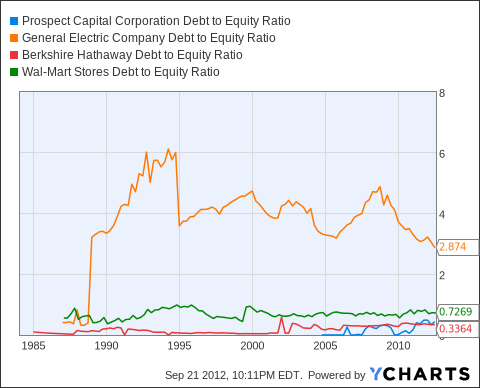 PSEC Debt to Equity Ratio data by YCharts
A Diversified Approach
The Prospect Capital senior notes should be considered with caution (due to the credit quality and call feature.) Larger market cap. does not mean a company's bonds are safer, however there is a huge difference between these companies. Notice Prospect Capital is a flat line at the bottom of the chart: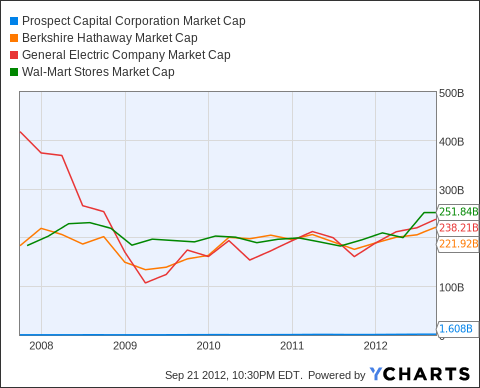 PSEC Market Cap data by YCharts
| | |
| --- | --- |
| | Market Cap |
| Prospect Capital | $1.6B |
| Berkshire Hathaway | $221.9B |
| General Electric | $238B |
| Wal-Mart | $251.8B |
Individual and institutional investors should be mindful of appropriate allocations based on size and 'strength.'. An allocation into Prospect Capital Corp. bonds would probably be smaller than an allocation into larger higher rated companies.
Here is a diversified example for an individual and institutional portfolio.
| | | |
| --- | --- | --- |
| Bonds | Individual ($100k portfolio) | Institution ($1M portfolio) |
| Prospect Capital 5.85% 2019 | $2,000 | $5,000 |
| Berkshire 3.4% 2022 | $2,200 | $9,900 |
| GE 5% 2027 | $2,200 | $11,000 |
| Wal-Mart 6.75% 2023 | $0 | $7,000 |
| Sub-total: | $6,400 | $32,900 |
| Stocks | | |
| Prospect Capital price: $11.78 | $150 | $1,000 |
| Berkshire (NYSE:BRK.B) price: $89.54 | $200 | $1,000 |
| General Electric price: $22.53 | $225 | $1,000 |
| Wal-Mart price: $74.45 | $0 | $1,000 |
| sub-total | $575 | $4,000 |
| Income fund | | |
| American Income Fund (MRF) price: $8.39 | $250 | $1,000 |
| Grand Total: | $7,225 (7.22%) | $37,900 (3.79%) |
This is a bond-heavy example. Keep in mind that when interest rates go up, the prices of the bonds will fall. Investors might consider using the income from the bonds to go into more income funds over time.
Overall, Prospect Capital's yield is attractive and the company's stock currently has a 10.4% dividend. However, dividends can be cut, credit ratings can be downgraded. So it is important to consider the balance between quality and yield.
This is an example and is not a recommendation to buy or sell. It is important to consult a financial advisor in order to determine proper allocations (if any) for your objectives. If you have any thoughts about Prospect Capital or this example, please leave a comment below.
Disclosure: I am long BRK.B, GE, MTGE, AGNC. I am considering long-term positions in Prospect Capital Corp. equity and debt. I wrote this article myself, and it expresses my own opinions. I am not receiving compensation for it (other than from Seeking Alpha). I have no business relationship with any company whose stock is mentioned in this article.