With growth slowing down for both AT&T (NYSE:T) and Verizon (NYSE:VZ), we believe companies like Sprint (NYSE:S) and MetroPCS Communications (PCS) have bright future, with the potential for turnaround. With a significantly smaller market share in terms of subscribers, a potential consolidation between the two companies can serve to bring healthy competition as well as growth. Both companies are in the process of upgrading their networks to keep up with rapidly changing technology and consumer preferences, which will bring dividends. Furthermore, we suggest Telecom Italia (NYSE:TI), a global telecom carrier, as a good option for investors to gain exposure to the overseas high-growth markets. The stock is also attractive from a dividend standpoint, currently yielding 5.3%, which is well supported by its very high operating cash flow yield.
Sprint Nextel Corp.
Sprint Nextel Corp. is a U.S.-based telecommunication company offering wireline and wireless services to its customers, which range from individual customers to businesses and governmental agencies. The company derives the majority of its revenues from its wireless segment. According to the latest filed report by the company, its wireless segment contributed over 90% to its revenue stream, which is a significantly higher exposure to wireless than Verizon and AT&T. It has a market capitalization of $16.3 billion, and its shares are currently trading near $5.5 on the NYSE.
Sprint has been posting losses for a number of years now, largely due to its Nextel platform, which has lost customers on a consistent basis. However, the company's network vision program, which is expected to be concluded by the middle of next year is well on track, and will help the company in turning around. The network upgrade, which involves decommissioning of its push to talk Nextel platform, is expected to bring financial benefit in excess of $10 billion. Moreover, the company has done exceptionally well to recapture the customers onto its Sprint platform leaving its Nextel network. As of the quarter ended June 30, 2012, the company retained 60% of its postpaid customers leaving Nextel, which is impressive considering the recapture rate was only 27% in Q2 2011. And if we analyze the results of the core Sprint platform, they are rather positive, with improvements across the majority of key business metrics.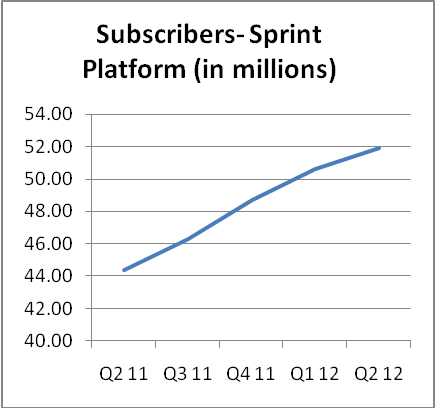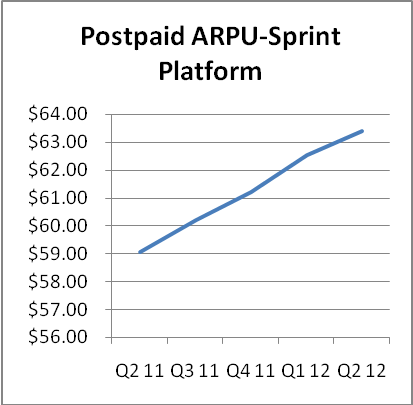 The company is rapidly expanding its 4G LTE network to compete with its bigger rivals, Verizon and AT&T, who have a much bigger market share than Sprint. However, we believe that with the Nextel network shut down, the company, through its Sprint platform, will produce much better results, which is evident from the increase in subscriber base, improving ARPU and churn rate. Moreover, its network vision program will bring future operational benefits in terms of energy efficiency, better coverage, and call quality for its customers, which will help further expand its customer base. It has done well to add some high value smartphones to its portfolio, and is also one of the three carriers currently in the U.S. offering the new iPhone. The company is not burning any cash, and has generated stable operating cash flows over the years. Moreover, it has almost $6.8 billion in cash on its balance sheet, which will help the company in its ongoing network upgrade. The stock has more than doubled since the start of the year, and is currently trading at cheap valuations. The company's P/S multiple of 0.4x is at a discount to the industry's 1.3x and Verizon's 1.15x. On an EV/EBITDA basis, Sprint is cheap as well, with a multiple of 4x as compared to AT&T's 8x. We believe that Sprint has a further upside potential based on its Nextel network shutdown, and the resultant expected benefits, as well as improving business metrics across its core Sprint platform.
For a more detailed analysis on Sprint, click here.
MetroPCS Communications Inc.
PCS is a wireless communication telecom operator that provides mobile services in select areas in the U.S. In addition, it has roaming arrangements with other telecom carriers, which enables the company to offer customer services when they are outside its service area. It has a market capitalization of approximately $4 billion, and its shares are trading near $11.
PCS is a growth story, which is quite evident in its financials. Revenues have grown at over 20% over the last five years, with gross margins staying stable around 40% YoY, despite fierce competition in the Telecom Industry. This indicates the company's operational strength. Stable gross margins are particularly impressive when you consider the margin contraction at other telecom operators like Verizon and AT&T. Moreover, PCS is one of those telecoms whose revenue growth has trickled down to its bottom line, which has improved by over 30% since the financial year ended 2007. Latest quarterly results are a further evidence of its growth; the company recorded earnings of 41 cents per share, beating analyst expectations of 21 cents. Moreover, the company generated a 6% growth in revenues in the second quarter, largely due to the boost in service revenues, caused by an increase in average revenue per user, and improving churn. Even though the company lost customers in the quarter, it is expected that it will be able to bring a slowdown in customer losses, with the roll out of its 4G LTE network nearing its completion. With a wide range of affordable smartphones in its portfolio, and 4G rollout on track, we can expect subscriber growth to return in the second half of the year.
The stock looks cheap based on its valuations, which are hardly justified by its fundamentals. On a forward earnings basis, PCS is trading at a 6% discount to Verizon and at par with AT&T. PCS' P/S of 0.8x is also lower than Verizon's 1.15x and AT&T's 1.7x.
For a detailed analysis on PCS, click here.
Telecom Italia
Telecom Italia provides telecommunications services that include voice, data and internet to its customers in Italy, Brazil and Argentina. It has a market capitalization of $19 billion, with its shares trading near $10.
The company has been suffering from an economic downturn in its domestic market, and weaker consumer spending has reflected negatively in its financials. However, despite the recent weak domestic performance, the company, because of its geographical diversity, was able to generate revenue growth from its operations in Brazil and Argentina. TI's debt has piled on over the years, as is common in the Telecom Industry, but recently some positive steps have been taken by the company's management in that regard. For instance, the company has agreed to sell its web unit to an internet company for almost 90 million Euros in an effort to cut down its debt. Moreover, it is actively looking for bidders for its media division, which has been posting losses over the years. We believe these measures will not only help the company in reducing its debt levels, but also enable it to focus on its core competence, which is providing telecom services. TI's management is also discussing the disposal of its fixed line network, which is estimated to be worth approximately 10-15 billion Euros.
The company has cash in excess of 8 billion Euros, which is sufficient to meet its liquidity and capital expenditure requirements. Historically, it has generated operating cash flows sufficient to cover its CAPEX as well as dividend payments. Moreover, it has posted high gross margins, and after the dip in revenues in the financial crisis, its revenues have now recovered to the pre-crisis level.
The stock is attractive from a dividend perspective, which currently offers 5.3%. The yield has dropped slightly due to the recent price appreciation. The dividend yield of 5.3% compares well to TI's high operating cash flow yield of 70%, which indicates that the current dividend is very much sustainable going forward.
The stock looks cheap based on its valuations. It is trading at 0.5 times its sales, at a discount to the industry multiple of 0.9x, as well as Telefonica's (NYSE:TEF) 0.8x. On a forward P/E basis, it trades at 5 times its earnings, as compared to TEF's 7.5x.
For a detailed analysis on TI, click here.
Disclosure: I have no positions in any stocks mentioned, and no plans to initiate any positions within the next 72 hours.
Business relationship disclosure: The article has been written by Qineqt's Telecom Analyst. Qineqt is not receiving compensation for it (other than from Seeking Alpha). Qineqt has no business relationship with any company whose stock is mentioned in this article.