Zynga (NASDAQ:ZNGA), the popular social gaming company, is well known for piggy-backing the Facebook (NASDAQ:FB) platform. In fact, Zynga single-handedly generated about 14% of Facebook's total revenue in the first six months of 2012. But perhaps this strength is also its simultaneous weakness. With Facebook's notorious IPO failure this past spring, and subsequent fears of insider selling and mobile revenue troubles, Zynga has followed suit. Amazingly, Zynga has fallen 70% since its IPO, and is still 80% off the 52-week high its investors briefly enjoyed last spring.
Click to enlarge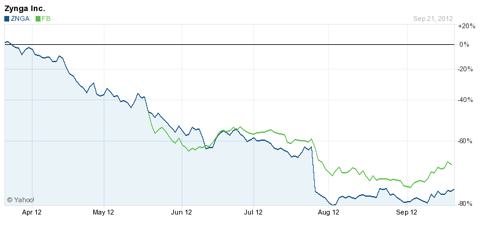 But is ZNGA done dropping? Some technically oriented investors believe this bearish trend is simply pausing, but is destined to continue. In addition, a valid threat to ZNGA is the numerous departures of key executives:
Bill Mooney, Studio VP
Allan Leinwand, Chief Technology Officer
Brian Birtwistle, VP Marketing
John Karp, CMO
John Schappert, COO
Mike Verdu, Chief Creative Officer
Wilson Kriegel
However, one could argue a strong bottom seems to have formed around the $3/share level. Shares have been in a well defined range since the beginning of August: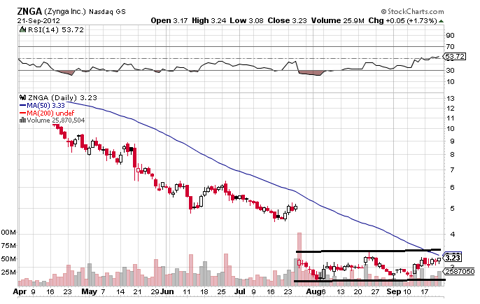 Aside from this positive technical signal, ZNGA could be worthy of a speculative buy for several other reasons:
ZNGA has around $1.50/share cash
Zuckerberg is supposedly addressing FB's mobile revenue issue, which bodes well for ZNGA
ZNGA is still successfully growing its revenues:
And most speculative of all is the possibility of legalized online poker. I suppose some investors are fascinated at the thought of playing ZNGA poker on Facebook for real money. Currently, the US is far from legalizing its online poker industry at the federal level; instead, it is possible for states to legalize and regulate online poker.
Believe it or not, it's currently legal to play online poker in Nevada within state lines, as the law was put into effect June 21, 2012. In light of this, I supposed it's possible for other states to follow suit in the future. Although very speculative at best, widespread legalization of online gambling would be an astronomical catalyst for ZNGA.
The Trade:
It seems there is an argument warranting a speculative long position in ZNGA for the long term. I stress speculative due to ZNGA's short history in the market and its dismal performance thus far, its reliance on FB, and the prayer like catalyst of real money internet poker coming to fruition.
Instead of getting long shares and subjecting your hard earned capital to a possible continued downtrend as we touched upon above, there is an attractive alternative: Buying deep in the money call options.
Action:
Buy Jan 2014 1.50 strike call options for 1.90 in premium. Each contract would essentially allow long exposure to 100 shares of ZNGA for $190 ($3.24 current price/share). This $190 is a lot less than the $324 it costs to get long the same 100 shares. Here is a quick comparison:
| | | | |
| --- | --- | --- | --- |
| ($3.24 current price/share) | Buying 100 shares of ZNGA: | Buying the Jan '14 1.50 call for 1.90: | Advantage: |
| Cost | $324 | $190 | Call Option |
| Max Risk | $324 | $190 | Call Option |
| Max Profit | Unlimited | Unlimited | Both |
| Profits Begin | Immediately | 3.40/share, or 5% from current share price | Shares |
| Expiration | Unlimited | 16 months | Shares |
The main disadvantage of this stock replacement strategy is your breakeven point is @ 3.40/share, or 5% above where the stock is trading currently. This means with the call option you'd miss this first 5% gain. However, this is offset by risking 41% less capital, as well as enhanced returns if shares bounce higher:
| | | | |
| --- | --- | --- | --- |
| ($3.24 current price/share) | Buying 100 shares of ZNGA: | Buying the Jan '14 1.50 call for 1.90: | Advantage |
| Shares at $3.40 | 5% gain | Break Even | Shares |
| Shares at $3.70 | 14% gain | 15.7% gain | Call Option |
| Shares at $4.00 | 23.4% gain | 31.5% gain | Call Option |
| Shares at $5.00 | 54.2% gain | 84.2% gain | Call Option |
| Shares at IPO price $10.00 | 208% gain | 347% gain | Call Option |
Summary
If you insist getting long Zynga, do so with this call option. It provides ample time to experience a recovery in share price, increased profit potential, and requires 41% less capital when compared to buying 100 shares of stock - thereby reducing total risk in a doomsday scenario. Utilizing the risk/reward profile of this deep in the money call option is an intelligent way to play a Zynga upswing due to fundamentals, technicals, or the speculative poker catalyst.
Disclosure: I have no positions in any stocks mentioned, and no plans to initiate any positions within the next 72 hours. I wrote this article myself, and it expresses my own opinions. I am not receiving compensation for it (other than from Seeking Alpha). I have no business relationship with any company whose stock is mentioned in this article.