As the graph below shows, steel prices have risen a staggering 400% in the last six years - far outpacing other commodities that are receiving more media attention.
click to enlarge image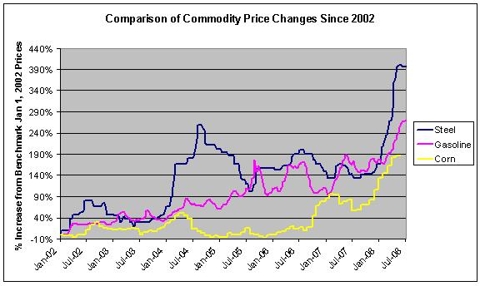 It doesn't take a math whiz to realize steel producers have made extremely healthy profits during that time. But, if your experience in metals dates back all the way into the early 1990s, you remember there were some very lean years for steel makers. Lower demand at home and abroad, a strong US$ and dumping from overseas producers had US mills begging for regulatory relief and playing on consumers' "buy American" heartstrings. There were even questions about whether or not the industry had the strength to survive. Many company coffers were too low to ride out the tough times, causing them to go under.
So, in this time of US mills raking in profits, the question is…are they saving any of that money for a rainy day? As we all know, what goes up must come down. And when that day eventually comes, will the US steel industry be more fundamentally sound than the last time they experienced a downturn?
It's a question I get a lot these days. And fortunately, the answer is a resounding…maybe.
So far, steel mills and distributors have been successful at passing their increase costs of raw materials and transportation onto buyers. And during the many rounds of price increases, which have lasted from 2004 through today, they have defended their increases by admitting they are making up for previous lean years and protecting against anticipated tougher times in the future. But that logic isn't sitting well with buyers facing record prices and I've heard this argument less and less lately. Plus there's bound to be a breaking point in steel price, when increased costs (or rainy day fund deposits) can no longer be passed on without adversely impacting demand.
The far better omen for the future of the US steel industry is the vertical integration that's taken place the last few years. Buying up suppliers of scrap or iron ore is an insurance against potential downside in the future. Having greater control over the inputs in their own supply chain will at least make producers less vulnerable to price fluctuations. That may not insulate the US steel industry from future economic conditions. But that reinvestment into their own cost drivers should help them ride out periods when they're not raking in profits hand over fist.
Disclosure: none