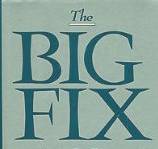 Wednesday and whatever positive days we've had recently is all about 'saving' Wall Street firms. And, trading desks are happy for the extra dough to trade with, so much so that they're bidding previously sick financial stocks higher using your money (naturally). It's good to be in 'Da Boyz' club since you have access to basically free money whenever you screw up or just want some.

Here's what they've done.

The SEC won't let firms' short financial stocks in the manner they had been doing previously.

At the same time, banks like Citigroup (NYSE:C) are working overtime to postpone FASB rules requiring them to mark their assets to market rather than to a model to 2010.

Here's a letter from Citigroup to the FASB with such a request.

So, it's a team effort to prop and jam markets.

That's all I'm going to write about today as trading desks and end-of-month tape painters have taken over the market, abetted by the government's direct and indirect interference.

Disclaimer: The ETF Digest is not one of Da Boyz, period.

Need a laugh? Check out this funny video I saw on Barry Ritholtz's Big Picture Blog.