There has been a lot of activity involving Ford Motor Company (NYSE:F) of late, particularly in the wake of poor European sales and news of CEO Alan Mulally's expected departure. I'll only briefly address this to say that I believe that given Ford's recent history, the company has the capability to revamp its line to boost European sales. As for Alan Mulally, it seems that reports of his planned retirement have been greatly exaggerated.
What I'd like to share are my thoughts on the future of Ford based on some simple observations, rather than an analysis of P/E and PEG ratios. These would be the kinds of everyday observations where a person notices how Chipotle Mexican Grill (NYSE:CMG) is always packed, or everyone he knows seems to always be buying things on Amazon (NASDAQ:AMZN), so he invests in those companies and ends up making some money.
In this case, I'm going to discuss the aesthetics of the new 2013 Ford Fusion, just going on sale now, and how it places the company in relation to its competition. Of course, you might be wondering why a single car is so important to warrant an entire article.
Well, the Fusion is Ford's entry for the mid-size sedan category, which happens to be its biggest seller besides the F-Series. This category is also one of the most competitive in the industry. If Ford leads in the mid-size sedan market, it will get people to start noticing Ford - and like Chipotle and Amazon, if people like what they see, they'll start investing.
I could compare the Fusion's 2.5L iVCT four to the new 2013 Honda (NYSE:HMC) Accord's "Earth Dreams" 2.4L I4, but it makes no difference. When it comes to cars, if the prices are all about the same, all that matters are the looks. If you don't believe me, look at the figures below.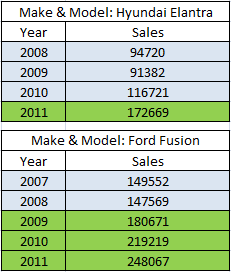 The table above shows the annual sales for the Hyundai Elantra and the Ford Fusion. The years highlighted in green show a large jump. If you kept track of car lineups, what you'd notice is that the year with the big increase in sales coincided with the next model year being released. For Ford and Hyundai, these two models were the target of much praise regarding the styling.
If you go to the source of these figures (Wikipedia, how original), you'll see that sales figures have grown rather slowly and steadily since the car was first released. There is only one other big sales jump, 1998 to 1999, where the only difference was that the car got a minor facelift. Likewise, going from 2010 to 2011, nothing too major had fundamentally changed for the model in terms of driving, pricing or functionality.
The only difference was that the Elantra went from a bland looking budget car to a beautiful piece of artwork on wheels (I might be exaggerating a little). The previous model was actually considered a great value, but once it had the aesthetics to match, the numbers jumped up and it was awarded the North American Car of the Year at the 2012 Detroit Auto Show.
Of course, this is the same case for the Ford Fusion. In 2009, when the Model switched to the one currently being phased out, the improved aesthetics instantly attracted buyers and sales posted a dramatic increase. The hybrid version was awarded the 2010 Motor Trend Car of the Year award.
If you're thoroughly convinced that aesthetics play a huge role in car sales, and that the mid-size sedan is critical to attracting new buyers and investors, then I have a bomb to drop. The 2013 Ford Fusion is the most beautiful mid-size sedan available, in my view. Take a look at it. Now take a look at the Aston Martin Vantage and the Aston Martin Rapide. You might notice a similarity, which is a very good thing. If I were in the market for a new car right now, and the only thing I based my decision on was the looks (which apparently most people do), this is what I'd buy.
Not coincidentally, Honda happens to be putting its updated 2013 Accord on sale now, at just about the same time as its direct competitor, the Fusion. Take a look at the 2013 Accord. Now take a look at the 2008 model year Accord. You might notice a similarity, which in this case is a bad thing. The new model is not a bad looking car by any stretch. I'm a fan of the styling. The only problem I see is that it's almost exactly the same as the previous model year, and when you have to compete with the Aston Martin Vantage, you need to be a little more creative. I have no doubts that Ford will be able to steal a sizeable portion of the mid-size sedan market away from Honda.
It's probably worth mentioning some more competition. Compare the 2013 Nissan (OTCPK:NSANY) Altima to the 2007 Altima. Not bad looking, but again, too similar to the previous model year. Toyota (NYSE:TM) Camry? I'm not too impressed with that either. It doesn't hurt that Honda and Toyota have a following of loyal customers, but they lost some market share when Japan recently had to deal with an earthquake, tsunami and nuclear fallout. Those customers had to go somewhere. Exposure to non-Japanese automakers might have made these loyal customers realize that while Toyota releases bland Camrys and Corollas and Honda puts out a widely panned Civic, Ford is ready to compete.
No, the purpose of this article isn't to just say that the Fusion is beautiful, everything else is ugly, so invest in Ford. It's meant to illustrate that they're sprinting, while everyone else is jogging. The new Fusion Hybrid gets 47 mpg. That's pretty close to the Prius' 53 mpg, and it's not ugly either.
Speaking of ugly, I'm reading reports that when the Ford B-Max goes on sale, it will be getting around 58 mpg. For a market where miles-per-gallon is king, as evidenced by Prius sales, 58 mpg is a good thing. In addition, the Focus is performing very well, with numbers very close to the Hyundai Elantra. The fact that the new Focus is pretty good looking probably contributes. And, as always, the F-Series pickup trucks are a cash cow for Ford.
Still worried about European sales figures and the imminent retirement of Alan Mulally? Don't be. Ford knows how to attract buyers and the company is showing that it is ahead of the competition. Just make sure that if you buy some stock, pray that there aren't a million recalls and that the next Toyota Camry isn't modeled off of the Lamborghini (OTCPK:VLKAY) Aventador. I'd buy that in a second.
Disclosure: I am long F. I wrote this article myself, and it expresses my own opinions. I am not receiving compensation for it (other than from Seeking Alpha). I have no business relationship with any company whose stock is mentioned in this article.