The fall in prices for energy storage will lead to significant drop in battery prices and have ripple effects across wide-ranging industries and society itself. For example, cheap batteries with broader adoption of EVs could cause major innovative disruption in sectors ranging from transportation to power to petroleum. According to a bottom-up "should cost" model developed by McKinsey, the price of a complete automotive lithium-ion battery pack could fall from $500-$600 per kilowatt hour (kWh) today to about $200 per kWh by 2020 and to about $160 per kWh by 2025.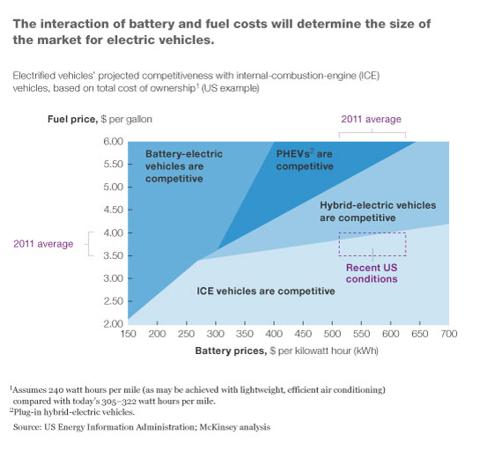 With U.S. gasoline prices hovering around $3.50 a gallon, batteries at price points below $250 per kWh would make EVs more competitive on a total-cost-of-ownership basis. The pace of adoption depends on more factors than price, like macroeconomic, regulations, customer preferences, performance and reliability of vehicles. These cheaper batteries could spur further innovation in other technologies like internal-combustion engines and reshape the broader economics of transportation over the next decade.
The McKinsey model suggests that three factors that could accelerate the day when electrified vehicles become more compelling alternatives on a total-cost-of-ownership basis to vehicles powered by internal-combustion engines.
Manufacturing at scale: Scale effects and manufacturing productivity improvements, representing about one-third of the potential price reductions through 2025, could mostly be captured by 2015. Savings will come largely from improving manufacturing processes, standardizing equipment, and spreading fixed costs over higher unit volumes. New plants could therefore be significantly more productive than those in operation before 2010-11.
Lower components prices: Reductions in materials and components prices, representing about 25 percent of the overall savings opportunity, could mostly be captured by 2020. Under competitive pressure, EBIT margins could fall to half of today's 20 to 40 percent. Component suppliers could reduce their costs dramatically by increasing manufacturing productivity and moving operations to locations where costs are optimal.
Battery capacity-boosting technologies: Technical advances in cathodes, anodes, and electrolytes could increase the capacity of batteries by 80 to 110 percent by 2020-25. These efforts represent 40 to 45 percent of the identified price reductions. New battery cathodes that incorporate layered-layered structures eliminate dead zones and could improve cell capacity by 40 percent. Manufacturers are developing high-capacity silicon anodes that could increase cell capacity by 30 percent over today's graphite anodes. And researchers are developing cathode-electrolyte pairs that could increase cell voltage to 4.2 volts, from 3.6 volts, by 2025, thus increasing cell capacities by 17 percent over present-day standards, and potentially by much more.
Many innovations that enable price reductions for automotive lithium-ion batteries will actually be realized first in other sectors, particularly consumer electronics, where global demand for cheaper and better-performing batteries is intense. Now let us look at some of the companies across the value chain that offer good investment potential.
JCI-Saft was awarded $299.2 million in ARRA battery manufacturing grants and recently became a wholly-owned subsidiary of Johnson Controls (NYSE:JCI).
A123 Systems (AONE) was awarded $249.1 million in ARRA battery manufacturing grants.
Ener1 (NASDAQ:HEV) was awarded $118.5 million in ARRA battery manufacturing.
ZPower has bagged an order to supply batteries for Apple (NASDAQ:AAPL).
Advanced Battery Technologies (OTCPK:ABAT) is a China based company powering E-Bikes.
EV manufacturers like Ford (NYSE:F), Tesla Motors (NASDAQ:TSLA), Nissan (OTCPK:NSANF), Toyota (NYSE:TM), General Motors (NYSE:GM) and Navistar (NYSE:NAV).
Exciting uses for manganese is emerging in the battery sector and has the potential to drastically change the mix of uses for this metal. Top manganese miners include Reunion Gold Corp. (OTC:RGDFF), Barclays Capital Inc iPath ETN DJ-AIG Nckl A (NYSEARCA:JJN), BHP Billiton (NYSE:BHP), Rio Tinto (NYSE:RIO), Alcoa (NYSE:AA), Anglo American (OTCQX:AAUKF) and Vale (NYSE:VALE).
Disclosure: I have no positions in any stocks mentioned, and no plans to initiate any positions within the next 72 hours. I wrote this article myself, and it expresses my own opinions. I am not receiving compensation for it (other than from Seeking Alpha). I have no business relationship with any company whose stock is mentioned in this article.