Following the announcement of QE3, as the architects of the program had hoped, global asset prices surged. As shown by the chart below, the stock market is now trading at a four-year high.
Click to enlarge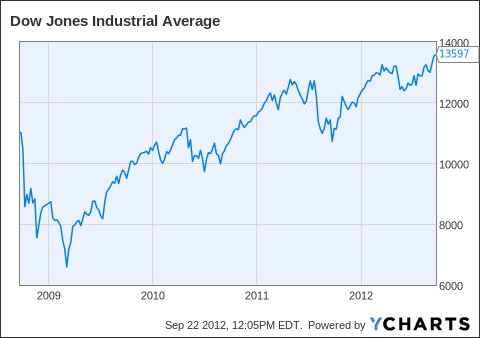 Dow Jones Industrial Average data by YCharts
Quantitative Easing Helps The Rich
One of the implied goals of QE is to send stock prices higher. Based on this metric, it is fair to say that QE has worked. However, as many have stated, the problem with QE is that it also pushes up prices of commodities such as oil and food. In the end, it is argued, and I tend to agree, that QE benefits the rich more than the poor.
The reason is simple, rich people own things such as stocks, commodities, real estate, and businesses that will benefit from increased valuations for assets. Contrastingly, poor people tend to own relatively few assets. Additionally, the rich tend to spend a lower percentage of their income on commodities, such as fuel and food, than do members of the middle and lower classes.
Donald Trump recently commented to CNBC in a piece entitled Trump: QE3 'Artificial,' but Rich Will Love It that QE will be good for the wealthy,but not the country as a whole.
Luxury Retail To Benefit
One way to trade the idea that QE3 will benefit the wealthy is through luxury retail. Based on the wealth effect created by rising asset prices, rich people will most likely be willing to spend more money.
Tiffany & Co. (NYSE:TIF)
I first turned bullish on TIF following a post earnings sell-off in late May. Since that piece was published, on May 24, shares are up just more than 10%. However, I think the stock has considerable upside. Based on historical valuation, as shown by the chart below, TIF is relatively inexpensive.
Also, TIF is currently yielding 2%. While this may not seem like much, given the current interest rate environment, TIF's 2% yield is still greater than the yield on the 10 year treasury. TIF is poised to benefit from QE3 because its customers are wealthy.
One possible negative that should be noted is the potential increase in input costs coming from the recent rally in gold, silver, and other precious metals. However, because of the strength of its brand, I expect TIF to have a relatively easy time passing price increases on to customers.
It should also be noted that, unlike many other QE3 trades, TIF is not trading close to recent highs. TIF's current stock price, in the mid-$60s, is considerably below the all-time high of $80.99 reached in 2011.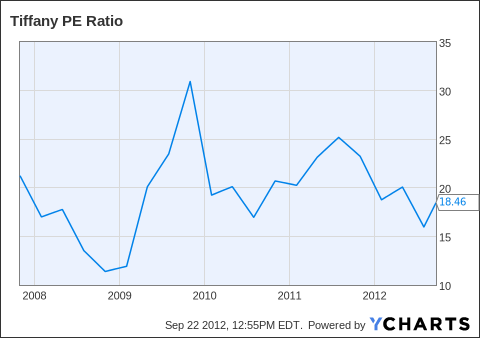 TIF PE Ratio data by YCharts
Coach, Inc. (COH)
Much like TIF, COH is trading at a reasonable valuation, pays a healthy dividend, has a wealthy customer base, and is not trading close to recent highs. As shown by the chart below, on a historical basis, COH is reasonably valued. Currently, COH is yielding 2.12%. COH's stock price, in the mid $50s, is considerably below its all-time high of $79.70 reached in March of 2012.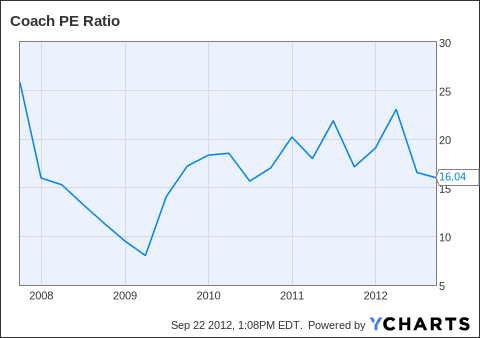 COH PE Ratio data by YCharts
Saks Incorporated (NYSE:SKS)
SKS is a more speculative play than TIF or COH. Unlike TIF and COH, as shown by the chart below, SKS has had a difficult time consistently turning a profit in recent years. However, the company has taken bold steps such as closing a significant number of weak stores in hopes of a turnaround.
While SKS is more risky than TIF or COH, it also offers more reward. Currently, short interest in SKS stands at 30.2 million shares or just more than 34% of the float. Given any positive sales figures, there is potential for a major short squeeze in the stock. The one way in which SKS is similar to TIF and COH is in its customer base. Like TIF and COH, SKS's customers tend to be wealthy.
Conclusion
Luxury retail stocks TIF, COH, and SKS are all poised to benefit from QE3 because of their exposure to wealthy consumers. TIF and COH are the more conservative stocks of the group, while SKS is the higher-risk, higher-reward play.
Disclosure: I have no positions in any stocks mentioned, and no plans to initiate any positions within the next 72 hours. I wrote this article myself, and it expresses my own opinions. I am not receiving compensation for it (other than from Seeking Alpha). I have no business relationship with any company whose stock is mentioned in this article.