Occasionally, I like to look for small companies with above average growth potential in order to outperform the S&P 500 index (NYSEARCA:SPY). I found a promising company that fits this criterion in the healthcare sector. Bio-Reference Laboratories, Inc. (NASDAQ:BRLI) is a $776.4 million small-cap operator of clinical laboratory diagnostic services. It operates primarily in the New York metropolitan area. The company performs blood and urine analysis, hematology services, tissue analysis, and cancer cytogenetic testing.
Bio-Reference looks more compelling than the other publicly traded diagnostic companies, Quest Diagnostics (NYSE:DGX) and Laboratory Corporation of America Holdings (NYSE:LH). Let's take a look at their key fundamentals to see how Bio-Reference Labs stands out.
Bio-Reference

Labs

Quest Diagnostics

Laboratory Corp.

Of America Holdings

Market Cap.

$776.4 million

$10 billion

$8.78 billion

Forward PE

Ratio

15.84

12.68

12.26

PEG Ratio

1.08

1.16

1.05

Dividend

None

1.1%

None

Operating

Cash Flow

$56 million

$1.09 billion

$838.8 million

Free Cash Flow

$47.81 million

$813.77 million

$558.4 million

Current Ratio

3.00

1.12

1.48

Total Debt to

Equity Ratio

11.23

95.07

79.55

5-Yr. Annual

Expected Earnings Growth

17.5%

11.72%

12.39%
All three companies are fairly valued as their stock prices have grown approximately in line with earnings growth. BRLI has the strongest balance sheet as it has 3 times more current assets than current liabilities while the others have much smaller ratios. BRLI's total debt to equity ratio is also in much better shape than that of the other two.
The key factor that makes Bio-Reference Labs stand-out among these companies is its expected earnings growth. Although all three companies should outperform the S&P 500's average expected growth of 10% for the next five years, BRLI is expected to grow over 5% more annually than the others. This gives the company an edge, which adds up significantly over time. With BRLI's 17.5% growth rate, an investment of $10,000 in the stock should more than double to over $22,000 in five years.
Quest and LH have lowered earnings expectations for this year and next year, while Bio-Reference has increased its estimates. This should also give BRLI's stock an edge over the others as the company has a knack for beating estimates.
Bio-Reference plans to expand through marketing and acquisitions. It also plans to improve services such as information and communication via a solution called CareEvolve. CareEvolve was developed by the company to provide a web-based solution to collect ordering information and to deliver results. This solution has been licensed to other laboratories throughout the country.
BRLI has also developed the PSIMedica business unit, which streamlines data from enrollment, claims, pharmacy, and laboratory results to provide an analysis of a population. It is basically an electronic medical records system.
image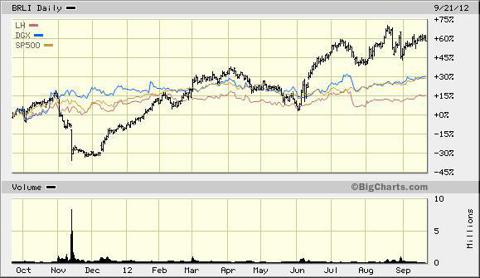 Investors should be aware that BRLI's stock is more volatile than DGX or LH. BRLI does fall dramatically when the overall market drops, however, the stock also recovers quickly as the market rises. Over the long-term, BRLI has been outperforming DGX, LH, and the overall market. This edge should continue as the company is positioned well for above average growth.
Disclosure: I have no positions in any stocks mentioned, and no plans to initiate any positions within the next 72 hours. I wrote this article myself, and it expresses my own opinions. I am not receiving compensation for it (other than from Seeking Alpha). I have no business relationship with any company whose stock is mentioned in this article.