Can anyone overtake Exxon-Mobil (NYSE: XOM) in the energy arena? What if I told you that there's a company out there that is half the size of Exxon but will likely overtake the company as the world's largest energy company? Well, read on and I'll tell you exactly why I believe this company will.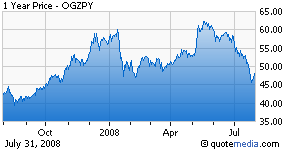 Gazprom OAO (ADR: OGZPY) is a sleeping giant in the world economy that very few people seem to know about. It's a $250 billion dollar company that is likely to be valued in the trillions in just 10 years. It's exactly the kind (although it's a quite large) of company that I love finding for both my Momentum Model Stock Portfolio and my Investment Advisor Newsletter. Of course there are risks involved with this company, especially since it's deeply connected to the Russian government, but I believe the risk/reward ratio is too good to pass up. Here are the top reasons I believe this company will reward investors handsomely.
Gazprom is the largest Russian company and the biggest producer of natural gas in the world accounting for 90% of Russian natural gas production and 20% of world production. Gazprom has reserves of 1,000 trillion cubic feet or 30 trillion cubic meters, equating to control of 17% of the world's gas reserves
Natural gas demand in Europe is projected to increase by 4% annually between 2007 and 2030, a total increase of more than 72% which is more than five times the 0.7 percent annualized growth in US demand
Exxon market capitalization $500 billion while Gazprom is $225 billion. Guess who has substantially more reserves, superior distribution pipeline capacity and government monopoly protection (Gazprom by Russia law is the only company that can export natural gas outside Russia and since there are price controls for domestic gas they don't have much competition. Gazprom says they lose money on domestic natural gas so export is where the profit comes from.)
"Natural Gas will replace oil as the lifeblood of the world economy" - Elliot Gue, editor The Energy Strategist
Gazprom owns 60% of Gazprom Neft, a Siberian based oil producer & refiner which exports oil & diesel fuel to Europe & China. Oil exported is subject to a $25/barrel tax. Owning Gazprom lets you own 60% of the 2nd largest oil exporter in Russia that is building a huge pipeline and rail line from Siberia into China
Gazprom owns stakes in Gazprom bank (2nd largest bank, retail banking services in Russia), Gazprom telecom company providing cell phone service, an ISP service and broadcast cable TV network channels. This mega conglomerate also owns majority stakes in construction companies, metal fabricators, cement companies, and agriculture companies
Gazprom makes money providing electricity to a modernizing Russian population in metro areas, producing their own electricity for their businesses. If more coal gets burned, not natural gas, in power plants then that means they have more natural gas to export at higher prices and more profits. If they reduce domestic, price-controlled natural gas consumption in Russia, replacing it with cheap coal (as they control major cities power now), then they export more natural gas at higher profit margins.
As if Gazprom is not ruthless enough as it is, after jacking up prices to captivate European customers they have been accepting, in lieu of payment, minority stakes in major company and/or state-owned oil/gas/electric utility companies. Gazprom owns a sizable piece of a Hungarian oil company, a Polish gas company, and a Belgian electric utility.
Former Gazprom chairman (and Russian President) Dmitry Medvedev says the company's market capitalization should quadruple to reach one trillion dollars by 2017, which would make it the world's biggest corporation. Gazprom's accounting is audited by American accounting firm PriceWaterhouse Coopers and is 50.01% owned by the Russian government
I believe that Gazprom is certainly worth a look for intelligent investors. I'd love to see the government open up a bit about the dealings of the Company, but I can't help but salivate when I think about their long-term prospects.
Disclaimer:
The author does not own any shares of any of the companies mentioned in this article.