The last two weeks saw a string of announcements that featured Oil Majors buying prime quality U.S. onshore unconventional resources. Last week, Royal Dutch Shell (RDS.A, RDS.B) and Chevron (NYSE:CVX) were the winning bidders on two out of the three large asset packages in the Permian Basin auctioned by Chesapeake Energy (NYSE:CHK). On Thursday, Exxon Mobil (NYSE:XOM) announced that it is acquiring Denbury Resources' (NYSE:DNR) Bakken properties for $1.6 billion in cash and additional "in kind" consideration. The Oil Majors once again demonstrate their appetite and financial resources to beef up their property portfolios with top quality unconventional assets, and the patience to wait out for an attractive price.
Shell's Permian acquisition: transaction details
On September 9, Royal Dutch Shell announced that it is acquiring 618,000 net acres in the Permian Basin in West Texas for $1.935 billion from Chesapeake. The acquisition includes 26,000 Boe/d of current production. Based on the acreage map provided in the press release, the transaction adds a very large position in the highly prospective core of the northern Delaware Basin to Shell's already strong North American unconventional portfolio.

Permian Acquisition Acreage Map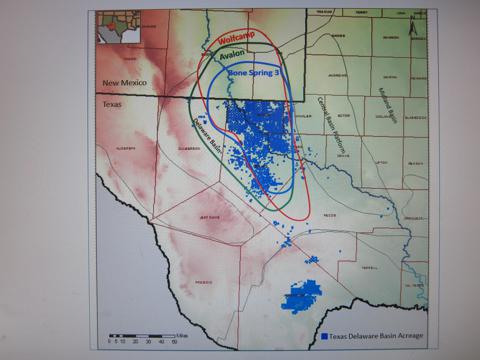 (Source: Shell September 9, 2012 press release)
The acreage is located primarily in Reeves, Loving and Ward counties of Texas where significant parts of the acquired leasehold are prospective for the oil-bearing 3rd Bone Spring Sands (conventional depositions being developed with horizontal fracturing) as well as the Wolfcamp and Avalon (Leonard) shale "combo" plays. The acreage also includes what appears to be a sizeable exploration tract in the center of Brewster County.
The acquisition price appears very attractive
Based on the very limited disclosed information and using certain assumptions with regard to future production declines, oil-NGLs-gas mix, and operating economics, I estimate that proved developed reserves being acquired by Shell in this transaction are in the 60-80 MMBoe range with an estimated PV-10% value of $900-$1,250 million, using the current commodity strip prices. The balance of the price paid in the transaction implies a valuation of $1,400-$2,100 per undeveloped acre, assuming the core leasehold position is approximately 500,000 net acres (being unable to better evaluate the Brewster County acreage, I attribute no value to it for the time being). The implied undeveloped acreage valuation compares very favorably to several recent transactions in the Permian, including Devon Energy's (NYSE:DVN) $1.4 billion JV with Sumitomo Corp. in the Midland Basin, which implied $7,200 per undeveloped acre, and Concho Resources' (NYSE:CXO) $1.0 billion acquisition of Three Rivers Operating, mostly in the northern Delaware Basin, which implied estimated $2,750-$3,500 per undeveloped acre. Given "retail" leasing in the northern Delaware Basin's more prospective areas of Reeves, Loving and Ward counties often seen at $1,500-$2,500 per acre (25% royalty, three year primary term), the price paid by Shell for a large, concentrated position in the heart of several stacked oil and liquids-rich plays looks very attractive.
Several operators have reported strong drilling results in this area. As an example, Cimarex Energy (NYSE:XEC) estimates average EUR in its 3rd Bone Spring play in the Ward County at 730 MBoe (the 19 gross wells drilled during the first half of 2012 had average 30-day IP rate of 850 Boe/d, 79% oil) with well costs in the $7.5-$8.5 million range. This translates into very compelling drilling economics, comparable to the better parts of the Bakken and Eagle Ford. In the Wolfcamp, where Cimarex has drilled and completed 24 horizontal wells, the company's 30-day IPs have averaged 6.6 MMcfe/d (47% gas, 23% oil and 30% NGLs), a very impressive result given the very early stage of the play's development, which translates into a still very robust 20%-30% after-tax rates of return based on the $8.0-$8.5 million well cost.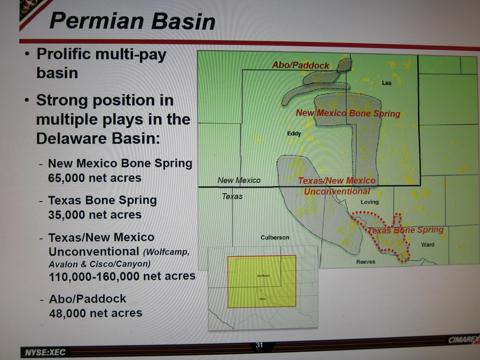 (Source: Cimarex Energy July 12, 2012 Presentation)
A decade of acquisitions and leasing has resulted in a formidable unconventional asset base in North America
The acquisition does not come as a surprise (although the relatively low price does). In an investor presentation earlier this year, Shell highlighted its ongoing active effort aimed at building positions in several North American liquids-rich plays.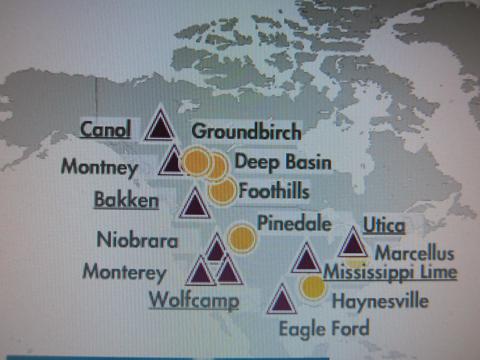 (Red triangles correspond to liquids-rich plays. Yellow circles correspond to dry gas plays. Source: Royal Dutch Shell February 2012 Presentation)
In addition to Shell's operations in the Pinedale, Haynesville, Marcellus, and Eagle Ford, which until recently have received the majority of analysts' attention, the company's presentation slide shows that Shell also has positions in the Mississippi Lime, Utica, Wolfcamp, Niobrara, Monterey and several liquids rich plays in Canada. The Permian acquisition gives Shell immediate critical mass in the relatively under-explored Delaware Basin and adds to the massive, high quality unconventional asset base in North America that Shell has accumulated in a series of acquisitions and grass root leasing. Including the CHK transaction, Shell has spent over $13 billion on North American onshore acquisitions in the last five years (not including leasing costs).
Shell's activities in North American tight gas began in 2001, with acreage purchases in the low-cost Pinedale Anticline field in Wyoming, where Shell is now a significant and highly efficient operator, alongside Ultra Petroleum (NASDAQ:UPL) and QEP Resources (NYSE:QEP).
Following the success of Pinedale, Shell further expanded its tight gas acreage positions in South Texas and built a substantial leasehold in the Haynesville shale (in 2010, the entire South Texas operation, conventional and tight gas, was sold to Occidental Petroleum (NYSE:OXY) for $1.8 billion).
In 2008, with the C$5.9 billion acquisition of Duvernay Oil, Shell added 450,000 acres to its landholdings in Western Canadian Sedimentary Basin. The transaction provided Shell with a platform in several promising plays in Canada, including the Montney trend, which the company further augmented through active crown leasing and additional asset purchases. The value of Shell's Canadian assets was highlighted with announcement of PetroChina's (NYSE:PTR) 20% JV investment in Shell's 160,000 acre Groundbirch project (the deal was rumored to carry a $1 billion price tag) in February this year. Shell's Groundbirch leasehold, which was producing 165 MMcfe/d at the end of 2011, has sufficient resources to ramp up to 1 Bcfe/d production rate and stay at that level for 40 years.
In 2010, Shell acquired privately-owned East Resources, Inc. for $4.7 billion (from a group of investors including Kohlberg Kravis Roberts & Co.). The East Resources acquisition gave Shell 650,000 net acres of highly contiguous, almost 100% operated, high working interest acreage in the Marcellus shale in Pennsylvania, with good access to pipeline infrastructure, and 400,000 net acres in other areas, including over 100,000 net acres in the Rockies, in the prospective Niobrara shale play. The transaction also provided Shell with exposure to the Utica shale play.
Also in 2010, Shell acquired approximately 250,000 net acres of highly contiguous, operated, high working interest acreage in the gas condensate and oil windows of the Eagle Ford, in a series of transactions with private landowners for an estimated approximately $1 billion total consideration.
Shell has been very active developing the purchased assets. In 2011, the company spent approximately $3 billion in its North American unconventional plays (approximately half was directed to the Haynesville and Marcellus) and drilled over 400 wells. Shell's North American unconventional gas and liquids production almost doubled to over 1.6 Bcfe/d currently from approximately 0.8 Bcfe/d in 2008. Early this year, Shell projected its North American unconventional volumes to grow to 1.8 Bcfe/d during 2012 and to 2.4 Bcfe/d in 2015, from its 40+ Tcfe resources base. The Permian acquisition may help Shell achieve those goals despite the sharply reduced gas-directed drilling, following the collapse of natural gas prices this year.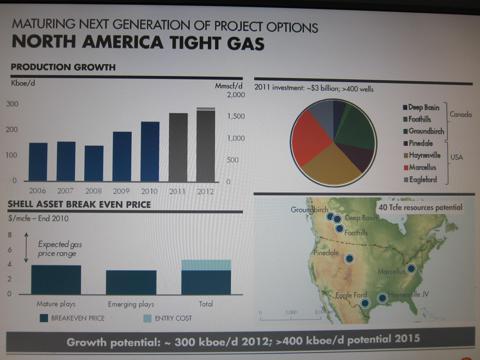 Are integrated gas solutions on the horizon?
With over a decade of unconventional gas focus, Shell has developed an enviable organizational and technical capability (among the Majors, perhaps next only to Exxon/XTO's) to develop its asset base and compete within the top tier of the North American natural gas industry. However, Shell would not be Shell if it did not have the ambition to take its onshore business one big step forward by adapting its international integrated gas model to the North American context. The appeal of this concept is enormous as it could help achieve several critical goals:
Capture the pricing differential between oil and North American gas;
Effectively escape the cut-throat cost competition in the gas E&P sector where "everybody competes" and move into the Majors-dominated integrated segment, protected by high barriers to entry and characterized, arguably, by greater return discipline;
Do what the Majors have done best: implement and operate large scale, highly complex "conversion" projects with multi-decade asset lives.
Shell has been vocal about several potential routes it has been exploring, including LNG exports, Gas-to-Transportation, Gas-to-Chemicals, and Gas-to-Liquids. Ultimately, the amount of investment in the "gas conversion" projects may exceed the value of the underlying upstream assets. Among the early tangible steps toward Integrated Gas, Shell has purchased Cenovus's site at Kitimat on the West Coast of Canada for a potential Pacific LNG facility (to be developed in a 40%/60% joint venture with three Asian partners, PetroChina, Mitsubishi, and Korea Gas), and has selected a site for a potential future ethane cracker in Pennsylvania. The proposed "downstream" projects would use Shell's Canadian dry gas and Marcellus/Utica NGLs-rich assets as the upstream foundation. Each project could take at least six years to permit and construct. The in-service dates are 2018-2019 at the earliest, if the projects are eventually implemented.
In the meantime, additional E&P acquisitions by Shell would not be surprising. The company will likely continue to expand and upgrade its asset base to stay competitive and develop a resource platform that could support multi-billion dollar investments into future gas and NGL conversion capacity. Integrated Gas will likely become a very important theme in the North American gas industry for the next decade.
Disclosure: I have no positions in any stocks mentioned, and no plans to initiate any positions within the next 72 hours. I wrote this article myself, and it expresses my own opinions. I am not receiving compensation for it (other than from Seeking Alpha). I have no business relationship with any company whose stock is mentioned in this article.