Edited By Adam Isaac
Halliburton (NYSE:HAL) is one of the world's leading suppliers of products and services to the energy industry. The firm has more than 70,000 employees in about 80 countries. It primarily serves the upstream oil and gas industry during the lifecycle of the reservoir. Over time, Halliburton has integrated its services into a single solution. Thanks to this policy, customers can obtain increased well performance, and reduce nonproductive time, by standardizing with Halliburton's services rather than combining services from several service providers.
The company has two divisions: Drilling and Production. At the end of last year, these two divisions contributed roughly 25.0 billion dollars in revenues. Halliburton is one of the three largest global oilfield service firms, based on total revenues, competing closely with Schlumberger Ltd (NYSE:SLB) and Baker Hughes (BHI).
Stock Performance: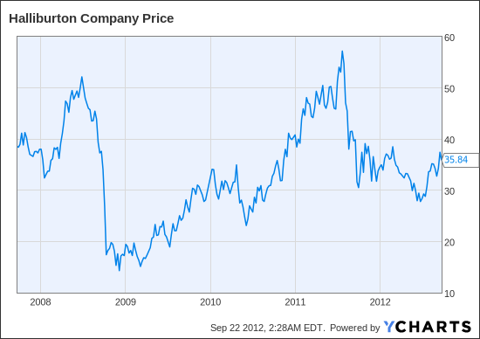 Halliburton stock is rising after a recent slump and is currently trading at about $36. The stock has an extremely attractive P/E ratio of 10.6, while the industry P/E ratio stands at 17.2. The stock is also cheaper as compared to the industry average P/S and revenue growth metrics. HAL has P/S ratio of 1.2 as compared to the industry average of 1.6. Revenue growth of 10.8% also outperforms the industry average of 5.4%.
Recovering Business:
Halliburton has gained recently from the growing demand in the North American pressure-pumping market, where the company is the market leader. This market has accounted for an uneven share of Halliburton's expansion in revenues over the past two years. This market has been driven by significantly increased use of new hydraulic fracturing technology to utilize oil and gas shale deposits. However, key players in the hydraulic fracturing industry have been spending more to increase their pressure pumping capacity.
Given the low natural gas prices, exploration and production division customers are experiencing a quick swing towards oil directed drilling. This is an encouraging long range development for Halliburton because oil drilling entails a more rigorous use of hydraulic fracturing than natural gas drilling. However, recovery in Halliburton's international markets has fallen behind in North America, although trends have varied widely by country.
Financial Highlights:
Halliburton's overall financial performance has been incredibly strong. Revenues for the firm increased 38% in 2011 in contrast with 2010 and by an additional 30% in the first quarter of the current year compared with the same period in the previous year. The firm recorded an adjusted EBITDA of $6.9 billion at the end of March this year, up from $4.8 billion during the previous year. Due to the recent recovery in the business, profitability and cash flow in 2012 will improve. Halliburton is profiting from management's focus on improving operating efficiency, together with working capital management.
In the most recent guidance, the management announced a capital expenditure of between $3.5 and $4 billion for 2012. Halliburton has moderate debt levels, and the total long term debt of the company stands just below $5 billion. Halliburton has strong cash flows. The firm generated cash flows from operations of over $3 billion at the end of the last year. In the most recent earnings report, Halliburton reported cash flow from operations of $1.13 billion and capital expenditures of $1.6 billion. At the end of the second quarter, Halliburton had cash equivalents of $2.1 billion. In addition, Halliburton's liquidity is incredibly strong. The key elements of its liquidity are the cash reserves of $2.1 billion and $100 million of conservatively invested marketable securities.
Additionally, the company also has a revolving credit facility worth $2 billion, which will expire in 2016. None of the long term debt for Halliburton is maturing before 2016, and strong cash flows indicate the firm will be able to meet its capital expenditures.
Peer Comparison:
Baker Hughes and Schlumberger Limited are the biggest competitors for Halliburton.
| | | | |
| --- | --- | --- | --- |
|   | Halliburton | Schlumberger | Baker Hughes |
| P/E | 10.60 | 18.70 | 11.20 |
| P/B | 2.30 | 3.00 | 1.20 |
| P/S | 1.20 | 2.40 | 1.00 |
| EPS Growth | 3.90% | -7.40% | -9.20% |
| Operating Margin | 18.00% | 16.70% | 12.30% |
| Net Margin | 10.70% | 12.60% | 8.70% |
| ROE TTM | 22.60% | 16.80% | 11.70% |
| Debt to Equity | 0.30 | 0.20 | 0.20 |
Source: Morningstar.com
It is evident from the table that the firm beats its competition on almost all the metrics. Halliburton is trading at a lower P/E ratio. The firm has also shown a positive EPS growth trend when the competitors recorded negative EPS growth numbers. In addition, the firm has higher margins, and higher returns on equity compared to its competitors.
Summary:
Halliburton currently faces potential exposure from its role as a contractor on the Macondo well project that led to the catastrophic oil spill in the Gulf of Mexico. The oil spill is the subject of quite a few continuing government investigations. In addition, the company has been named in about 400 civil suits. However, Halliburton has estimated contingencies of $300 million, and I do not expect the amount to be significantly higher than the estimated amount. Other than that, the business prospects of the firm are strong, and the firm should be able to do well in the coming quarters.
Disclosure: I have no positions in any stocks mentioned, and no plans to initiate any positions within the next 72 hours. I wrote this article myself, and it expresses my own opinions. I am not receiving compensation for it (other than from Seeking Alpha). I have no business relationship with any company whose stock is mentioned in this article.