Over a month ago I wrote that Priceline.com was not likely to recover its post-earnings losses in the near-term. Based on the bearish commentary on its European business and reminders about slowing growth rates, I figured Priceline.com (NASDAQ:PCLN) at best would rally to $600 and stop there after hitting resistance at the 200-day moving average (DMA). Instead, PCLN has steadily pressed forward and is now in a breakout position only 6% away from closing the post-earnings gap down.
images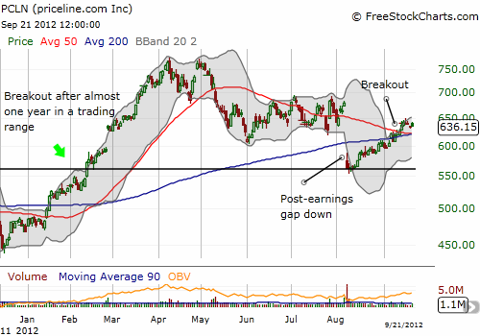 Priceline.com breaks out as the post-earnings recovery continues
Source: FreeStockCharts.com
It is also interesting to note that PCLN held support at 2012′s breakout point that ended a year-long trading range. Holding this support makes PCLN's current run more sustainable.
Also interesting is that PCLN's post-earnings recovery has closely followed the recent recovery in the euro versus the U.S. dollar (NYSEARCA:FXE). I can only assume that the market's increasing comfort with Europe's recovery is providing wind behind the sails for PCLN. In the charts below, I show the recovery in the euro that began with the bottom July 24th, two weeks before PCLN's earnings tumble. The euro's rally accelerated shortly after that. The second chart shows the ratio of PCLN and the euro (using the currency ETF) as a reminder that PCLN has generally outpaced the euro over the past few years. In other words, PCLN's future is not necessarily tied to the fate of the euro.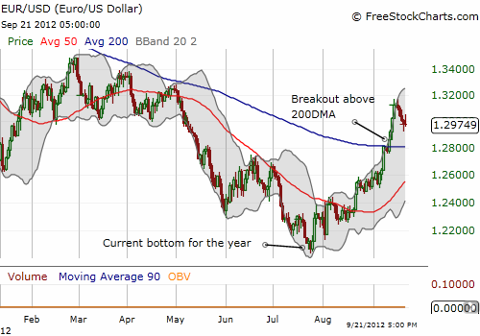 The euro's recovery rally has accelerated in recent weeks
Source for above charts: FreeStockCharts.com
PCLN has generally outpaced the euro
Source: StockCharts.com
Going forward, I am assuming PCLN has already turned the corner. I will be watching to see whether the gyrations of the euro hold sway over PCLN's stock, and, more importantly, I will be watching the stock's behavior once it finally closes its post-earnings gap. The next earnings report should come right around the time of U.S. presidential elections. This will greatly complicate making another projection for PCLN's post-earnings moves, but I will give it a look if August's post-earnings gap remains unclosed.
Be careful out there!
Disclosure: In forex, I am long EUR/USD