Not surprisingly, the global debasing of fiat currencies has brought out the gold bulls. The shiny yellow metal is a classic inflation hedge, a de facto long put option on equities and perhaps best of all in the post-Lehman world, an asset with no counterparty risk. As one round of QE ends and another iteration begins the strategists and 'pros' are out in force with long gold calls.
Some traders have taken note of the aptly named "golden cross" chart pattern in spot gold -- last Thursday the 50-day moving average rose above the 200-day moving average indicating long term strength. According to Reuters, gold prices rose 11% following the formation of the last golden cross.
Bank of America Merrill Lynch strategist Francisco Blanch recently told clients he expects gold prices to top $2,400 within two years, citing upward pressure exerted by the Fed's new asset purchase program.
Similarly, Michael Purves of Weeden & Co. told CNBC's Fast Money that investors should not to take profits despite the rally in gold over the past few weeks. Purves contends that the metal is 'underowned' by investors and noted that:
...the bullish sentiment on gold...is still very low compared to where it was in 2010, 2011...[and it's] been off everyone's radar for a long time because it went through a very messy consolidation.
Of course it isn't any mystery why this occurred. Consider the following chart from Credit Suisse which shows gold prices over the course of QE1, QE2 and Operation Twist: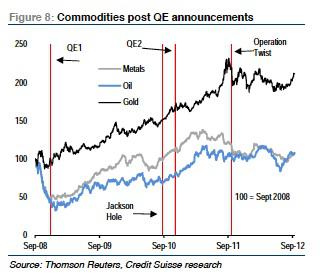 Source: Reuters, Credit Suisse
What is fairly obvious from the chart is that the market was bullish on gold while the Fed was still expanding its balance sheet or at least until it became clear that the Fed's next move would be sterilized. Notice the immediate sell-off after Operation Twist was announced. No balance sheet expansion and no unsterilized asset purchases equated to no continuation of the rally in gold.
Now that the Fed is back on the balance sheet expansion path, gold is rising again. I think the important thing to consider is that the Fed runs out of short-term bonds to sell in December. This means that any further purchases of Treasury bonds will be unsterilized and as such will amount to further balance sheet expansion in addition to that which is already taking place with the monthly $40 billion in MBS purchases.
If the past is any indication, gold should build on its gains after the first of the new year when it becomes clear that the Fed will be conducting unsterilized purchases of Treasury bonds (which Goldman predicts will amount to $40 billion per month) alongside its monthly MBS purchases. I recommend being long gold (NYSEARCA:GLD) for the foreseeable future.
Disclosure: I have no positions in any stocks mentioned, and no plans to initiate any positions within the next 72 hours. I wrote this article myself, and it expresses my own opinions. I am not receiving compensation for it (other than from Seeking Alpha). I have no business relationship with any company whose stock is mentioned in this article.