Raytheon Co. (NYSE:RTN)'s CEO William H. Swanson said a possible merger of EADS and BAE Systems could distract the European defense giants and help his own company boost its share of their markets, Reuters reported. He should know. Around half Raytheon's assets consist of estimates made about earlier acquisitions, and its financial data gives it an AGR®of 16, indicating higher accounting and governance risk than 84% of companies.
Since taking the helm in 2003, Swanson has directed his team to undertake a number of acquisitions. In the six months ended July 3, 2011, for example, Raytheon bought Applied Signal Technology, Inc. and substantially all the assets of Ktech Corp. for a combined $550 million in an effort to enhance its product offerings. Raytheon paid $421 million more than the companies were worth on the books based on its expectations of what it could eventually make from combining the operations. Raytheon also said the assets it gained from its acquisition such as contractual relationships, license agreements and trade names were worth $97 million.
While it's too early to know whether Raytheon's estimates about this recent deal turn out to be right, the company has had more than $11 billion of goodwill on its balance sheet since 1997, the year that it bought defense businesses from Texas Instruments (NYSE:TXI) and Hughes Aircraft Co. As of July 1, Raytheon said it had paid $12.54 billion more for its acquisitions than they were worth on the books, or 50% of its total assets versus the industry median of 21%. These assets aren't as tangible as Raytheon's Patriot missile, even if the company has managed to churn out more than a billion dollars of profit each year since 2006.
In other areas, Raytheon has shown more optimism than peers about the future value of investments. When the company estimated its pension plan liabilities, it assumed the assets in the fund would grow at a rate of 8.68% versus the industry median of only 8%. Pension benefits at Raytheon are already underfunded by an average $5.6 billion, or 23% of its revenue versus the industry median of only 8%.
Indications are that Swanson doesn't get finicky about accidental misrepresentation. When Raytheon's board learned that "Swanson's Unwritten Rules of Management," the CEO's book of sage advice, turned out to have plagiarized "The Unwritten Laws of Engineering," written by W. J. King, an engineering professor at the University of California, Los Angeles, the board decided not to raise his salary above its 2005 level and to reduce his restricted stock in the coming year by 20%, the New York Times said in May 2006. "Based on the evidence, we decided that this was unintentional and not negligent. It was just poor judgment," Warren B. Rudman, Raytheon's then-departing lead director had explained to the New York Times.
Perhaps it is also unintentional to have half your assets result from what you had thought your investments should be worth.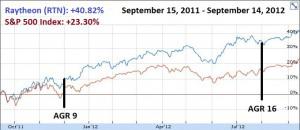 Region: North America
Country: United States
Sector: Industrials
Industry: Aerospace / Defense
Market Cap: $ 18,765.7 mm (Large Cap)
ESG Rating: D
AGR Rating: Aggressive (16)

Disclosure: I have no positions in any stocks mentioned, and no plans to initiate any positions within the next 72 hours.
Business relationship disclosure: The article has been written by a financial reporter at GMI. The reporter has no business relationship with any company whose stock is mentioned in this article. Nobody paid GMI to write this article on his or her behalf.