The crude oil price chart for the past year resembles a roller-coaster ride. After climbing through the late fall and winter, prices peaked earlier this spring, dropped precipitously through May and June, and then rebounded during the summer.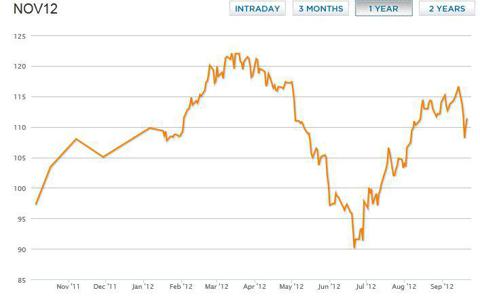 Volatility continued last week, beginning with a mini "flash crash" on Monday afternoon, as oil prices dropped by nearly $4 in just a few minutes. Prices dropped further on Tuesday based on news that Saudi Arabia was pumping more than 10 million bpd in order to bring down prices. Sources claim that the Saudi government would like to see Brent prices near $100 (more than 10% below current levels). Bearish data on oil inventories pushed prices down even further on Wednesday. In total, oil prices dropped nearly $10/barrel from the Monday high to the Wednesday low. However, oil recouped several dollars of its losses on Thursday and Friday, due in part to supply outages in the North Sea.
Oil's trading action last week could be indicative of a small correction to establish a new trading range, or it could be the beginning of a more sustained drop in oil prices. I am inclined to believe that oil prices will continue to drop through the fall. There are three primary reasons for this: 1) growing U.S. oil production; 2) seasonally lower demand; and 3) global economic weakness.
Domestic oil production has grown by over 500,000 bpd year over year (nearly 10%) according to recent EIA statistics. While production in Alaska is decreasing, this is far outweighed by growing output in the lower 48 states, most notably from the Bakken formation in North Dakota. Due to a lack of pipeline capacity, much of the increased U.S. production has had trouble getting to market; this has caused WTI oil prices to lag Brent prices by nearly $20/barrel. However, railroads such as Berkshire Hathaway's (NYSE:BRK.B) BNSF are stepping in to fill the gaps by transporting inland crude to coastal refineries. There are also a number of pipeline projects in progress that will allow more inland oil to reach coastal markets cheaply, which will pull Brent prices down towards WTI prices over the medium term.
On the demand side, the fall is a slower travel season, and oil demand typically drops as a result. While oil supply was already outpacing demand in the springtime, this effect will become more pronounced over the next two months. While supply and demand for oil were roughly in sync during the busy summer season, there is a lot of slack in the market going forward. I therefore expect some of the current "risk premium" to come out of the oil market over the next two months.
Beyond seasonal factors, world oil demand is stagnating. Whereas the oil market was helped last fall by the belief that Chinese demand would continue to grow, recent economic data from China points toward a "hard landing." None of the other major world economies (the U.S., EU, and Japan) are showing significant growth, either. Additionally, the U.S. and other developed countries have made considerable efficiency gains in recent years, which will permanently lower demand. U.S. gasoline usage has been dropping since the 2008 recession. Americans are driving less, and fuel efficiency has improved over the past several years, as many individuals are replacing older vehicles with more fuel efficient ones.
Since oil demand in the U.S. and other developed countries has already peaked, and China (the largest developing economy) is mired in a slowdown, there are no demand-side drivers to keep prices above $100. Even $100 is a very shaky support level, as it depends upon Saudi Arabia making significant production cutbacks when prices drop below that level. However, in recent years, Saudi Arabia has had a bias towards lower prices to prevent demand destruction. I expect Brent prices to fall to $100 by November with 90% probability, with a 50% or better chance that prices drop below $90 in that time frame. The oil market has seen violent swings in recent years; once the market recognizes the extent of excess supply available, prices could drop rapidly.
As a result, it would be wise for investors to avoid oil producers such as Exxon Mobil (NYSE:XOM) and Conoco Philips (NYSE:COP) this fall. Many oil companies are trading near 52-week highs, and may present good short opportunities at this point. Backwardation in the crude oil demand curve demonstrates that these companies' profits are likely to decline over time. A sharp drop in oil prices today would accelerate those declines.
Investors looking for gains in the oil sector should focus on refiners instead. Refining margins have been very strong throughout the industry recently, and high U.S. inventories of crude oil will further boost refiners' profitability as input costs sink. Valero Energy (NYSE:VLO) and Tesoro Corporation (TSO) are both attractively valued refiners.
Disclosure: I have no positions in any stocks mentioned, and no plans to initiate any positions within the next 72 hours. I wrote this article myself, and it expresses my own opinions. I am not receiving compensation for it (other than from Seeking Alpha). I have no business relationship with any company whose stock is mentioned in this article.