by Madeline Schnapp
It looks like wage and salary growth is accelerating. Not only that, it looks like growth has been accelerating since June. How do we know that? We track daily income tax withholdings from all wage earners whose salaries are subject to withholdings. Growth in income tax withholdings is up 2% year-over-year since June.
Source: TrimTabs Investment Research, Inc.
So, what does that mean? In dollar terms, on an annualized basis, wages and salaries are up about $133 billion. That's nearly 1% of GDP. At last count, second quarter GDP growth was a dismal 1.7% annualized. If we are right about wage and salary growth, then third quarter GDP growth may top 2.7% annualized, which is good news, indeed.
So what is driving growth? Well….jobs. Last month our withholding tax based employment model said the U.S. economy added 185,000 new jobs in August. In addition, our model suggests that job growth in September will also be strong. In contrast, the BLS said job growth was only 96,000 in August. We think the BLS is wrong and is missing the current acceleration in economic growth.
So, what is driving job growth? There is an increasing amount of data that suggests the housing market is the likely culprit. After all, mortgage interest rates have been bouncing off record lows for more than a year. Also, the Fed just announced an open ended quantitative easing program which means mortgage interest rates are likely to stay low for the foreseeable future. Finally, housing is much more affordable than it was five years ago, there is pent-up demand for housing, and positive job growth, albeit sluggish, has been driving up demand for housing.
So what is going on in the housing market? Homebuilders have been busy building single family and multi-family housing units.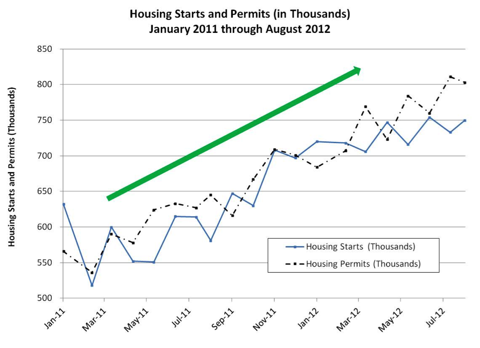 Source: U.S. Census Bureau
Single family housing starts are up 29% y-o-y, multi-family housing starts are up a whopping 39% y-o-y. While the volume is nowhere near where it was prior to the housing crash, it is still up considerably this year relative to last.
Existing home sales jumped 7.8% in August, to an annualized pace of 4.8 million units, and are 9% higher than they were a year ago.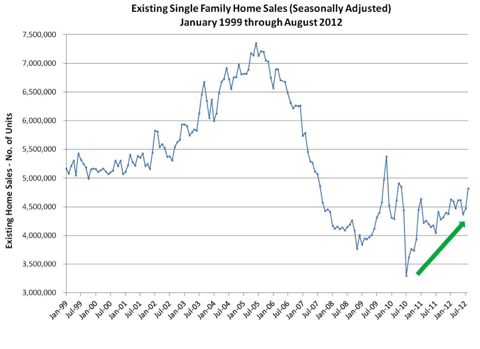 Source: National Association of Realtors
If we ignore the sales activity surrounding the federal stimulus programs, the current pace of growth is the fastest in five years. The jump in sales is also taking prices with it. Median prices jumped 9.5% y-o-y, while unsold inventory fell to a 6.1 month supply, the lowest level since January.
New home sales are on tap this week and judging by the increase in homebuilder activity, we suspect that new home sales will be up as well.
What's the bottom line? If the withholding tax data is correct, and we believe it is, it looks like we are finally getting some improvement in economic growth. The great thing about the withholding tax data is that it doesn't lie, it isn't survey based, it doesn't need to be revised, it doesn't need to be seasonally adjusted, and it isn't polluted by a mysterious birth/death adjustment.
Will this growth spurt last? Who knows? One thing we can say for sure, however, is barring some sort of international catastrophe, growth will likely last at least through Election Day, Tuesday, November 6.