The leadership derived from the hopes of QE has eased, and now the markets look for direction. Equity indexes have flattened somewhat after around a 4% jump in September, but market internals are beginning to wane. Whether you look at indicators or price relativity, a new catalyst is needed for further advance. A bottom is in place for a market decline due to easing, but unless you are selling time, assets are merely consolidating.
The first indicator of interest is China. China has made an effort in September to join equity strength, but has failed to sustain it. This past week was abhorrent for Chinese markets. The culmination of weak manufacturing data, disputes with Japan, and political uncertainty have made the case for money to be pulled from equity. The chart below shows the Shanghai Index (NYSEARCA:FXI) relative to world equity (NYSEARCA:VT). With the importance of China to the world economy, there is only so long $SSEC can be a laggard and not have repercussions on world markets.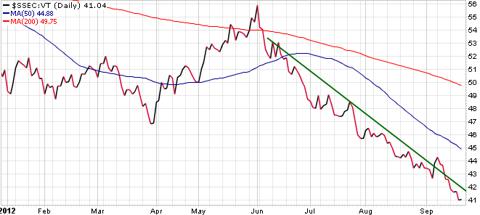 A lot has been spoken of recently with regards to traditional Dow Theory. Transports are said to lead Industrials in prosperous times due to shipment of products. The chart below is a recent back test of this theory and its implications. Instead of Transports as a whole, Fed Ex (NYSE:FDX) is used. They have been in the headlines recently forecasting Q3 projections, and are sufficient to represent Transports. The indicator Fed EX over Dow Industrials is compared to the S&P 500 performance (NYSEARCA:SPY). The 5 year back test looks at correlations and price movements. The last time this indicator negatively correlated with equity indexes was August 2011, when there was a large price depreciation. This does not seem to be the case this time with a Bernanke Put in place, but lack of appreciation could lie ahead. A divergence is taking shape, and this looks negative as a whole for risk assets.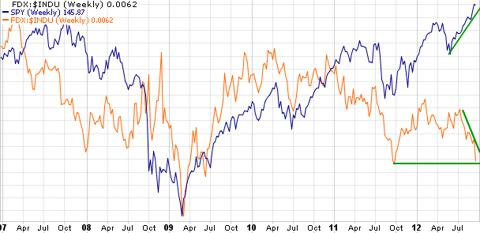 The last indicator is fairly obscure in nature, but correlates well with markets. The indicator is the number of S&P 500 companies over their 50 day MAs compared to long term treasuries (NYSEARCA:TLT). This breadth indicator must show strength relative to equity and bond markets to advance, thus providing a good look at equity breadth. Currently, this indicator sits at resistance, with waning support. A pullback in the indicator is bearish for risk, but support looks to reside just below. There looks to be room for a broad pullback without adversely affecting the primary trends.
What can be seen is that market traditions are diverging and decoupling in the unorthodox environment in which financial markets reside. Leadership of some form is needed in coming weeks to further boost risk. The lack of such a catalyst will leave assets range bound between government demand and investor supply.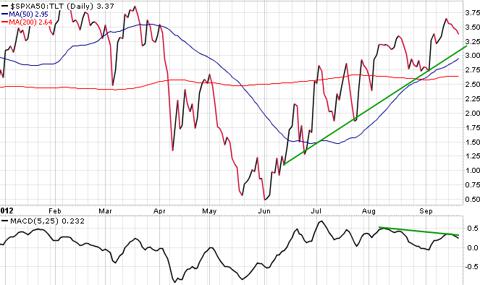 Disclosure: I have no positions in any stocks mentioned, and no plans to initiate any positions within the next 72 hours. I wrote this article myself, and it expresses my own opinions. I am not receiving compensation for it (other than from Seeking Alpha). I have no business relationship with any company whose stock is mentioned in this article.