Well, another dividend increase has just arrived and it's another famous name, McDonald's Corporation (NYSE:MCD). This could just be the catalyst the stock needs to start making a move, after floundering throughout 2012 due to mixed same store sales reports and earnings.
This article, written back in April, extrapolated the dividend returns of McDonald's for the long term investor. And with the new increase, its time to recheck the story. Let us get into the details.
New Dividend: The new dividend of 77 cents per share will begin from December 2012 payout and in all likelihood last till the August 2013 payout.
Current Yield: So, the $3.08 dividend per year gives McDonald's a yield of 3.3% based on its current share price of about $93. Due to the pull back in the stock price as well as the increase in dividend, this yield is higher than the 2.9% at the time of the original article linked above.
Dividend Growth Rate: The 5 year moving average dividend increase has dropped to about 15% from the 17% at the time of the previous writing. 5 years is usually used as the "basic" minimum for a company to be considered in the dividend growth category, as indicated in this article by Dave Crosetti. So, it makes sense to update the dividend growth rate as well as new data becomes available.
Payout Ratio: The payout ratio has now edged up to close to 60% based on current earnings per share of $5.32. Given the company's expected earnings growth of close to 10% per year over the next 5 years and its reputation, investors should feel pretty secure about their dividends.
Since we have already seen the dividend growth rate slow down a bit, the table below assumes an average of 8% dividend increase each year. Given McDonald's shareholder loyalty, expect the dividend growth to accelerate when it starts raking in the profits from new ventures like this.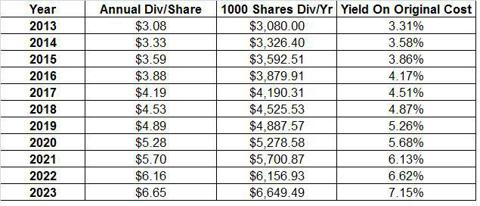 Cash on hand: McDonald's cash on hand has been pretty steady over the 5 year period shown below. It sure is not as big as Microsoft's (NASDAQ:MSFT) but being a staple, McDonald's earnings is likely to have a steady upward trajectory.
(Source :Ycharts.com)
Conclusion: So, within a week or two, we've had Philip Morris (NYSE:PM), Microsoft, and now McDonald's increase dividends and more or less match the expectations of the investors as well. Now, if only we all can find a job that increases our income each year like these stocks do !
Disclosure: I am long MCD, PM. I wrote this article myself, and it expresses my own opinions. I am not receiving compensation for it (other than from Seeking Alpha). I have no business relationship with any company whose stock is mentioned in this article.