After withdrawing a previous registration in 2010, Gladstone Land Corporation filed a prospectus last week for another shot at an IPO. In its most recent registration, Gladstone Land proposed a maximum offering price of $57.5 million (estimated solely to calculate the registration fee). The company did not specify a share price or share count in its Form S-11.
Gladstone intends to elect and qualify to be taxed as a REIT for U.S. federal income tax purposes commencing with the taxable year ending Dec. 31, 2013, or Dec. 31, 2014. Additionally, the company intends to apply to have its common stock listed on the NASDAQ Global Market under the symbol LAND.
Green Acres Is the Place to Be. Farm Livin' is the Life for Me
According to Gladstone Land Corp.'s S-11:
The USDA estimates that in 2007 there were approximately 2.2 million farms on 922.1 million acres of land in the United States. This farmland includes land dedicated to any form of farming, including crop production. Out of this total, there were 1.7 million farms dedicated to producing crops, or cropland, on 406.4 million acres of land, resulting in an average of approximately 241 acres per farm. The USDA's agricultural projections anticipate continued increases in domestic farm income, despite the current global economic slowdown.
The snapshot below illustrates the continued trend of increasing farm income projected by the USDA from 2011 onward. (Source: S-11):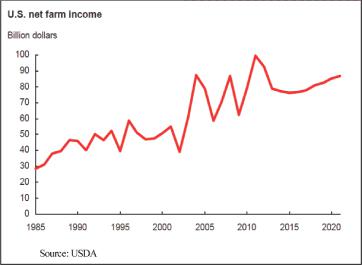 The snapshot below illustrates the increase in domestic cropland value over the last 10 years (Source: S-11):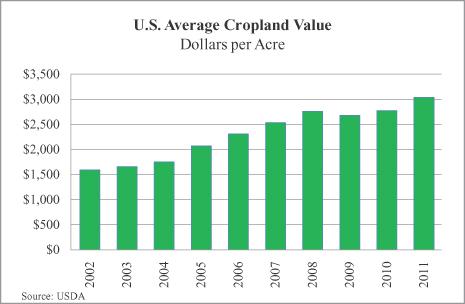 As explained in the company's S-11:
According to the National Council of Real Estate Investment Fiduciaries (NCREIF) Farmland Index, $2.9 billion in domestic U.S. farm properties have yielded average annualized returns of 15.4 percent between 2002 and 2011, compared to average annual returns of the NAREIT All REIT Index of 12.4 percent and average annual returns of the S&P 500 Index of 4.9 percent during this period. Between 2002 and 2011, the NAREIT All REIT Index had two years with negative returns in 2007 and 2008 of (17.8) percent and (37.3) percent, respectively, while the NCREIF Farmland Index had no years with negative returns during the same period. Furthermore, the USDA estimates that the value per acre of U.S. cropland has increased by 90.6 percent between 2002 and 2011.

Crops can be divided into two sub-categories, annual row crops and permanent crops. Annual row crops, such as strawberries, lettuce, melons, corn, wheat and others, are planted and harvested annually, or more frequently. Permanent crops, such as oranges, almonds and grapes, have plant structures such as trees or vines that produce crops annually without being replanted. Annual row crops can be further divided into commodity crops and fresh produce crops.
Gladstone Land intends to acquire and lease farmland for the primary purpose of leasing it to farmers that are harvesting annual row crops with an emphasis on fresh produce. The company will place less emphasis on permanent crop and commodity crop farms. As compared to permanent crops, the company believes that annual row crops are less expensive to replace and are less susceptible to disease and poor weather. Additionally, as compared to annual commodity crops, we believe that annual fresh produce crops have plants that are less dependent on weather, foreign markets and government subsidies.
Gladstone Land believes that this strategy will provide opportunities to lease land holdings to a wide variety of different farmers from year to year and avoid the risk of owning land dedicated to a single crop, as occurs in permanent crop farmland, and avoid risks related to foreign markets and government subsidies that are more prevalent when growing commodity crops
Land spreadin' out so far and wide. Keep Manhattan, just give me that countryside.
Gladstone Land intends to lease its properties to corporate and independent farmers with sufficient experience and capital to operate the farms without its financial or operating assistance. The company does not have the resources to farm the land it owns and it will seek to acquire farms with tenants who desire to continue farming the land. Gladstone Land will seek to acquire cropland in multiple locations in the United States, including California, Florida, the Southeast, the Mid-Atlantic and the Midwest, in order to provide diversification with respect to climate conditions, growing seasons and water sources.
According to Gladstone's S-11:
According to the USDA, as of 2007, approximately 86 percent of farms in the United States were owned by families. Some of these farmers may wish to simultaneously sell their land to us and then lease their property back and continue their agricultural businesses under short-term net leases. Sellers in these "sale-leaseback" transactions can then use the proceeds to repay existing indebtedness, for growth of their farming operations, for retirement or in other business endeavors. Real estate that Gladstone Land acquires but does not simultaneously lease back to the seller may instead be leased to other independent or corporate farmers. While the company elects to receive stable and potentially increasing rents from leasing land for these farming operations for many years, Gladstone believes that the company may be able to sell this land at appreciated valuations in the future if these properties are sought to be developed for urban or suburban uses.

...

Agricultural real estate for farming has certain features that distinguish it from other rental real estate:

Almost

all of the property consists of land, there is generally not a significant concern about risks associated with fires or other natural disasters that may damage the property, although agricultural real estate is generally more susceptible to adverse weather conditions and crop disease.
Farmland has historically maintained relatively low vacancy rates when compared to other types of rental real estate, and we believe that it is rare for good farmland not to be leased and farmed every year. As a result, there is a relatively low risk of being unable to lease our properties.
Most farmland (in the areas in which Gladstone Land owns and intends to buy) is leased under short-term leases, and the company plans to lease the property under short-term leases. By entering into short-term leases, the company will be in a position to increase its rental rates when the leases are renewed.
Farmland generally does not require significant ongoing capital expenditures.
Over time, the supply of U.S. farmland is shrinking while the supply of other commercial and residential real estate is increasing as farmland is converted into urban and suburban uses.
New York is where I'd rather stay. I get allergic smelling hay.
Gladstone is an externally managed corporation that currently owns twelve farms in California and Florida. The company has chosen California and Florida for the diversification of climate conditions, as well as the abundant water sources, high soil quality, diverse crop types and established agriculture infrastructure in these states, and our experience investing in farmland located there. A large percentage of the fruits and vegetables grown in the United States are grown in California and Florida. The properties comprise an aggregate of 1,631 acres of farmland in California and Florida, of which approximately 1,344 acres are arable.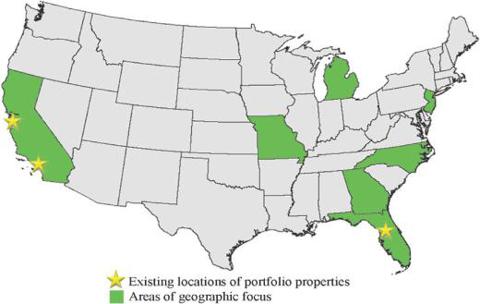 Gladstone Land currently own twelve farms, leased to six separate corporate and independent farmer tenants. Additionally, the company owns two cooler buildings and a facility utilized for storage and packing. Gladstone Land expects that most of its future tenants will continue to be medium-sized independent farming operations or large corporate farming operations.

Gladstone Land intends to lease its properties under triple-net leases, an arrangement under which the tenant maintains the property while paying us rent. Under a triple-net lease, the tenant is also responsible for paying taxes and insurance payments directly.
The company intends to own primarily single-tenant agricultural property, and it will seek to enter short-term leases of two to five years. Dole Food Company, Inc. (NYSE:DOLE), currently Gladstone Land Corp.'s largest tenant, is responsible for about 70 percent of the company's rental revenue.
Last week, Jim Cramer featured Dole Food on Mad Money and in the CNBC video Cramer explained:
I like to throw out the red flag and put these companies under further review to see if there might be perhaps some real hidden value. Somewhere, somewhere value that we missed. And sometimes, very rarely, though, you'll see one of these historical mismanaged companies that virtually jump out and shout hey look at me, look at me, I've got my act together! I'm actually worth buying and that's what Dole Food Company is saying to me right now.
Cramer goes on to say, "Dole owns terrific assets…and some of the company's parts are worth a heck of a lot more than the current share price." As Cramer explains, "we get a stock that could be worth $16.71 (per share), a substantial premium where Dole is trading right now. No it's not $25, but it's a lot. That's without even counting the upside from Dole's unused land assets which could get us much higher." (Dole owns 113,000 acres of land all over the world).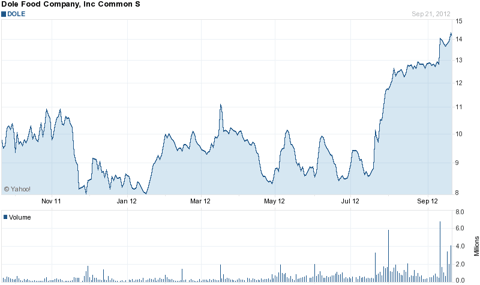 There are not many REITs that have more than ten percent allocated to one tenant, especially among triple-net REITs. Having all of your eggs "in one basket" can be dangerous. In late 2010, Borders Books accounted for around 29 percent of Agree Realty's (NYSE:ADC) portfolio; however, through a series of asset management initiatives, the $268 million (market cap) REIT reduced its overall exposure and company shares have now rebounded from around $21 per share to a close of $25.60 on Friday.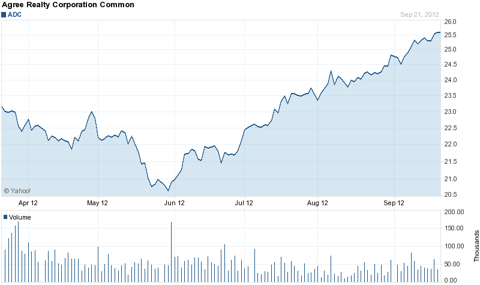 Alternatively, Monmouth REIT (NYSE:MNR) has over 50 percent of its portfolio leased to FedEx (NYSE:FDX), and the 45 year-old REIT has achieved considerable success in maintaining its dividend for maintaining and increasing dividends per share since 1991. Monmouth was recently (in 2011) included in the benchmark MSCI REIT Index - a widely followed index that results in greatly increased liquidity and greater share demand.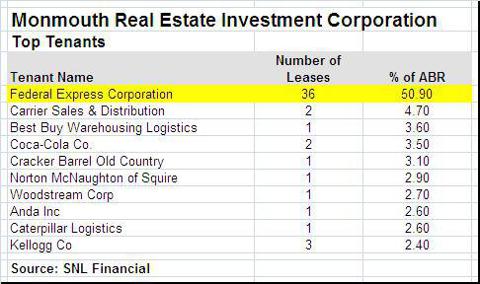 Realty Income (NYSE:O), the monthly dividend company ®, has a portfolio of 2,762 properties of which 4.9 percent (based on % of ABR) is leased to alcoholic beverage industry giant, Diageo plc (NYSE:DEO). In 2010, the Escondido, CA-based REIT acquired around 1,690 acres in Napa Valley, CA. This sale-leaseback transaction was valued at around $269 million and leased under a long-term lease (20 years) to Diageo. The Diageo Chateau & Estate Wines properties are located throughout the Napa Valley area (the premier wine producing region in the U.S.) and the Realty Income owned vineyards have been producing premium grapes (for 25 to 100 years) that are used for several of Diageo's highly regarded wine brands.
Unlike the farm properties owned by Gladstone Land, Realty Income's farmland is leased under a long-term lease arrangement to Diego, an investment grade rated (S&P rating of A-) tenant. In addition, Realty Income has an exceptionally diverse operating platform that has resulted in a recently declared 68th consecutive dividend increase since Realty Income went public in 1994.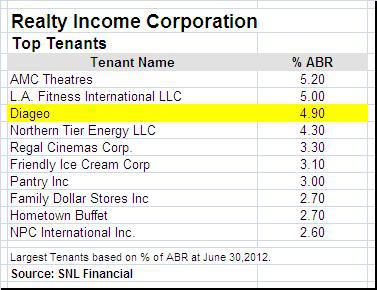 I just adore a penthouse view. Dah-ling I love you but give me Park Avenue.
In conclusion, I like the value proposition of owning farmland leased to high-quality tenants like Dole Foods. However, I would not bet the farm on the proposed Gladstone Land Corporation REIT.
Although David Gladstone (the namesake sole owner) has related experience in farm related investments (he sold his former company, Coastal Berry, to Dole but retained two farms that the company currently rents to Dole), there are considerable risks related to the proposed REIT conversion:
Limited diversification (only 6 tenants)
Substantial concentration with Dole Foods
Risk related to short term leases (1 to 5 years)
Agricultural land is most illiquid and limits re-leasing
Potential risks of water impairment and/or government regulation
Potential risks of adverse weather conditions
Potential risk could jeopardize the IRS treatment of sale/leaseback transactions (as loans)
Potential risk of conflicts of interest with related entities including Gladstone Commercial Corporation, Gladstone Capital Corporation, and Gladstone Investment Corporation.
Potential risk of excessive insider ownership (David Gladstone will own 45 percent of common stock)
Clearly, there are better options to invest in triple-net sector REITs (than Gladstone Land) and I consider the risks noted above to be a strong validation that one should absolutely "not bet the farm" of Gladstone Land Company. A more likely alternative would be for Dole Foods to spin off its owned assets into a separate REIT subsidiary.
Similar to the other companies like Iron Mountain (NYSE:IRM), Equinix (NASDAQ:EQIX), and Correction Corporations of America (NYSE:CXW), Dole Foods could return excess cash to shareholders, while avoiding federal income taxes, and get a chance to boost the company's stock market valuation. In my view, the proposed Gladstone Land conversion would simply benefit the current ownership (primarily David Gladstone) by cashing out his interest for estate planning - nothing more, nothing less. In summary, "don't bet the farm on Gladstone Land".
Source: Green Acres Lyrics (by Vic Mizzy), SNL Financial, CNBC's Mad Money
Disclosure: I have no positions in any stocks mentioned, and no plans to initiate any positions within the next 72 hours. I wrote this article myself, and it expresses my own opinions. I am not receiving compensation for it (other than from Seeking Alpha). I have no business relationship with any company whose stock is mentioned in this article.